Kuki is an Electro sword user who excels in healing her allies while generating Electro particles. Currently, Kuki is the only Electro healer in the game, making her unique while filling a role that was missing.
However, this makes her more of a niche character with specific comps. In the proper setting, Kuki can truly shine and fill two roles in her comp. Thus, it is important to understand her proper build and team comps. Here you can learn how to optimize her build to reach her peak performance!
Skills
Normal Attack: Shinobu's Shadowsword
Kuki Shinobu strikes up to four times, and when on hold, he strikes two quick attacks. This skill is typically not used much in a rotation, so it takes the least priority in leveling up.
Elemental Skill: Sanctifying Ring
Kuki creates a "Grass Ring of Sanctification" around the active character that heals them and deals Electro damage to nearby enemies. The ring consumes 30% of Kuki's maximum HP. However, it cannot drop her health below 20%. The heal and damage of the ring scale with Kuki's maximum HP. One thing to note is that the heal only applies to the active character, meaning that others in the backline will not heal unless they are switched in.
While the heal on its own is nothing to brag about, this skill heals, applies Electro, and generates 0.45 particles when it hits an enemy. This makes this skill very versatile and beneficial. Not only that, it has a low downtime, where her ring lasts 12 seconds, and the skill's cooldown is 15 seconds. This is why it takes the highest priority in leveling up.
Elemental Burst: Gyoei Narukami Kariyama Rite
Kuki creates a field for 2 seconds that deals Electro damage to enemies inside it based on her maximum HP. If Kuki is below 50%, the field will last 3.5 seconds instead.
Passive: Breaking Free
When Kuki's HP is 50% or below, her healing bonus is increased by 15%.
2nd Passive: Heart's Repose
Grass Ring of Sanctification's abilities will increase based on Kuki's elemental mastery, where the ring's heal will increase by 75% of the elemental mastery, and the damage will increase by 25% of the elemental mastery.
Weapons
Freedom Sworn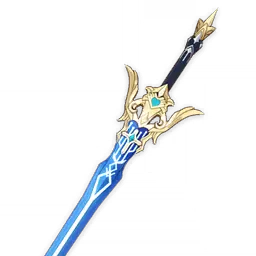 Currently, there is not a single sword that has HP as a secondary stat. Thus, the best weapon for Kuki is something that gives her elemental mastery or helps her support capabilities. This is why Freedom Sworn is perfect in this scenario since it gives Kuki 198 elemental mastery while granting her allies 16-32% normal, charged, and plunging attack damage, along with 20-40% attack. This weapon will both increase Kuki's heal and damage while increasing her allies' damage.
Iron Sting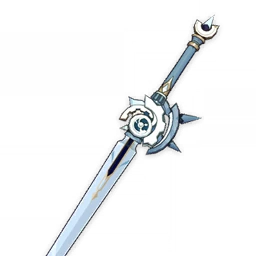 Iron Sting is the F2P option that works moderately on Kuki. It grants 165 elemental mastery, which is not that far from Freedom Sworn. However, the weapon is mainly used for that. While it grants 6-12% increased damage after dealing elemental damage (can stack twice), Kuki is not a damage dealer.
Favonius Sword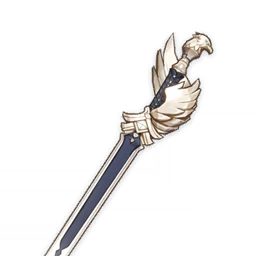 Favonius Sword is an alternative option for Kuki. If she built some crit rate, that allows her to create particles for her teammates. This makes her especially better for comps that have high energy costs for their Elemental Burst.
Artifacts
When it comes to artifacts, there are multiple ways to build Kuki to either focus on her healing, support, or reaction capabilities. If she is built as a support, the best set for her is Tenacity of the Millelith, which both increases her maximum HP while increasing all party members' attack by 20% when her Elemental Skill hits an enemy.
Kuki can be used as an Electro applier for a reaction team. This is especially true for teams that are less flexible since she covers the Electro applier and healer spot at the same time. For that, the best set for her is Thundering Fury since it increases her Electro damage and her reaction damage by 40%. Not only that, triggering those reactions will decrease the Elemental Skill's cooldown by 1 second (0.8-second), reducing Kuki's downtime.
As for an Electro healer, Ocean-Hued Clam is the perfect set for her due to the 15% healing bonus, which frees the crown to be usable as HP% instead. It also increases Kuki's offensive capabilities since it deals 90% of the amount healed as damage to enemies. As for substats, the main stats that Kuki needs are HP and elemental mastery. She does not require other stats, but the crit rate is very beneficial if she uses Favonius Sword.
Build: Tenacity of the Millelith or Ocean-Hued Clam
Flower
Plume
Sands
Goblet
Circlet
Substats
1. HP
1. ATK
1. HP %
1. HP %
1. HP % or Healing Bonus %
1. HP %
2. Elemental Mastery
Also Read: Best Settings For Genshin Impact: Get The Highest Performance And Graphics.
Build: Thundering Fury
Flower
Plume
Sands
Goblet
Circlet
Substats
1. HP
1. ATK
1.

Elemental Mastery

1. Electro DMG Bonus
1. Elemental Mastery
1. HP %
2. Elemental Mastery
Team Comps
In terms of team comps, Kuki Shinobu can fill two roles, which is both a healer and Electro applier. This allows her team to be more flexible in adding another sub-DPS or a damage buffer. Kuki's ring can apply Electro while the DPS is active in the field, which makes her reliable in reaction teams.
Another team that can use Kuki is Mono Electro team, which consists of only Electro characters along with Swirl users. Currently, Kuki is the only Electro character that can heal, making her very valuable in those comps and keeping them alive. Not only that, the particles generated by her Skill can help other Electro characters use their Burst more frequently.
Childe/Ayato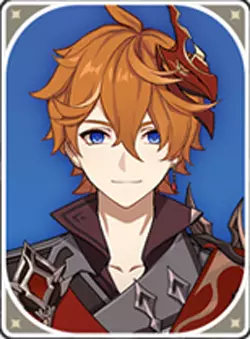 Using Kuki in a taser team with either Ayato or Childe will both protect them by keeping their health high while applying Electro to enemies. Not only that, Taser team could benefit a lot from the flexibility of the extra slot that Kuki enables. In terms of build, having elemental mastery is better on Kuki if she is on this team.
Raiden Shogun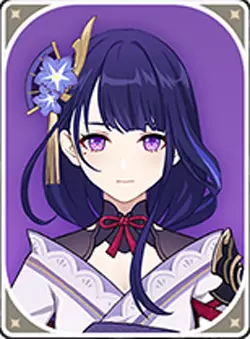 In Mono Electro team, Raiden Shogun is considered the best DPS that can be used, and pairing her with Kuki can cover the lack of healing in those teams. Her particle generation can be beneficial, especially since some Electo characters have high Burst costs.
Eula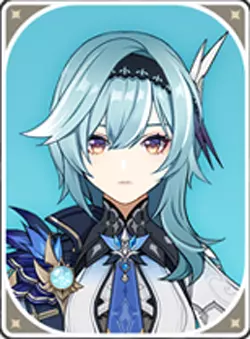 As a melee character, Eula is closer to enemies' attacks, and Kuki can sustain her and keep her alive with her Elemental Skill. Additionally, the Electro application and Eula's Cryo can reduce enemies' physical resistance, enabling Eula to deal even more damage while remaining safe. Adding Rosaria to the team can make those three a well-balanced team.
Fischl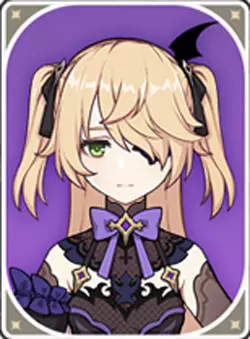 Fischl can be a great sub-DPS along with Kuki. Having both in a team can cause strong reactions, all while they are off-field. In the meantime, Kuki can heal and generate particles for Fischl to allow her to keep her Burst up as much as possible.
Also Read: Best Fischl Build: Weapons, Artifacts & Team Comps
Yelan/Xingqiu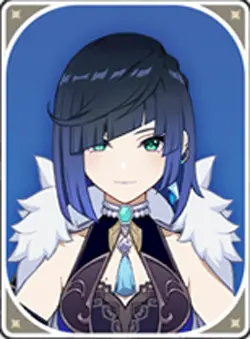 Yelan and Xingqiu are a great Pair for Kuki, especially in a taser team, where their Hydro application, along with the damage boost Yelan offers can be a great combination. Kuki works better with Yelan since she covers the missing utility that Xingqiu offers. The total damage output is higher and better overall, while the extra utility can be better for newer players.
Also Read: Best Yelan Build: Weapons, Artifacts & Team Comps
Kazuha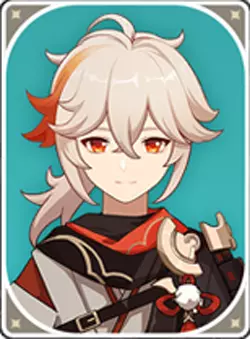 As a swirl user, Kazuha does better with Kuki since he provides her with extra elemental mastery. In general, swirl users are a good addition to Kuku, especially in a reaction team. Not only that, they typically use Viridescent Venerer, which reduces 40% of the elemental resistance of enemies for the swirled enemies. Not only that they make reactions easier, but they also increase the damage output by shredding enemies' resistance.
Also Read: Best Kazuha Build: Weapons, Artifacts & Team Comps
Constellation
To Cloister Compassion
The Elemental Burst's range is increased by 50%
To Forsake Fortune
Grass Ring of Sanctification's duration is increased by 3 seconds
To Sequester Sorrow
Increases the level of the Elemental Skill by 3 and the maximum level to 15
To Sever Sealing
While Grass Ring of Sanctification is up, when the active character hit an opponent with a normal, charged or plunging attack, a Thundergrass Mark will be placed in the enemy's position and will deal AOE Electro damage that scales on 9.7% of Kuki's maximum HP
To Cease Courtesies
Increases the level of the Elemental Burst by 3 and the maximum level to 15
To Ward Weakness
When Kuki's HP drops below 25%, she gains 150 elemental mastery for 15 seconds. If she takes lethal damage, the damage is negated, and the attack will not take her down.

Both effects have a separate 60 seconds cooldown
In terms of her constellations, Kuki truly shines with her second constellation since it removes the 3-second gap between her Elemental Skill's duration and cooldown. Having the Grass Ring of Sanctification permanently up can keep allies safe while having a permanent Electro application.
For reaction comps, the sixth constellation can prove extremely useful with the 150 elemental mastery increase. Kuki is not hard to drop below 25%, especially since her Elemental Skill reduces her HP. However, this constellation works best if the aim is to kill within one rotation since it has a very high cooldown.
Kuki is a great Electro support due to her ability to fill two roles: healing and applying Electro. Currently, there are no other Electro healers, which makes her unique in her roles and allow Electro teams to be more flexible.
While Kuki is more of a niche character, who is used for either Mono Electro team or Electro reaction teams. However, she is a wonderful support for those comps and can give them healing which initially they lacked, while leaving an extra spot that they can utilize for extra damage.
All image copyrights belong to Mihoyo, Genshin Impact fandom, and Genshin honeyhunterworld.