From the moment you spawn in, you quickly learn that you need a place to live if you want to survive this universe. But we didn't know this when we started, so we had to suffer and brainstorm ways to improve our base.
To do this, we needed to research Minecraft base designs and ideas for inspiration on how we could enjoy our stay better. To survive spiders and skeletons, you need to build walls and houses. But without adequate knowledge of how the system works, your effort can be quickly become dirt cubes or oak cabins.
When all is said and done, you must level up to survive. And that is what this article is about. To show you some of the best Minecraft base ideas you can adopt. So when you join the multi-player game and need a secret base, you know how to create one that's fortified. On the contrary, you may have so many diamonds and red stones that you know what to do with.
Choosing a Minecraft Base
When choosing the right Minecraft base, there are many things you must consider. Considering the number of options available, you can choose anything from mechanized doors to mob spawners. In our list of design ideas for your Minecraft base, everyone will find amazing design ideas and other essential elements you can add to your base.
Playing Minecraft in its bland form sucks. Many first-time players wonder what's so amazing about the game and why so many people play. But as you play, you start crafting large bunkers that take you back to the 1940s. These bunkers can be vacant, angular, or straight-line clad. If you can imagine it, then you can create it.
Without further ado, here we go!
Double Pod Underwater Base
If you get the chills when you remember how spiders, creepers, or skeletons badged into your home, you need to go underwater. Here, we feature an underwater base by SheepGG fortified to ensure you enjoy restful naps while enjoying the serene underwater view and calm environment around your home.
This underwater pod has two sections that are connected by a main central hub, so you don't have to get wet when moving through your building. The base is also air-tight thanks to the resistant combination of Quartz blocks and Glass panes.
Being underwater provides you luxury many other players wish for. Its cozy and atmospheric lounge area contains your chests and other essentials you'll need to carry along for your adventures. You can also keep a seaweed garden and admire its beauty whenever you use the indoor ladder on your way up.
Futuristic Dome Base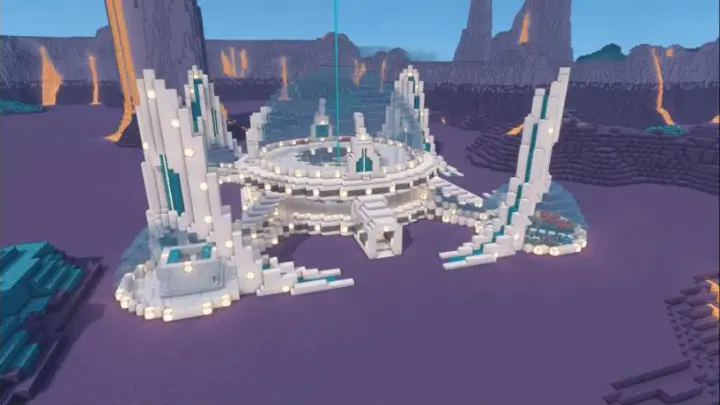 While there are many easy to create bases, this isn't one of them. The futuristic dome base boasts its exquisite looks that look like something out of 2100. This is a vivid representation of how far your creativity can go in a game. And to think that it is created using just blocks is simply amazing. But considering the number of resources you're going to need to create it, it better be as good as it looks.
One of the main materials required to build this is a Smooth Quartz Block. To get this, you can smelt Nether Quartz, which means you need to dig up Nether Quartz Ore and the melt it in a furnace. If you have a habit of venturing into the Nether world, you can easily gather Smooth Quartz Blocks.
This is no doubt one of the most futuristic Minecraft base ideas, and they are rare to find. Players who have built this commend its decoration. It even allows players to place a beacon on each dome to make it look like a gigantic receiver.
Minecraft Mini-Fortress
This fortress has everything you need to ward off invaders and survive. Essentially, this base is a fortress. It has a stone wall exterior that surrounds the complex and a fortified gate in front. Inside the walls, there is a modernist oak, cobblestone, and glass structure.
Minecraft Mini-Fortress is fully equipped to keep you safe for many nights, and it provides everything you need to sustain your lifestyle. The major bummer is that there isn't so much space. But that isn't always a bad thing since it is easier to defend smaller spaces. On the other hand, people love this fortress also because it is 3 dimensional, and that gives it an amazing look. Even the glass panels that cover the expansive walls are 3 dimensional.
Easy Minecraft Survival Base
While this may not be the most amazing Minecraft base design, it is something most beginners can start with. This easy Minecraft base has a formidable design that comprises everything you need to survive.
We recommend it because it doesn't require heavy and difficult to obtain resources from players making it one of the best bases to try if this is your first time. To construct this base, you will need Cobblestone, Spruce Planks, and Stripped Oak log. These are easy to find and can easily be crafted through wood, which you can get by cutting down trees.
Since the base is a 25 by 25 format, it's about the right size for a beginner to understand and build. In it, you can have a cottage, animal pens, houses, and crop fields.
Starter Cave Base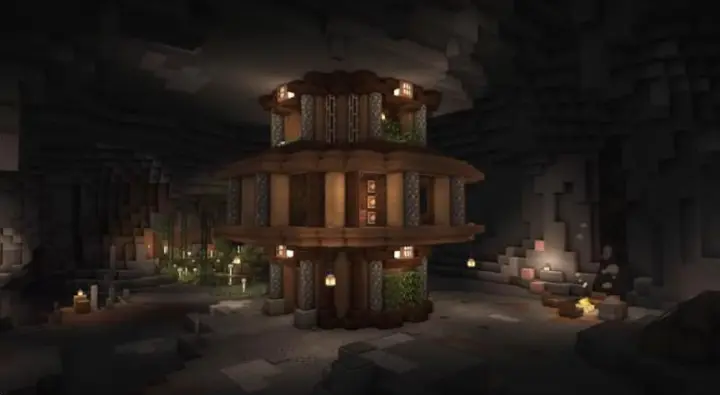 Also Read: Where To Download Minecraft Skins
The starter cave Base is a beast that borrows its impenetrable design from the concept of building inside a cave. Creativity on a level like this is insane, and it isn't very difficult to build. But to do this, you must live in the badlands because you need Brown Terracotta, which is bountiful in that region.
An alternative will be to use wood-based blocks instead. But this will affect your design, but at the end of the day, it's up to you.
To build it, you'll need stripped spruce log, dark oak planks, a Cobblestone wall, Polished Andesite, Spruce Stairs, and more to make your base better.
Mountain Face Base
Have you thought of building your home by mining the heart of a mountain? This survivalist base concept does exactly that. The mountain face base carves an impressive overhanging abode right in the face of the mountain.
Its interior is stunning with several floors, a brewing room, dining room, modern kitchen, dining room, toilet, and main bedroom.
Stone Bridge Temple Base
Have you ever wondered what living like the Greek Gods and Goddesses felt like? With this stone bridge, you get to live just like they did. This stone structure features an intricate layering of Cobblestone Slab, walls, and blocks. Inside, you have a golden hue of light to welcome you when you return from exploring the wilderness.
Your first line of defense is the staircase. This can be used as a barrier to defend against your enemies looking to take your home.
Survivalist Underground Base
While we've explored sky-rise buildings and stone castles, it's time we go below the surface. This contemporary bunker-like shelter contains all the elements that make a house a home. You have a bedroom, furnace, storage area, and a kitchen.
Instead of towering and attention-grabbing walls, you have a discrete and easy-to-protect base. You have stone brick exterior surrounding the vicinity to keep you safe. For additional security, you can add more items and traps.
Jungle Minecraft Base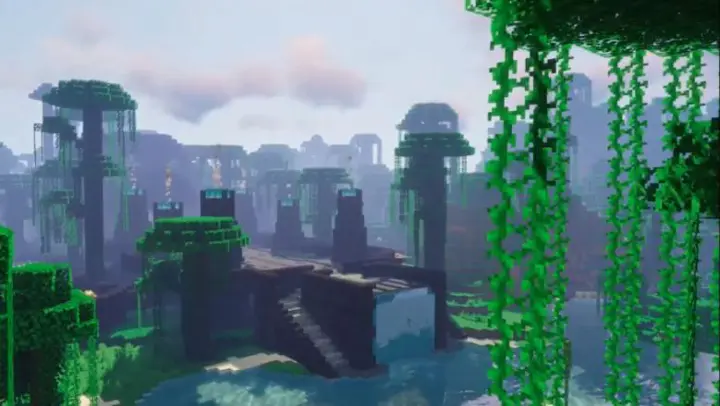 If you love nature and have always wanted to be surrounded by trees and bushes, this is the perfect Minecraft base for you. In this case, you will be living in a full-blown jungle. To build this, you journey into a jungle biome in the game. Not to worry, you can find it near the Taiga biome, close to the deserts and savannas.
Also Read: Best Anime Minecraft Texture Packs
Before building, make sure you've cleared enough space for your base as the jungle is overtaken by trees and bushes. Once you're done clearing, build your foundation using Dark Oak Logs and Oak logs.
Note that you will soon need advanced range materials like Blackstone and Polished Andesite because the Jungle Minecraft base doesn't remain basic for long.
The large saber-toothed tiger at the front scares off most invaders, but it also has an aesthetic appeal most users love.
Conclusion
Hopefully, after reading through this list, you've got interesting ideas on how you can improve or build your Minecraft base. Remember to add devices in and around your base to make it more interesting and safe.
Minecraft is so much fun when you have an amazing place to hang out, and many more are simply interesting to build.