Nilou is a Hydro sword user that is played as a main DPS and excels in dealing damage while building HP. Her kit is fairly easy to play and more on the fun side. Meanwhile, her reaction damage is considered one of the best in the game.
However, Nilou is a niche character that can only work in Bloom teams, as the Dendro cores she produces cannot react with other elements, and her passive does not work if there are teammates of elements outside Dendro and Hydro. Thus, it is very important to understand how to build her and use her in the right comp. Here you can learn how to optimize her build to reach her peak performance!
Skills
Normal Attack: Dance of Samser
Nilou strikes up to three times and holding the attack deals a twirling splash. While Nilou uses this skill frequently, it is not her main source of damage. Thus, it is the least priority in leveling up.
Elemental Skill: Dance of Haftkarsvar
Activating the skill deals Hydro damage to nearby enemies that scales with Nilou's maximum HP, and Nilou enters Pirouette state. In that state, her normal attacks and Elemental Skill are infused with Hydro, which cannot be overwritten.
While Pirouette is active, her normal attacks and Elemental Skill have three dance sequences activated by using the normal attacks or Elemental Skill. The sequences are Sword Dance and Whirling Steps stances respectively. After the third dance sequence, the following effects are activated based on the sequence:
For Sword dance, it grants Lunar Prayer effect that grants Nilou's next three normal attacks Hydro damage infusion and the third attack deals a slash damage in an area ahead of Nilou. For Whirling Steps, it grants the Whirling Water Wheel effect that creates Tranquility Aura. It deals AOE Hydro damage and applies Hydro status on nearby enemies.
Elemental Burst: Dance of Abzendegi: Distant Dreams, Listening Spring
Nilou blooms the Lotus of Distant Waters that deals AOE Hydro damage to nearby enemies that scales with her maximum HP. Enemies damaged by Lotus of Distant Waters have Lingering Aeon effect applied on them that deals delayed damage.This skill is Nilou's main source of damage, so it takes the highest priority in leveling up.
Passive: Court of Dancing Petals
This passive only activates if the party has at least one Dendro and on Hydro characters, and there are no other elements in the party. All nearby allies are granted the Golden Chalice's Bounty for 30 seconds after Nilou finishes her third dance sequence.
The Golden Chalice's Bounty grants 100 elemental mastery if Bloom reactions are created, and the Dendro cores produced burst faster and have larger AOEs. The Dendro cores are called Bountiful Core and they cannot be used for Hyperbloom or Burgeon reactions.
2nd Passive: Dreamy Dance of Aeons
Bountiful Cores deal additional 9% extra damage for every one thousand HP above 30,000 of Nilou's Max HP. The maximum damage bonus increase is 400%.
Weapons
Key of Khaj-Nisut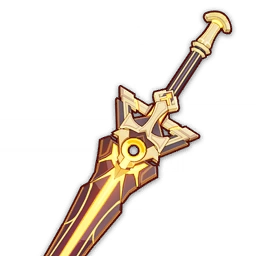 Key of Khaj-Nisut is the best weapon for Nilou as it boosts both HP and elemental mastery, which are the two most important stats for Nilou. It increases her HP by 86.2-106.2% based on the refinement level. As for elemental mastery it increases by 0.12-0.24% of Nilou's maximum HP every time she hits an enemy with an Elemental Skill (can stack 3 times). At full stacks, it grants her allies elemental mastery that scales with 0.2% of Nilou's maximum HP. As Nilou's comps depend on Bloom reactions, all those buffs make Nilou an absolute beast.
Freedom-Sworn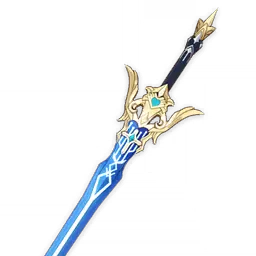 Freedom-Sworn is a great alternative to Key of Khaj-Nisut, as it provides 198 elemental mastery, as it increases damage by 10-20%, along with 16-32% normal, charged and plunging attack damage boost and 20-40% attack boost for 20 seconds. While it does not boost her HP, the boost in damage can create significant damage through Dendro reactions.
Iron Sting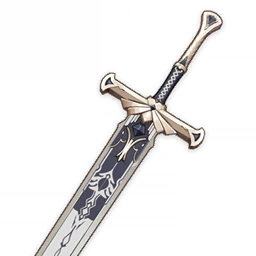 The F2P option, Iron Sting is similar to Freedom-Sworn as it grants 165 elemental mastery. Moreover, it can increase damage by 12-24% when fully stacked by dealing Elemental damage twice. While the overall boost is not as strong as Freedom-Sworn, it saves the primogems that can go for constellations or other characters.
Artifacts
For Nilou, there is currently only one set that works efficiently on her, which is Vourukasha's Glow. This is as the 4-piece set bonus works very well with her, as it increases Elemental Skill and Elemental Burst damage by 10%, which increases by 80% if Nilou got damaged (can stack up to five times). This comes with the 2-piece bonus of 20% HP.
However, mixing with other sets can work fine based on having better substats. Tenacity of the Millelith also grants 20% HP, which can make a total of 40% maximum HP with Vourukasha's Glow. Another option is Noblesse Oblige to boost her Elemental Burst's damage by 20%. As for substats, there are three substats that matter: HP, elemental mastery and energy recharge.
Build: Vourukasha's Glow
Flower
Plume
Sands
Goblet
Circlet
Substats
1. HP
1. ATK
1. HP % or Energy Recharge
1. HP %
1. HP %
1. HP %
2. Energy Recharge
3. Elemental Mastery
Also Read: Best Settings For Genshin Impact: Get The Highest Performance And Graphics.
Build: Vourukasha's Glow/Tenacity of the Millelith
Flower
Plume
Sands
Goblet
Circlet
Substats
1. HP
1. ATK
1. HP % or Energy Recharge
1. HP %
1. HP %
1. HP %
2. Energy Recharge
3. Elemental Mastery
Team Comps
When it comes to Nilou's team comps, the best comps only revolve around her being in a Dendro Hydro team. As her passive creates Dendro cores that do not react with other elements, her team comps consist of characters of two Hydro and two Dendro characters.
Of those comps, there are certain characteristics that must be met to maximize team efficiency. The first is that element application must be frequent, as Nilou depends heavily on reactions. The second is the presence of a healer, as Bloom reactions can damage allies. Finally, any support who improves Dendro reactions or weakens enemies' resistance.
Nahida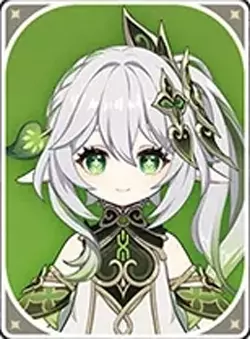 Nahida is the best Dendro support to any Dendro reaction, as she significantly boosts their damage and elemental mastery. As Nilou depends on Bloom reactions, any support for Dendro reaction is perfect for her. With Deepwood memories and Nahida's Burst, Bountiful cores can deal massive AOE damage that can make even Abyss relatively easy.
Kokomi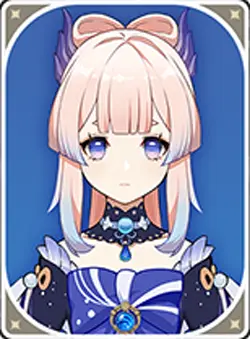 Kokomi is a great Hydro teammate to Nilou, as she can be the second Hydro character, apply Hydro off-field and heal teammates. As one of the best healers in the game, Kokomi is one of the best pairs in Dendro reactions as they can damage allies as well. Moreover, Kokomi's damage can be significant with Ocean-hued clams artifact set, making her a well-rounded character in the team comp.
Yelan/Xingqiu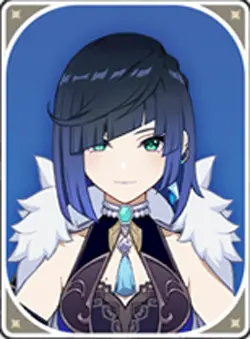 Yelan and Xingqiu are great off-field Hydro appliers as they can apply Hydro through their Bursts when the active character uses their normal attacks, Not only that their Burst damage is high, but their fast Hydro application can create many Dendro Cores, increasing the overall DPS. Yelan offers more damage while Xingqiu offers utility through reduced damage and healing.
Dendro MC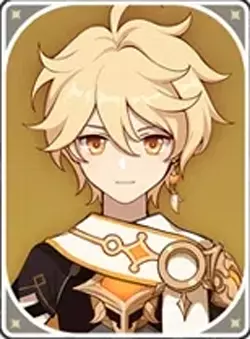 Dendro is more a F2P option for Dendro reaction, as they come for free at C6 by completing story and exploration. The best option to use Dendro MC is making them off-field Dendro applier while Nilou or main Dendro DPS is used. Typically, it's more efficient to give Dendro MC the Deepwood memories set and the other Dendro teammate Gilded Dreams.
Yaoyao/Beizhu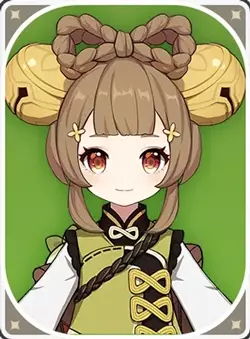 Yaoyao and Beizhu serve a critical role of healing allies and applying Dendro. They are a great replacement to Kokomi as Bloom reactions can damage allies. As they take two roles, they give more flexibility to the team for adding more damage dealers instead of supports.
Mona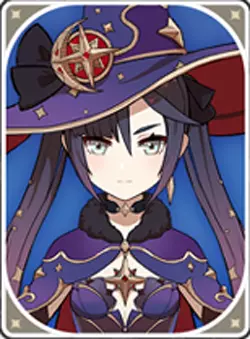 Mona is an unconventional pick with Nilou, but she can be a great unit to use in specific comps. Her taunt can attract enemies to Dendro Cores, and her Elemental Burst increases the damage dealt to enemies. Moreover, using a weapon like Thrilling Tales of Dragon Slayers that increases attack by 48%, can improve the overall damage of the team.
Constellation
Dance of the Waning Moon
Increase the damage of Luminous Illusion by 65% and the duration of Tranquility Aura by six seconds
The Starry Skies Their Flowers Rain
When a character has Golden Chalice's Bounty's status and deals Hydro damage to an enemy, the enemy's Hydro resistance is decreased by 35% for ten seconds.
Moreover, if they trigger a Bloom reaction and the enemy is damaged by Dendro cores, their Dendro resistance is decreased by 35% for ten seconds.
Beguiling Shadowstep
Increases the level of the Elemental Burst by 3 and the maximum level to 15
Fricative Pulse
If an enemy is damaged from the third stance of Nilou's Elemental Skill, it restores 15 energy to her and she gains 50% Elemental Burst damage for eight seconds
Twirling Light
Increases the level of the Elemental Skill by 3 and the maximum level to 15
Frostbreaker's Melody
Nilou gains 0.6% crit rate and 1.2% crit damage for every 1000 of Nilou's maximum HP, with a maximum value of 30% and 60% respectively.
In terms of constellations, Nilou is considered a strong character without her constellation, as her raw damage is fairly high. Her constellations serve as an overall damage boost and are not as much required.
However, if further damage is required, almost all of her constellations are amazing to have, with each constellation increasing an aspect of her damage. Her fourth constellation is her strongest constellation, as it increases her Elemental Burst damage by 50%, with her second strongest being C6. It makes building her a lot easier with the 30% crit rate and opens space for more crit damage in her build.
Nilou is considered a niche character, as she can only work in Bloom damage. She requires a lot of investment as good Dendro characters are five stars, and the damage difference with and without her weapon are fairly significant. Moreover, the choices for Hydro and Dendro healers are fairly limited.
However, with that investment, she makes the game incredibly easy, as her damage output can be one of the best in the game. This makes her an amazing character to have for veteran players, but not as useful for newer players.
All image copyrights belong to Mihoyo, Genshin Impact fandom, and Genshin honeyhunterworld.