Cosmetic items and skins have been part of the gaming universe for many years. Minecraft is not one to miss a chance to get on popular trends. Not only does Minecraft allow players change skins, but players can design their own skin.
Downloading Minecraft skins are relatively easy. Thanks to the small sizes of these skins, players can download as many as possible. All you need is a website that publishes high-quality skins, and we have added a few in this article.
As you continue to read, you will learn where you can download skins for all versions of Minecraft, Java Edition, or PC. You will also learn how to install these skins on your respective devices.
What to Know Before Changing Your Minecraft Skin?
There are two models of characters and skins on Minecraft. We have a slimmer player model and the regular-sized player model.
Some designers design skins for the bulky classic character model and designers for the newer slim model. For the slim model, the arms of the character are made 1-pixel thinner and are better suited to create a feminine esthetic to the character.
Where Can You Get the Minecraft Skin?
When it comes to getting the best skins for Minecraft, PC players top that list. This is because every player can browse online and install a PNG file into the game itself. As you'll learn later on, this is something not many consoles can do.
Getting the right source for your Minecraft skin allows you many privileges. For example, some platforms like Minecraftskins.com and Minecraftskins.net allow users to design their skins. On these websites, you will find original skins that range from very basic to intricate designs.
To download a new Minecraft skin, you should visit websites like Minecraftskins.com, Minecraftskins.net and select a skin. The download button should appear. Click it and the image file should save on your device.
How to Change Minecraft Skins
Changing Minecraft Skins on PC
The process of changing Minecraft skins on PC is probably the easiest. Here are the steps:
Step 1: Head to a third-party Minecraft skin website like minecraft.net and download the skin you'd like to use on your character. Make sure to take note of the download path.
Step 2: Login to your Minecraft profile.
Step 3: Click the browser button and select the skin file you just downloaded to open it.
Step 4: Click save and upload your custom skin.
Once the process has been completed, the character in Minecraft on your PC will automatically change to the skin you've installed.
Also Read: Best Anime Minecraft Texture Packs
Changing skins on Minecraft PE
While this may not offer the full PE experience, Minecraft PE owners can give their characters different looks using skins. Here's how to install skins in Minecraft PE.
Step 1: On your mobile device, visit any of the third-party Minecraft skins mentioned above.
Step 2: Select the skin you'd like to download. On the latest version of iOS and Android, the download should begin automatically.
Step 3: Open Minecraft PE and tap the Profile icon. It should be at the lower right of the display.
Step 4: Tap Edit Character
Step 5: Tap the second icon to the left then click "owned", "important" and finally "Choose New Skin".
Step 6: Choose your new skin by selecting the file you downloaded earlier.
Step 7: Select the appropriate skin model and confirm your changes.
Note: you will be asked to choose between the 3px Slim to the left or the classic 4px size. If you're not certain which version you'd want to use, it's safer to go with the 4xp size. You can find out which arm size is accurate on the skin page where you downloaded the skin. This information is available on the left corner of the 3D model preview.
If you select the wrong size, just go back and upload the skin again using the correct size.
Changing Minecraft skin on Console
Before we go any further, changing the Minecraft skin on the console is slightly different from the steps mentioned above. When these skins were initially created, many gaming consoles were unable to store downloaded files. With no way to download and apply skins the same way we usually would, we have to settle for a limited range of free and paid-for skins available in Minecraft.
With that in mind, here's how to change the skins in Minecraft on the console:
Step 1: Open Minecraft
Step 2: Open the main menu, select "Help and Options" then "Change skin."
Step 3: A collection of skins should be on display from which you can select a skin.
Step 4: Highlight the skin you'd like to apply. If it is a paid skin, you will be directed to the platform's store to make your purchase.
Remember that you can change your Minecraft skin as many times as possible so don't hold back.
Our Favorite Minecraft Skins
Link
With skin like this, you can tear up landscapes. It is one of the most beloved and popular skins.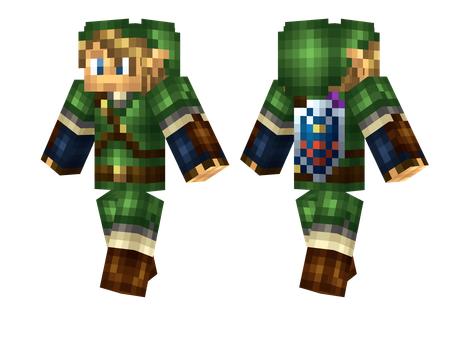 Altair
If you're a fan of the assassin creed, then this is something you want to have. Now you can leap off tall buildings and stay undetected as you make your way around your friend's Minecraft creation.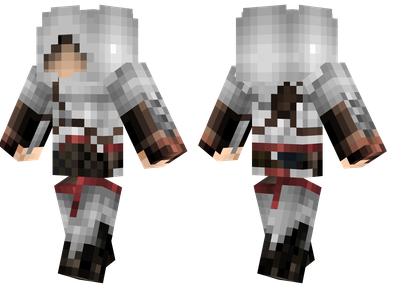 Kratos
Be as powerful as the God of War. While you can't throw an axe at your enemies, you can stomp around and shout "BOY!"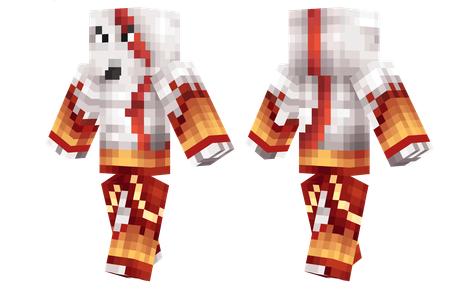 Minecraft is an amazing game and you like many others, enjoy playing. Being able to change skins, and your appearance adds another element of freedom in a gaming space that allows us to do almost anything.
We hope you have enjoyed your stay and learned not just where to download your Minecraft skin but also how to install it.