Tighnari is a Dendro bow user who can be used both as a main DPS or Dendro applier in reaction teams. Not only that, he is a non-limited 5-star character, making him easier to obtain in comparison to other limited five-stars.
His kit is well versatile, and his playstyle is extremely fun. However, Dendro is more complex in terms of reactions in comparison to other elements. This is why it is important to understand how his kit works and his Dendro interactions with other elements. Here you can learn how to optimize his build to reach his peak performance!
Skills
Normal Attack: Khanda Barrier-Buster
Tighnari's charged shots have two levels. Charging up to the first level will fire a shot that deals Dendro damage. The second level will deal Dendro damage and create four Clusterbloom Arrows. Those arrows will deal Dendro damage to nearby enemies. This skill is the main source of damage for Tighnari, so it takes the highest priority in leveling up.
Elemental Skill: Vijnana-Phala Mine
Tighnari throws Vijnana Stormheart that deals AOE Dendro damage and creates a field that taunts enemies inside it. Moreover, inside that field, Tighnari gains Vijnana Suffusion status, which decreases the charge time of the charging for the second level charged shot by 2.4 seconds. This status expires when the field expires or after three second-level charged shots. This skill does the least damage in his kit, so it takes the least priority in leveling up.
Elemental Burst: Fashioner's Tanglevine Shaft
Tighnari shoots 6 Tanglevine Shafts that follow enemies and deal Dendro damage to them. If they damage an enemy, a second wave of Tanglevine Shafts will be shot that also deal Dendro damage. The second wave deals 22% more damage than the first wave.
Passive: Keen Sight
Firing a second-level charged shot will increase Tighnari's elemental mastery by 50 for 4 seconds.
2nd Passive: Scholarly Blade
Tighnari's Charged shots and Elemental Burst's damage are increased by 0.06% of his elemental mastery. The maximum bonus from this passive is 60%. Having an elemental mastery of 950 is optimal for utilizing this passive since he gains the remaining 50 from the first passive.
Weapons
Hunter's Path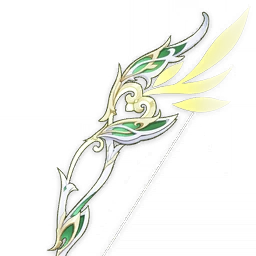 Hunter's Path is the best weapon on Tighnari due to how well it boosts his damage. His passive grants him 44.1% crit rate and enables him to use crit damage goblet while maintaining a high crit rate. Meanwhile, its passive grants a 12-24% elemental damage bonus and 160-320% of elemental mastery as charged shot damage after hitting a charged shot. The charged shot damage bonus lasts 12 charged shots or 10 seconds (12-second cooldown). Hitting the first second-level charged shot will activate both this weapon's passive and Tighnari's second passive.
Aqua Simulacra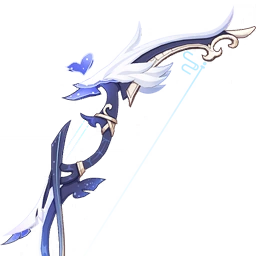 Aqua Simulacra is a great alternative, especially if Tighnari is used in reaction teams. The second passive grants 88.2% crit damage, which is one of the highest in the game. As for its passive, it increases the damage dealt by Tighnari by 20-40% if there are enemies nearby. An added bonus is a 16-32% HP increase. It is essential to have a high crit rate to optimally utilize this weapon's crit damage.
The Stringless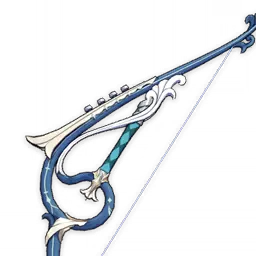 The Stringless is a great option for F2P players. It provides 165 elemental mastery from its second stat and 24-48% Elemental Skill and Burst damage. It has the benefits of providing elemental mastery, one of the most important stats for Tighnari while being easier to R5 it. However, it is lacking in terms of crit rate and damage and works better for reaction teams.
Artifacts
In terms of artifacts, there are two sets that work with him, but they depend on his team comp. If Tighnari is not with another Dendro character, the best set on him is Deepwood Memories. This is due to its great passive that increases Dendro damage by 15%. Moreover, if an enemy is damaged by Tighnari's Elemental Skill or Burst, even if he is off-field, the Dendro resistance of those enemies is reduced by 30% for 8 seconds.
In other comps where there is another Dendro character, It is more optimal to give those characters Deepwood Memories while giving Tighnari Wanderer's Troupe. This is due to the 80 elemental mastery increase along with a 35% charged shot damage increase. Wanderer's Troupe is fairly common from boss drops, which makes the probability of having good stats greater, especially for veteran players. As for substats, elemental mastery is great to have along with crit rate and damage. Attack is nice to have, and energy recharge is not needed since his Burst's cost is 40, which is relatively on the low end.
Build: Deepwood Memories
Flower
Plume
Sands
Goblet
Circlet
Substats
1. HP
1. ATK
1. ATK % or Elemental Mastery
1. Dendro DMG Bonus
1. Crit Rate/DMG %
1. Crit Rate %
2. Crit DMG %
3. ATK %
4. Elemental Mastery
Also Read: Best Settings For Genshin Impact: Get The Highest Performance And Graphics.
Build: Wanderer's Troupe
Flower
Plume
Sands
Goblet
Circlet
Substats
1. HP
1. ATK
1. ATK % or Elemental Mastery
1. Dendro DMG Bonus
1. Crit Rate/DMG %
1. Crit Rate %
2. Crit DMG %
3. ATK %
4. Elemental Mastery
Team Comps
In terms of team comps, his teams revolve around how he is utilized as either main DPS or for Dendro application reactions. Currently, the most favored reactions are Aggravate and Bloom. Thus, the best elements to have with him are Electro and Hydro.
As for the main DPS, the best comps include a second Dendro character for elemental resonance and to give them the Deepwood Memories artifact set. However, that does not mean that you cannot use reactions in this team as a sub-DPS. While the rotation will focus on Tighnari, a sub-DPS that reacts with Dendro is always welcome to deal additional damage. The final spot goes to a healer or shielder for sustaining.
One thing to note is that Dendro works differently than other Elements. In fact, its optimal reactions depend on enemy types. For multiple targets, Hydro and Dendro create seeds on the floor that explodes each time they exceed five or when they expire. However, if Electro is applied to the seed, deals massive damage to a single target, making it ideal for bosses.
Collei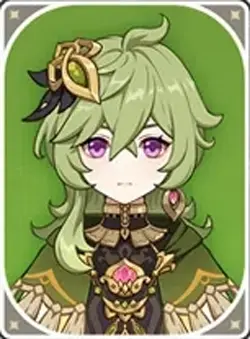 Collei is great to combine with Tighnari, mainly just for her Element. Being Dendro allows her to Utilize Deepwood Memories while also activating Dendro resonance. Giving her a bow that supports, such as Elegy for the End, can also improve her support capabilities. However, that does not mean she cannot do anything in her rotation since she deals moderate damage through her Elemental Skill and Burst.
Fischl/Yae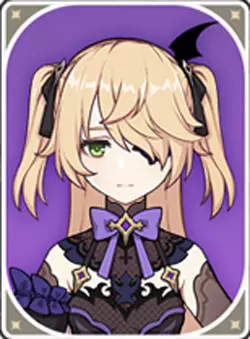 As a sub-DPS for Aggravate reactions, Yae and Fischl are amazing Electro appliers since they can do it while being off-field. The main difference between both of them is that Yae has higher damage but longer field time. Yae's Elemental Skill takes multiple seconds that Tighnari can use to shoot more charged shots, but her damage can easily outdo Fischl in terms of overall damage.
Also Read: Best Fischl Build: Weapons, Artifacts & Team Comps
Sangonomiya Kokomi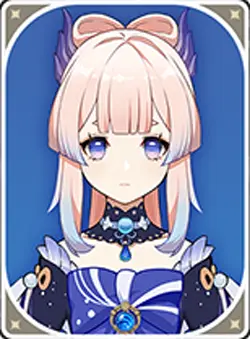 Sangonomiya Kokomi works so well in a Hyperbloom team for multiple reasons. The first is that she multiplies Hydro many times, enabling Tighnari to cause the reaction as much as he can, especially if they have Collie as well. The second reason is that she is a healer, which makes her do two roles in one. Finally, she can deal damage on her own, especially if she has Ocean-hued clams.
Yelan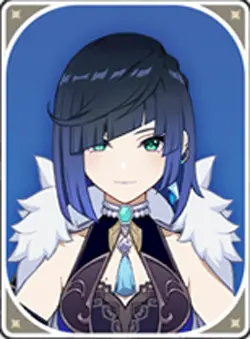 Yelan is a Hydro applier that revolves more about Applying Hydro and increasing attack. While she does not heal like Kokomi, her damage alone and as a support can be a great asset in the team comp. Not only that, her bow class makes her able to use many support bows such as Elegy or Aqua Simulacra.
Also Read: Best Yelan Build: Weapons, Artifacts & Team Comps
Kuki Shinobu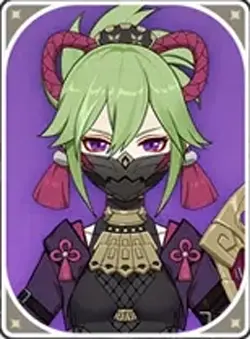 Kuki is the Electro version of Kokomi in terms of healing and applying elements. While her heal is not as good, she's a great F2P option that requires low investment to perform well. Not only that, but the elemental mastery she provides when low on health can also be great for Tighnari.
Diona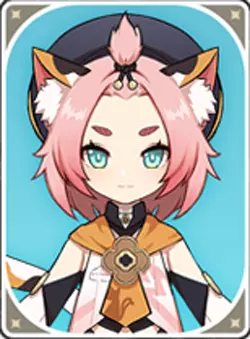 Diona has a specific role in Tighnari comps, where her team comps provide offensive and elemental buffs without sustaining. Not only that Diona shields and heals, but her sixth constellation is also absolutely amazing on Tighnari. It increases the healing rate if he's below 50%, and if he is healthy enough, it grants elemental mastery instead. This makes her defensive when needed and offensive otherwise.
Constellation
| | |
| --- | --- |
| Beginnings Determined at the Roots | Tighnari's charged attacks have 15% increased crit rate |
| Origins Known From the Stem | While there are enemies inside the Elemental Skill's field, Tighnari gains 20% Dendro damage. This effect lasts until 6 seconds after the field expires or enemies exit it |
| Fortunes Read Amongst the Branches | Increases the level of the Elemental Burst by 3 and the maximum level to 15 |
| Withering Glimpsed in the Leaves | Using the Elemental Burst increases all nearby allies' elemental mastery by 60 for 8 seconds. If the Burst triggers Burning, Bloom, Quicken, or Spread reactions, it increases the elemental mastery by another 60 and refreshes the duration of the initial 60 |
| Comprehension Amidst the Flowers | Increases the level of the Elemental Skill by 3 and the maximum level to 15 |
| Karma Adjudged From the Leaden Fruit | Decrease the charging time of the second-level shot by 0.9 seconds and create an additional Clusterbloom arrow that deals 150% of Tighnari's attack as damage |
In terms of constellations, Tighnari can do perfectly well at C0. However, his constellation are all amazing to boost his damage. For reaction teams, the second and fourth constellations are extremely beneficial due to the Dendro damage boost along with the elemental mastery increase. As for the main DPS, Tighnari's sixth constellation is extremely beneficial in both reducing his charge time and the additional damage.
As a non-limited character, Tighnari is an amazing character with a lot of flexibility in his kit for different types of comps. He is well versatile and fun to play with while being great for newer players and veteran players.
Overall, Tighnari is an amazing character to have while being easier to obtain through losing 50/50 or the standard banner. This makes it more possible to reach his full potential even as a F2P character given enough time and luck.
All image copyrights belong to Mihoyo, Genshin Impact fandom, and Genshin honeyhunterworld.