Faruzan is an Anemo bow user who excels in supporting Anemo DPS characters while being easy to build. She can buff her allies while weakening her enemies in order to maximize the team's maximum damage all while acting like a battery for the main Anemo DPS.
Faruzan has multiple uses and each use requires a specific build. While her kit contains universal effects such as pulling effects, she can be used to buff an Anemo DPS or in a reaction team like other swirl users. Each path requires a specific build and a team comp, thus, it is important to understand how to build her properly. Here you can learn how to optimize her build to reach her peak performance!
Skills
Normal Attack: Parthian Shot
Faruzan fires up to four shots. Charging the attack aims the shot that increases the damage. When fully charged, the shot deals Anemo damage. Faruzan's kit revolves more around her Elemental Skill and Burst. Thus, this skill takes the least priority in leveling up.
Elemental Skill: Wind Realm of Nasamjnin
Faruzan summons a polyhedron that deals AOE Anemo damage to enemies within its range and grants her "Manifest Gale" state. In that state, her next charged shot becomes Hurricane Arrow that deals Anemo damage and applies Pressurized Collapse.
Pressurized Collapse creates a vortex that pulls enemies towards it and deals Anemo damage to them. That damage is considered Elemental Skill damage.
Elemental Burst: The Wind's Secret Ways
Faruzan summons a Dazzling Polyhedron that deals AOE Anemo damage and moves in a triangular path. Upon its summon and when it reaches each corner of the triangle, it activates "Whirlwind Pulse" that increases allies' Anemo damage bonus and reduces enemies' Anemo resistance.
This skill is Faruzan's bread and butter, and the reason why she is a strong Anemo support. Leveling from 1 to 13 increases the Anemo damage bonus from 18 to 38.25, while the Anemo resistance decrease is a constant 30%. Moreover, Anemo damage dealers gain 40% crit damage at her sixth constellation. This is why this is the most important skill in her kit and it takes the highest priority in leveling up.
Passive: Impetuous Flow
When Faruzan is in Manifest Gale state, her charged shot charging time is reduced by 60%, and the charged shot applies the same Anemo resistance decrease from her Elemental Burst.
2nd Passive: Lost Wisdom of the Seven Caverns
When a character gains the buffs from Whirlwind Pulse, they also gain Hurricane Guard buff after they deal Anemo damage that increases the damage they deal by 32% of Faruzan's base attack (0.8-second cooldown). This effect expires after its use or after Faruzan's Elemental Burst expires.
Weapons
Elegy for the End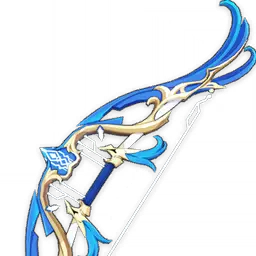 Elegy for the End is currently the best bow support weapon in the game. This is due to the secondary stat that grants 55.1% energy recharge, along with its passive that grants 160-320 elemental mastery and 20-40% attack to her allies. This allows Faruzan to keep her Elemental Burst charge easily all while buffing the overall damage of her allies.
Skyward Harp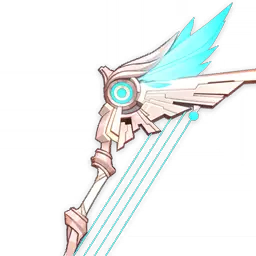 Skyward Harp is the second best weapon for Faruzan for two reasons. The first is that it has a high base damage, which is utilized in Faruzan's second passive to increase the Anemo DPS's overall damage. The second reason is that it gives crit rate which increases Faruzan's personal damage.
Favonius Warbow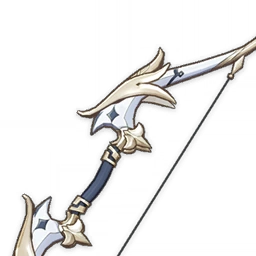 Favonius Warbow is a great weapon since it is a four-star weapon, making it easier to obtain. Moreover, it generates energy for allies making their Bursts easier to spam. The only issue is that it requires Faruzan to crit. However, her hit has multiple skills that can hit multiple times, making the chances of her critting higher.
Artifacts
When it comes to artifacts, there are two sets that work great with Faruzan depending on how she is used. If she is used to buff an Anemo DPS, Noblesse Oblige is the best set on her as it increases the attack of party members by 20% for 12 seconds after using her Elemental Burst. However, she cannot use this set if another member has it as its effect does not stack.
The second set is Viridescent Venerer as it increases her Anemo damage by 15%, increases swirl damage by 60% and reduces the elemental resistance of the swirled element by 40% for 10 seconds. However, this set is limited to reaction teams as her skills need to absorb an element for it to work.
As for substats, Faruzan does not really need any substats to support her allies. However, energy recharge should be high enough to be able to spam her Elemental Burst. In reaction teams, elemental mastery is nice to improve reaction damage. Otherwise, atk%, crit rate and crit damage are nice to improve her overall damage.
Build: Noblesse Oblige
Flower
Plume
Sands
Goblet
Circlet
Substats
1. HP
1. ATK
1. ATK % or Energy Recharge
1. Anemo DMG %
1. Crit Rate %/ Crit DMG %
1. Energy Recharge
2. Crit Rate %
3. Crit DMG %
4. ATK %
Also Read: Best Settings For Genshin Impact: Get The Highest Performance And Graphics.
Build: Viridescent Venerer
Flower
Plume
Sands
Goblet
Circlet
Substats
1. HP
1. ATK
1. ATK % or Energy Recharge
1. Anemo DMG %
1. Crit Rate %/ Crit DMG %
1. Energy Recharge
2. Crit Rate %
3. Crit DMG %
4. ATK %
Team Comps
In terms of team comps, Faruzan revolves around having an Anemo damage dealer, as her kit increases their damage and reduces enemies' Anemo resistance. However, those Anemo characters can still be paired in a reaction team, especially since their kits involve normal attacks and there are many supports who can apply an element through normal attacks.
Wanderer
Wanderer and Faruzan are phenomenal together as Wanderer is a strong DPS, while Faruzan increases his damage potential significantly. Not only she increases his crit and Anemo damage, but the gathering ability makes his hit a lot stronger against multiple enemies as his attacks can hit all of them. Finally, her presence with Wanderer activates Anemo resonance and she can also generate particles for him.
Xiao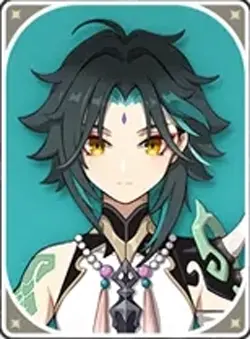 Faruzan is an amazing addition to Xiao as she fixes one of his biggest issues. Xiao struggles against smaller enemies as his plunging attacks during his Burst pushes enemies away. With Faruzan's kit, not only does his damage potential increase significantly, but it also removes wasted time where Xiao has to reposition himself.
Kazuha/Venti/Sucrose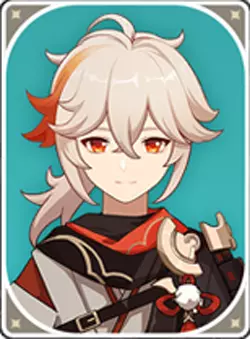 Shikanoin Heizou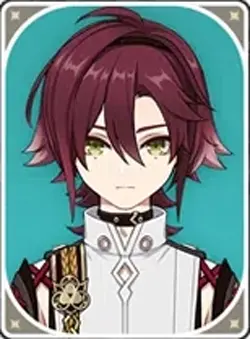 Heizou is known for his one-shot combo where one hit from his fully charged Elemental Skill. However, to achieve that, he needs a proper setup with supports that buff him and weaken the enemies. This is where Faruzan shines where she does both and increases his crit damage with her sixth constellation.
Xiangling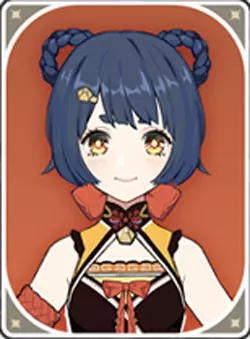 In a reaction team with Faruzan, Xiangling is one of the best supports to add due to her high damage and multiple reactions she can participate in. With the gathering effect of Faruzan and Xiangling's Elemental Skill and Burst, the main DPS will have an easy time creating reactions and dealing massive damage.
Yelan/Xingqiu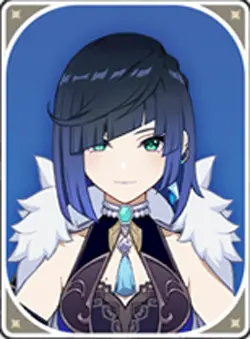 Yelan and Xingqiu are great supports to match with Faruzan in a team reaction due to the ease of their Hydro application. Swirling their Hydro while gathering them allows Faruzan to both make reactions easy and reduce their elemental resistance through the Viridescent Venerer artifact set.
Also Read: Best Xingqiu Build: Weapons, Artifacts & Team Comps
Constellation
| | |
| --- | --- |
| Truth by Any Means | While in Manifest Gale state, Faruzan can fire up to two Hurricane Arrows per state |
| Overzealous Intellect | The duration of Dazzling Polyhedron is increased by 6 seconds |
| Spirit-Orchard Stroll | Increases the level of the Elemental Skill by 3 and the maximum level to 15 |
| Divine Comprehension | Pressurized Collapses generates 2 energy if it hits an enemy and 0.5 energy for every extra enemy. The maximum energy generated from this constellation is 4 |
| Wonderland of Rumination | Increases the level of the Elemental Burst by 3 and the maximum level to 15 |
| The Wondrous Path of Truth | When a Character who us buffed from Faruzan's Elemental Burst deals Anemo damage, they gain 40% crit damage and their attacks create Pressurized Collapse vortex when they deal damage (3-second global cooldown) |
When it comes to constellations, Faruzan is fairly decent without constellations. However, she truly shines with her constellations depending on how she is used. If she is used in a reaction team, her second constellation is extremely beneficial as it significantly reduces the downtime of her Burst.
However, if she is used to buff Anemo characters, the sixth constellation makes a significant difference in terms of damage. To put it in perspective, the crit damage bonus is almost similar to the secondary stat of five star weapons such as Mistsplitter Reforged. While Faruzan is decent without constellations, the damage difference is too significant and well worth the investment.
Overall, Faruzan is mostly a niche character to support Anemo characters, but she is useful in reaction teams. Moreover, her build is fairly easy as she does not depend much on her substats to support allies. This makes the most important investment for her to be her constellations.
While she has a niche role, a C6 Faruzan can offer buffs equivalent to five-star weapons. Not only that, her kit can gather enemies, which makes killing smaller mobs a lot easier. This makes her a great character to have especially if you have Anemo DPS characters such as Wanderer and Xiao.
All image copyrights belong to Mihoyo, Genshin Impact fandom, and Genshin honeyhunterworld.