There are two types of players: the ones who heal by consuming lots of recovery dishes, and the ones who bring a healer. Some players prefer consuming recovery dishes for their party to maximize the four slots, while others prefer the latter to avoid wasting time switching out all your characters just to restore them back to health.
This article ranks all the available healers in the game as of writing. In here, we list down all the skills, passives and constellations that'll help maximize the character's healing ability.
Xingqui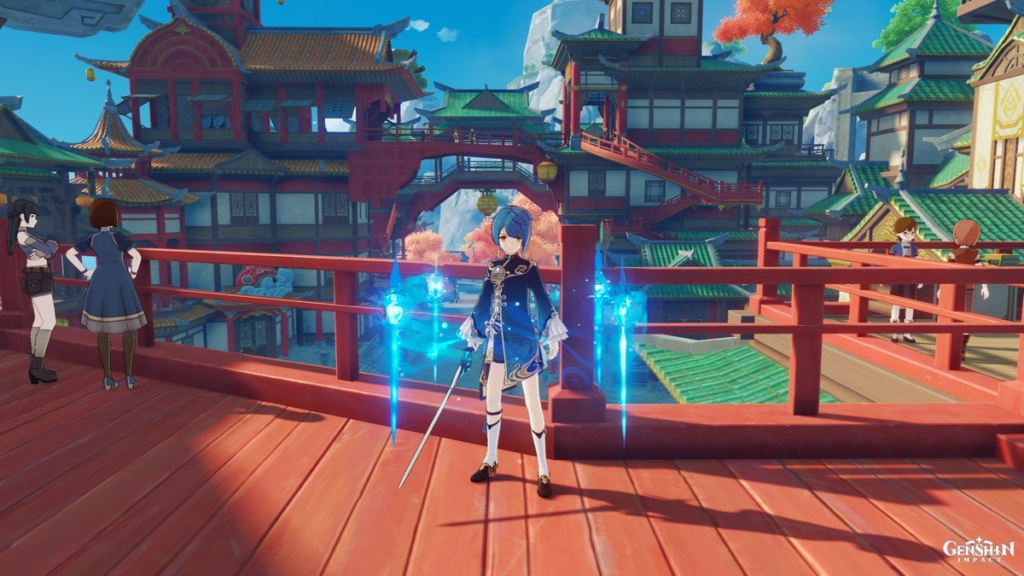 While Xingqui is technically not a healer, some players consider him to be one due to his A1 passive. When a Rain Sword (which can be obtained via his skill or burst) expires or is shattered, the current character is healed by 6% of Xingqui's max HP.
Noelle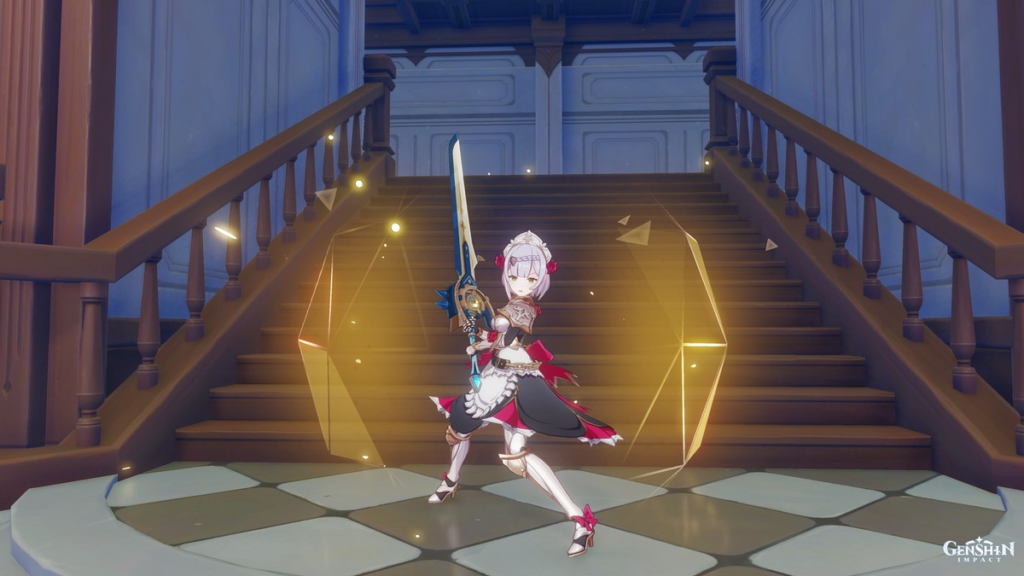 Shield or healer? This dutiful maid can do both. Her skill Breastplate not only summons a shield but also has a chance to regenerate HP for all characters, that is if Noelle's Normal and Charged attacks hit a target. This healing scales off her DEF.
Bennett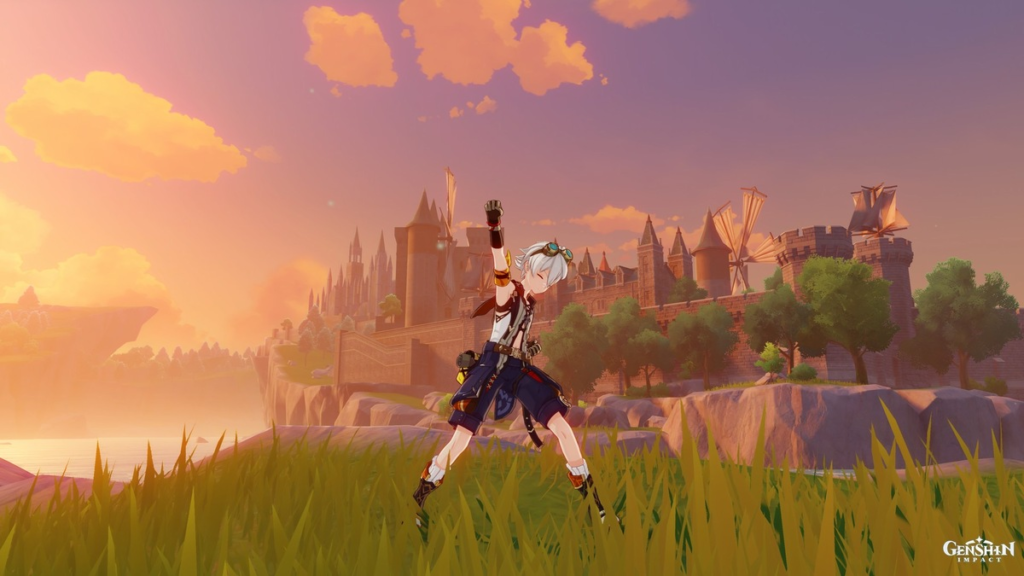 Behind every 100k damage there is a buff from Bennett. Though he is known more for giving a generous amount of ATK bonus to your teammates, Bennett can also be your trusty healer. His burst Fantastic Voyage heals characters within the circle if they have 70% HP or less. Healing scales off his max HP.
Diona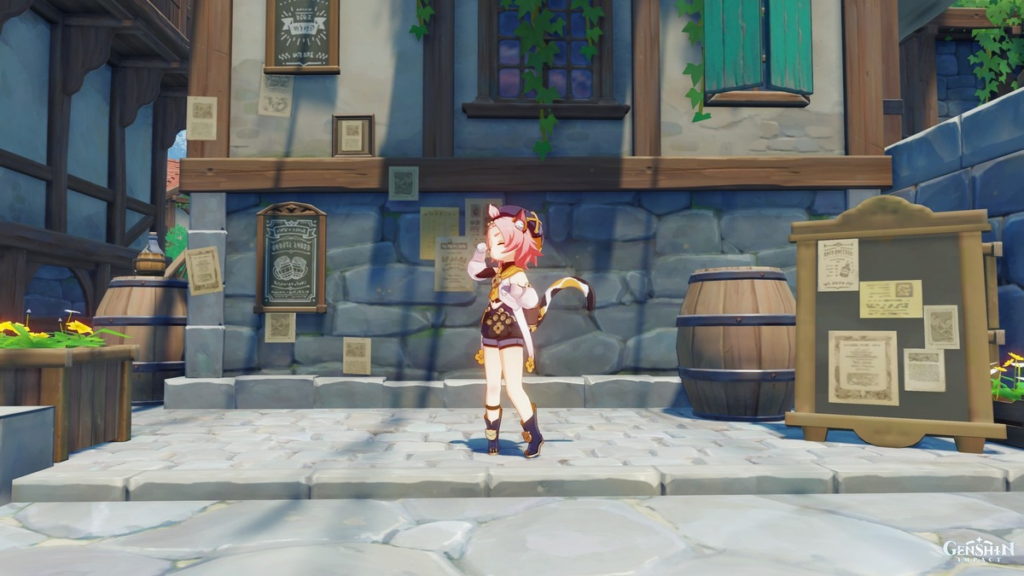 Like Bennett, Diona can heal characters through her burst Signature Mix, and her healing also scales off her max HP. C6 Diona however can buff EM plus Incoming Healing Bonus. At C6, characters within Signature Mix's radius will get their Incoming Healing Bonus increased by 30% if their HP is 50% or less. Meanwhile if their HP is more than 50%, their EM is increased by 200.
Sayu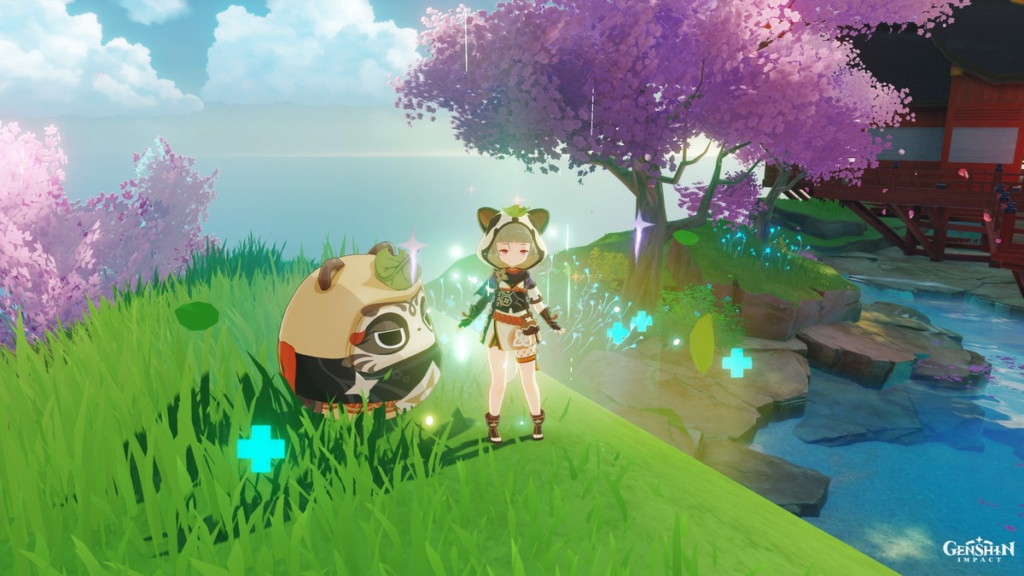 Hailing from Inazuma, Sayu heals the party by summoning a Muji-Muji Daruma in her burst. Aside from dealing Aoe Anemo DMG, the burst heals characters under specific conditions. If there are characters with 70% HP or less inside its circle AND there's a nearby opponent, it will heal the one with the lowest HP% left. Otherwise if there are no enemies, it will heal characters no matter what HP they have.
Sayu's A1 passive allows her to heal while dealing damage. When Sayu triggers a Swirl reaction, all party members recover 300 HP + 1.2 HP for every Elemental Mastery point she has. Meanwhile the A4 passive buffs her burst's healing. When healing a character, it will heal other characters near that healed character 20% of their HP.
Also Read: Best Shield Characters in Genshin Impact.
Sayu at C1 is already enough to buff her healing. If unlocked, the burst will ignore HP limits, allowing it to simultaneously attack and heal. If you want to go full healer mode, C6 Sayu's burst will benefit from her EM, wherein each EM point can increase the HP restored by the Muji-Muji Daruma by 3. This way a maximum of 6K HP can be restored.
Barbara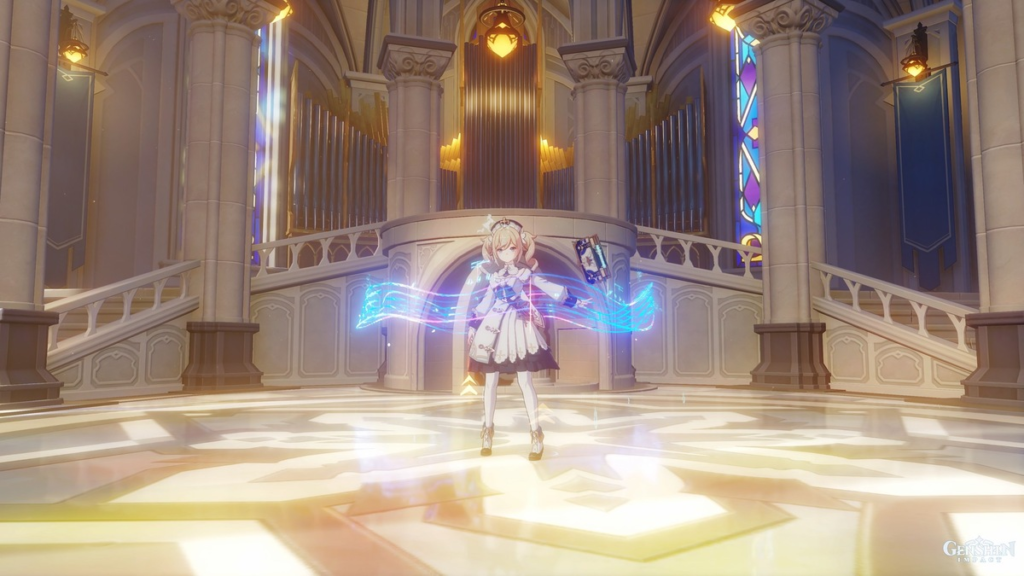 Just because everyone gets Barbara as a free character doesn't mean her healing skills should be undermined. Barbara's gameplay is easy to understand, not much strategizing is needed. All you have to do is cast her elemental skill, Let the Show Begin, AND THEN deal Normal Attacks to heal all your party members. This skill scales off her max HP, and can be maximized by using Charged Attacks, which generates 4 times the amount of healing. Also scaling off her max HP, Barbara's burst Shining Miracle heals all characters with an even larger amount of HP.
Many players call C6 Barbara a walking statue of the seven. As long as Barbara is in the party, if one of your party members falls, they will automatically revive with 100% HP. This effect can only occur every 15 minutes, so be careful!
Jean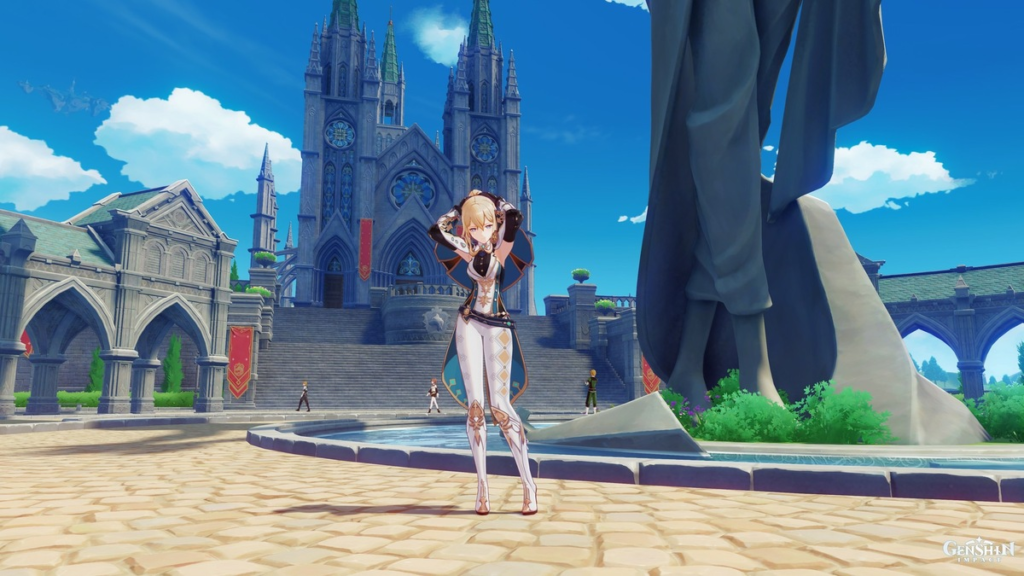 Jean is a jack of all trades. She's great whether as a DPS, a crowd-control support, or a healer. Just like her younger sister Barbara, Jean can also heal using Normal Attacks at Ascension 1. However, for every hit there will only be a 50% chance to regenerate HP, equivalent to 15% of her ATK. Her real healing powers can be witnessed via her burst Dandelion Breeze. While dealing Anemo DMG, it also regenerates a massive amount of HP for all party members. This also scales off her ATK.
Qiqi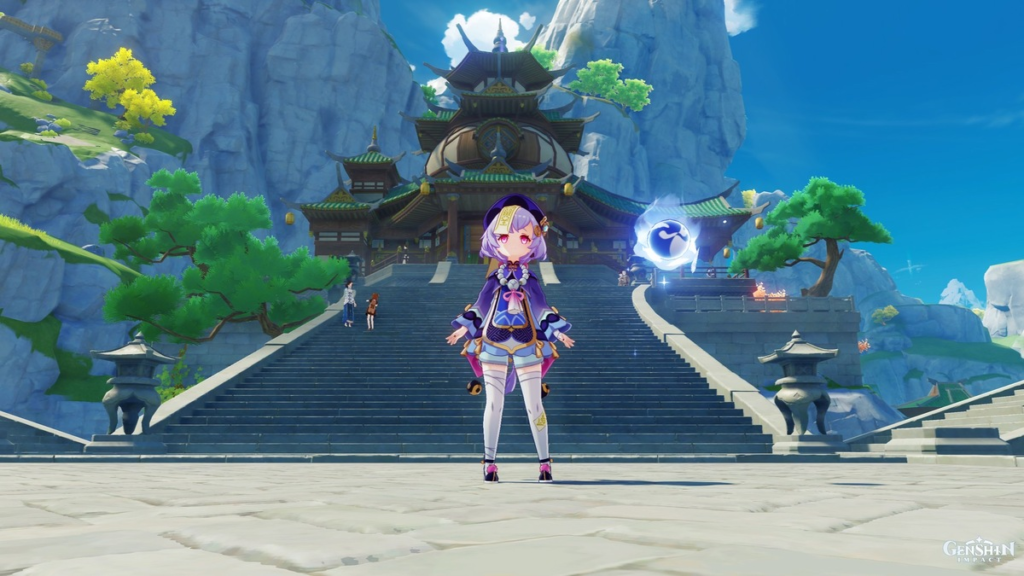 If you've lost the 50/50 pity at least once, then you may have a Qiqi just lying in your character archive. But don't be sad, Qiqi's an amazing healer! Her skill Adeptus Art: Herald of Frost deals Cryo DMG to surrounding opponents. On hit, her Normal and Charged attacks regenerate HP for all party members. Healing scales off her ATK. Meanwhile her burst Adeptus Art: Preserver of Fortune deals a huge amount of Cryo DMG, plus a Fortune-Preserving Talisman. When opponents affected by this talisman take damage, the character that dealt this damage will regenerate HP.
Qiqi's passives enable her to heal more. At A1, when characters under the effects of her elemental skill trigger an elemental reaction, their Incoming Healing Bonus is increased by 20% for 8 seconds. Take note that Incoming Healing Bonus does not mean your healing capabilities will be increased, but rather the amount of HP you'll obtain from being healed. At A4, Qiqi's hits from Normal and Charged Attacks have a 50% chance to apply a Fortune-Preserving Talisman that'll last for 6 seconds.
It looks like most C6 healers can revive a fallen character. However, C6 Qiqi's burst revives ALL fallen party members and regenerates 50% of their HP. Looks like it's not bad to lose pity to Qiqi after all.
Sangonomiya Kokomi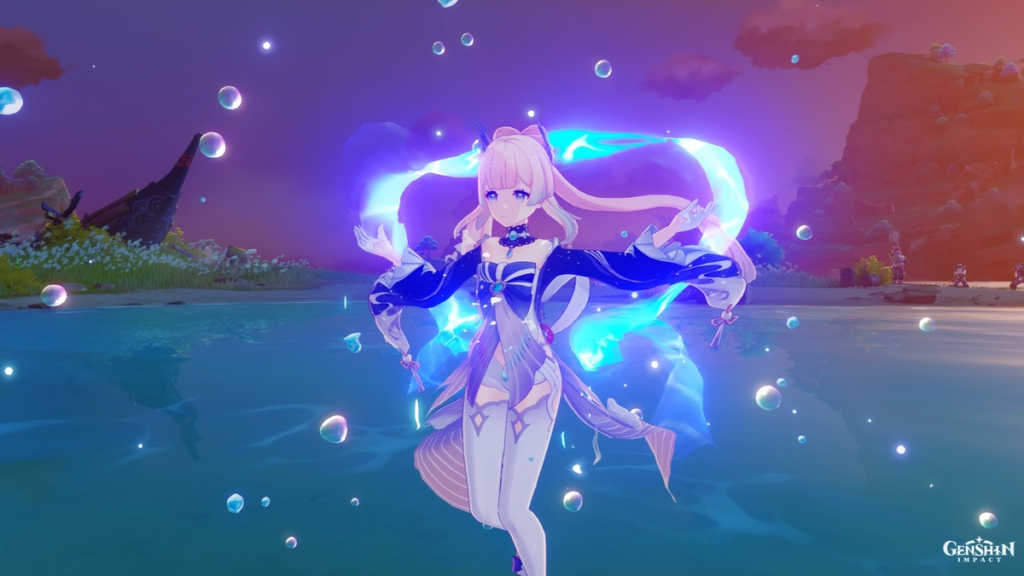 Kokomi may not CRIT, but she sure can heal a LOT. In fact, her elemental skill is very helpful especially when you're battling in the Spiral Abyss or at co-op. By using Kurage's Oath, Kokomi summons a Bake-Kurage jellyfish that heals nearby characters. This is beneficial if you want to focus more on using your other party members to do all the damaging, as you can leave the jellyfish to do all the healing as long as you are near it. It's like bringing a mini statue of the seven all over again. This healing is based on her max HP.
Most Kokomi mains (yes we exist) deal the most damage with her burst Nereid's Ascension. When using it, Kokomi robes a Ceremonial Garment, increasing the damage of all her Normal Attacks, Charged Attacks AND Bake-Kurage based on her max HP. When these hit an opponent, Kokomi restores HP for all party members (also based on her max HP).
Kokomi's Ascension 1 passive refreshes the Bake-Kurage's duration after using Nereid's Ascension. A note to remember therefore is that you should apply FIRST a Bake-Kurage jellyfish on the field before using her burst so that the jellyfish can stay on the field for a longer time. Another note is that you may want to give Kokomi some Healing Bonus artifacts. At Ascension 4, while at her burst state, Kokomi gains a further increase in her Normal and Charged Attacks based on 15% of her Healing Bonus. And this is aside from the increased damage she gets from her max HP! This means that there is an automatic increase already on her attacks as her Ascension 0 passive grants Kokomi a 25% Healing Bonus.
As for constellations, the only healing bonus you can get is at C2, and it has a specific trigger condition: characters should have a 50% HP or less. If so, the jellyfish will then heal an additional 4.5% of her max HP.
Players should keep in mind that just because a character is stereotyped to become a healer doesn't mean they can't deal damage. Some weapons heal characters no matter who equips it and some artifacts grant you more damage as you heal more HP. Building characters is a complex process. Again, it is up to how you want to build your characters, whether as a sole healer or a hybrid damage dealer slash statue of the seven.