If you are looking for a lightweight gaming mouse with beautiful RGB and great specs, your search may end here. Below I have an Xtrfy M42 review that is exceptional in the performance.
Searching for a gaming mouse is not easy as your victory depends on it. That is why I'm here with Xtrfy M42 to help you select the best. Here, I'll tell you some of its features, pros & cons, and some similar mice. So, let's begin!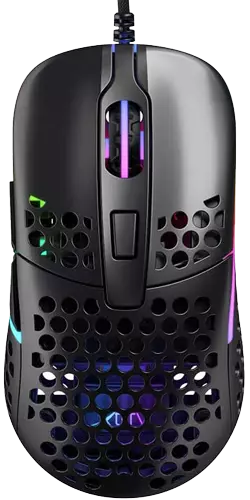 Xtrfy M42
An excellent ultra-light gaming mouse with excellent build quality. So grab it now from below's link!
---
---
Specifications
Sensor
Optical
Style
Right-Handed
Dimension (in.)
L: 4.57
W: 2.45
H: 1.49
Weight (g)
60
Connectivity
USB (Wired)
Wire Length (ft.)
5.91
Buttons
6
Dots Per Inch
16,000
Polling Rate
1,000
Hardware Acceleration
No
Features
Adjustable Shape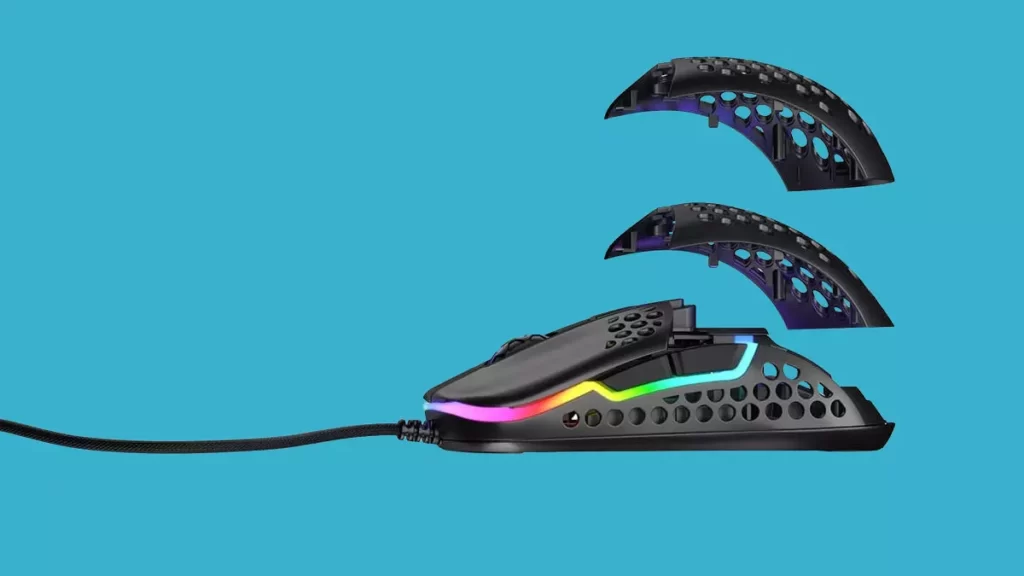 The Xtrfy M42 has a circular holes structure that makes the mouse airy and lightweight. But it also has a customizable shape. It means it comes with two shells that have a slightly different structure. You can remove the palm rest and replace it with a new one.
One already comes in the box. Each shape is designed for various users. So, if you like the fingertip grip, you have a special structure. But you can change it for claw or palm grips.
M42 has an ambidextrous design, which means you can use it from both hands. However, the additional two buttons are on the left side. Anyways, the holes may feel bigger in any hand, yet they aren't uncomfortable.
Top-Grade Sensor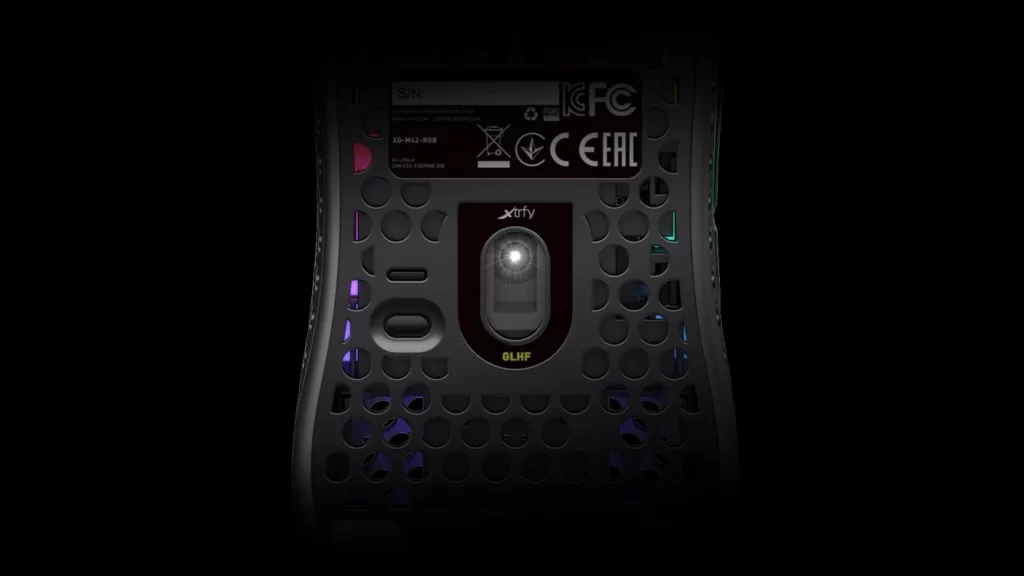 The highlight of M42 is its sensor under the hood, PixArt PMW-3389. It is a powerful sensor from the PixArt that can have a DPI of up to 16,000. Also, unlike other gaming mice, you have eight DPI presets. You can change them from the button on the bottom (I'll get to that later).
The 3389 can pick up a speed of 400 inches per second with a polling rate of 1,000 Hz. Due to such speed, you can have quick turnarounds to fire at your enemy.
Smooth Movements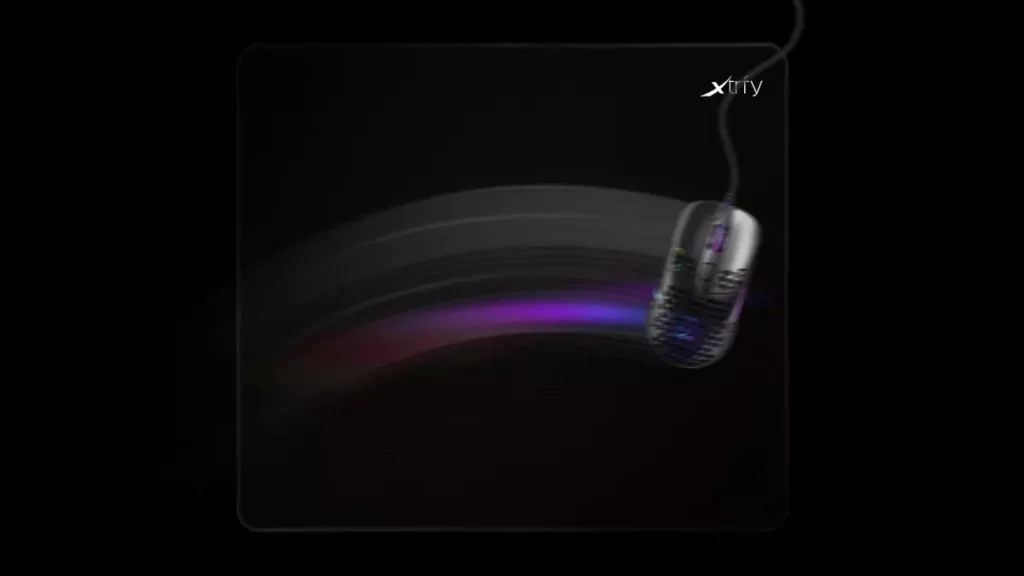 Xtrfy M42 has top-grade PTFE feet that are divided into two portions. They provide a smooth glide over the surfaces. So, they ensure a seamless turn in an intense battle where a little restriction may cause you to get killed.
Combined with a high-quality mousepad, you can have the ultimate experience. The 60g weight also plays an important role in providing an effortless mouse movement.
Braided Cable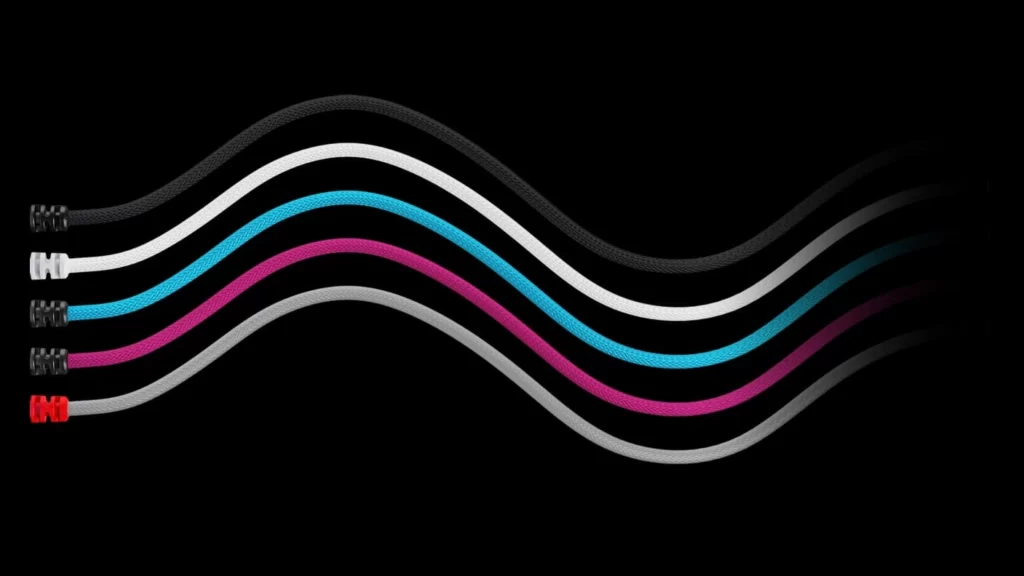 The M42 has a 5.91 feet long braided wire. It is made from a high-quality material that can resist wear and tear to a large extent. The naked or cut out cables from the ends won't be such a problem.
However, the braided cable is a bit stiffer than other usual gaming mice cables. You may find it altering in the movements on a random flat surface. But if you use a mousepad, you won't feel any difficulty or resistance from the cable.
Splash Resistant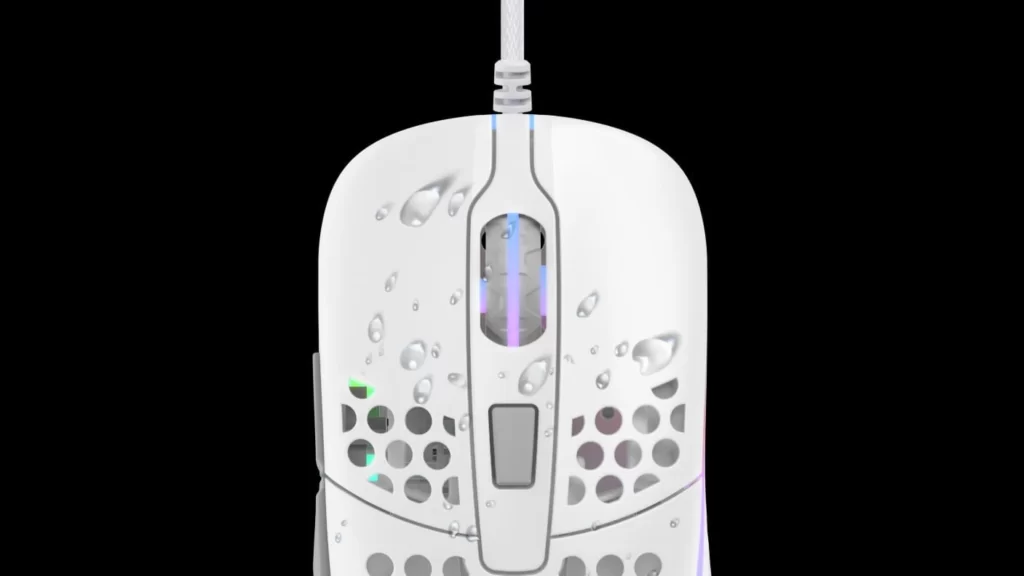 Funny to say, the M42 has holes in the palm rest and some on the buttons, but it is also splash and dust resistant. It has a special conformal coating on the inside components for protection.
It doesn't mean you can just spill any of your juices. The coating will protect from sweat that is less likely to build up. But if it does (suppose you live in an extremely humid region), you don't need to worry about anything. Still, I'll advise you to get grip tapes for covering the holes to address any uneasiness.
What I Like
Above are the amazing feathers of the Xtrfy M42, but I like some other things too. They help a lot in having an outstanding experience. Also, they assist in gaming as well provide a high value to money ratio. Here they are as follows:
Fast Experience
The M42 has quite a speed. The mouse is fast enough to change the view easily. It picks the surface moving underneath swiftly and changes the pointer (or crosshair) according to the settings. I usually keep the 7200 DPI, but the higher settings are excellent too.
The 400 IPS provides the maximum acceleration of up to 50G, which is super speedy. However, you can adjust the speed to lower settings. The eight preset DPIs are 400, 800, 1200, 1600, 3200, 4000, 7200, and 16,000.
Comfortability
The two sets of shape adjustments give a lot of comfortability. You can easily change the shell according to your desire. Both of them felt so natural and ergonomic. The top-tier PTFE feet also make the usage seamless and satisfactory.
You may feel the large holes are a bit uncomfortable. But you can use the grip tapes to cover them. Also, to enhance any grip you prefer, the side holes are specially designed for that purpose. They ensure control and grip even with sweaty hands.
RGB
Like any other gaming mouse, Xtrfy M42's strength also lies in its RGB aura. The colorful light lines start below the buttons to both sides midway. The same source also illuminates the RGB of the scroll wheel.
Some part of that rainbow light also peeps out through the holes, giving amazing aesthetics. You can change the color and brightness of them directly through the mouse. This takes us to our next section.
What I Don't Like
Although the Xtrfy M42 is a great gaming mouse with no exception in performance and speed, there are still some drawbacks. Following are the two fields where it lacks a lot and is greatly behind its competitors. Let's get into them:
No Software
In contrast to other gaming mice, which have a brand's special software for customization, Xtrfy M42 does not. There isn't any particular software from which you can adjust the DPI settings, RGB frequency, brightness, etc.
You can adjust only three departments (above three) directly to the mouse. Xtrfy does keep any software that can customize any of its products. So, if you want to change anything, just press the buttons available.
Also, a downside of not having software is that you can't have multiple profiles. You can create one instantly, but it all requires clicking buttons till you get what you desire. And it will last as long as you don't change any setting. You can't make any other that is one click far away.
Fewer Buttons Durability
Although the braided cable offers ultimate durability, and the plastic that made the body is also strong, the buttons are not tested enough. According to Xtrfy, the M42's buttons have lasted at least 20 million clicks.
Comparing it with other brands that test their mice through 50-60 million clicks, these 20 million are way too less. I have no complaints about the click sound (it is among the most satisfactory clicks). Still, the durability is not sufficient.
Similar Products
If you want to look for other mice too, I've got a couple more similar to Xtrfy M42. They are better than it in some departments. At the same time, they also fall behind in a few areas. Here they are: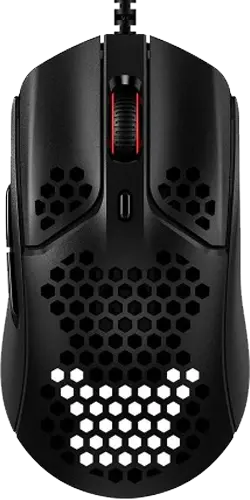 HyperX Pulsefire Haste
Rating: 8.8 (Great)

HyperX Pulsefire Haste is such an astonishing gaming mouse for the pros. It has a honeycomb structure on the body that a translucent plastic layer covers. So, when the RGB is on, it creates an aesthetic effect. At the same time, it is also packed with all the required specs that can make your game invincible (you also need to be pro for that).

Looking For HyperX Pulsefire Haste Review?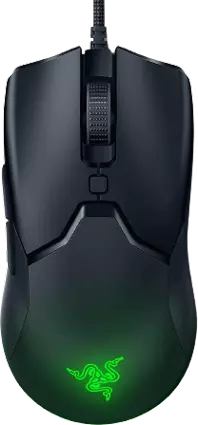 Razer Viper Mini
Rating: 9.1 (Amazing)

Razer Viper Mini is a great pick for a budget-friendly mouse. It is small, fast, smooth, and efficient. The elegant design and the Razer's Chroma RGB make a lethal combination of creating a pure gaming mouse look. You may not get the higher max DPI, but it won't be an issue considering its price as it sets the value for money ratio pretty high.

Looking For Razer Viper Mini Review?
Product Name
Xtrfy M42
HyperX Pulsefire Haste
Razer Viper Mini
Type
Wired
Wired
Wired
Sensor
Optical
Optical
Optical
Sensor Type
PixArt PMW-3389
Pixart PAW-3335
PixArt PMW-3359
Dimension (in.)
L: 4.57
W: 2.45
H: 1.49
L: 4.89
W: 2.62
H: 1.5
L: 4.66
W: 2.11
H: 1.51
Weight (g)
60
59
61
Buttons
6
6
6
DPI (max)
16,000
16,000
8500
IPS
400
450
300
Maximum Acceleration
50G
40G
35G
Polling Rate (Hz)
1,000
1,000
1,000
RGB
Yes (1 zone)
Yes (1 zone)
Yes (2 zones)
Cable (ft.)
5.91
6
6.5
Durability
20 Million Clicks
60 Million Clicks
50 Million Clicks
The Xtrfy M42 is a compatible mouse for many others. It glides smoothly, has a high DPI, gives satisfactory clicks, and has a powerful sensor. The changeable shells also add comfort in handling. Moreover, the braided cable is strong.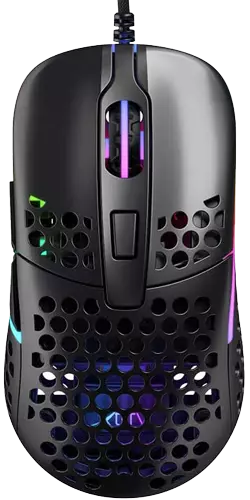 Xtrfy M42
An excellent ultra-light gaming mouse with excellent build quality. So grab it now from below's link!
Xtrfy M42
So, after the Xtrfy M42 review, should you buy it? It depends. It is a great mouse, but having no software for customization is a downfall. You can buy it if you usually stick to one setting. Otherwise, there are better options.
User Ratings (

2

Votes)