Are you looking for a durable, fast, and lightweight gaming mouse? Then I have an answer for you. Below I have a HyperX Pulsefire Haste review that may help you a lot in gaming.
Finding great gaming equipment is not easy. You don't want to lose the battle just because of a stupid slow mouse. Pulsefire Haste can be your excellent gaming companion. Here, I'll tell you its features along with pros and cons. So, let's get started!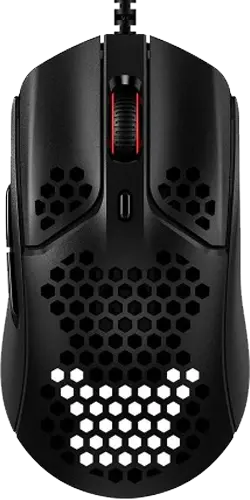 HyperX Pulsefire Haste
HyperX Pulsefire Haste is the best esports mouse at 30$. So grab it now from below's link!
---
---
Specifications
| | |
| --- | --- |
| Sensor | Optical |
| Style | Right-Handed |
| Dimension (in.) | L:4.89W:2.62H:1.5 |
| Weight (g) | 59 |
| Connectivity | USB (Wired) |
| Wire Length (ft.) | 6 |
| Buttons | 6 |
| Dots Per Inch | 16,000 |
| Polling Rate | 1,000 |
| Hardware Acceleration | No |
Features
Ultra-Light Design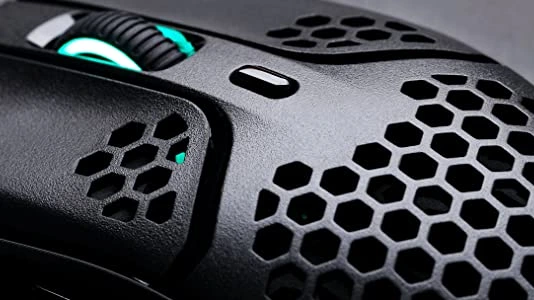 Pulsefire Haste has an utterly lightweight design due to its honeycomb holes. These holes provide proper airflow throughout the mouse. So, your hands won't sweat easily in long gaming sessions. It weighs only 59 grams, which goes to 80 grams, including cable.
The honeycomb structure gives cool looks, but you can fix it if you feel uncomfortable (I'll discuss this down the review). Anyways, dust can be a problem due to the open structure. But all you need is a hairdryer or a blower to clear any dust inside.
Durable Clicks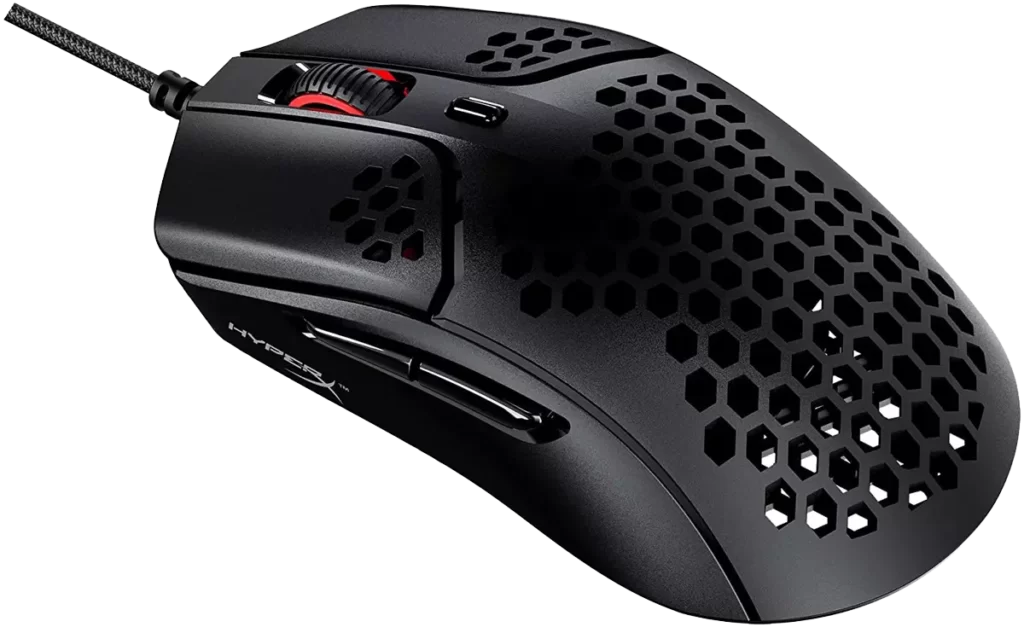 It has six buttons, including the right and left clicks, the DPI changer, scroll wheel click, and the two customizable additional buttons. Since it is a right-handed mouse, you will find these additional buttons on the left side. All of them give a satisfying sensation and are highly durable.
According to HyperX, every button has passed through 60 million clicks. The amount sounds pretty high, but it is common among gaming mice. In addition, the right & left clicks have TTC Golden Micro switches that are dustproof. So, the open structure is not much of a problem for the clicks.
Briefly, don't be fooled by the quality due to the lightweight. It is as durable as any other pricier mouse, and you can rely on it for a long time.
Strong Sensor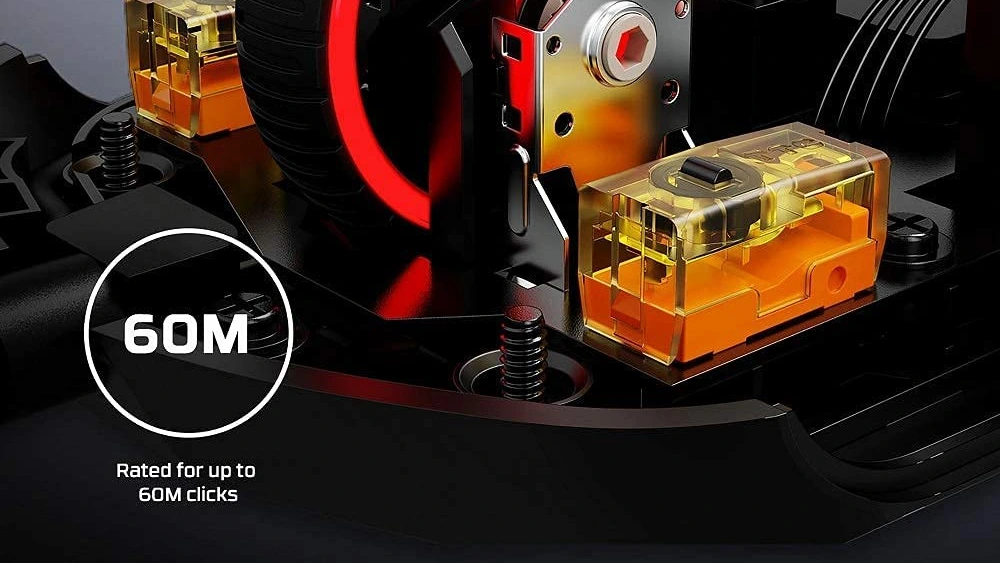 The HyperX Haste uses PixArt PAW-3335, a lighter variant of PMW-3389. Yet it is powerful enough to deliver almost the same specs as that high-end 3389.
You get five preset ranges of DPI, where 16,000 is the maximum. The CPI rating is also high, with 400 points. Moreover, you can get maximum acceleration up to 40G.
I know 40G is a bit slower than PMW-3389, but you get the other specs similar to it. Also, considering the price, the sensor sums up to an excellent value for money ratio.
HyperX NGENUITY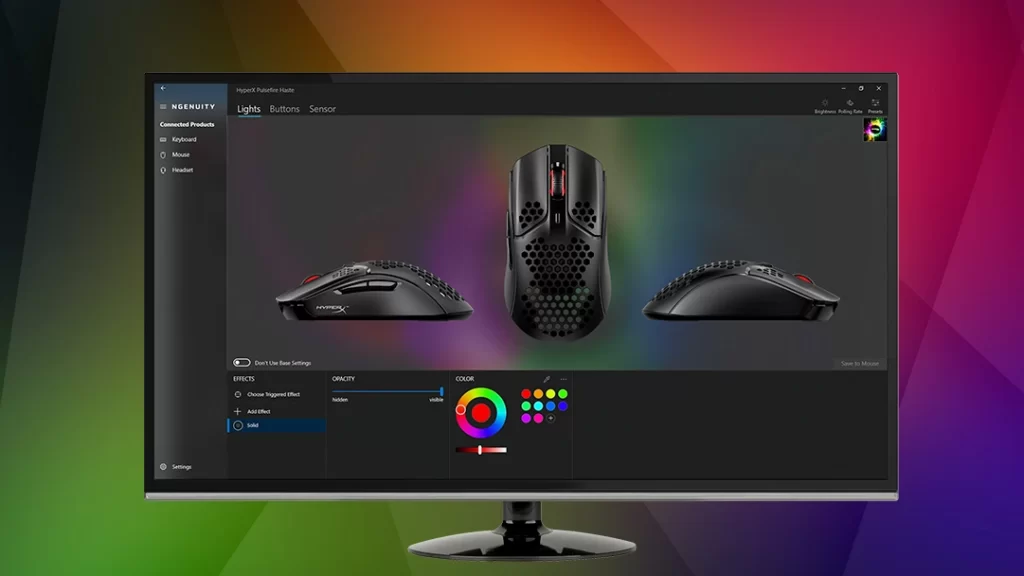 Like other gaming mice, Haste also has a configuration software, HyperX NGENUITY. However, there isn't much customization. You can adjust the RGB frequency, brightness, and the five preset DPI settings.
Also, you can assign only the side buttons for different tasks. Because, as far as right and left clicks are concerned, you can only swap their functions. Overall, it gives necessary customization that can be adequate. You can download HyperX NGENUITY from their official website.
HyperFlex USB Cable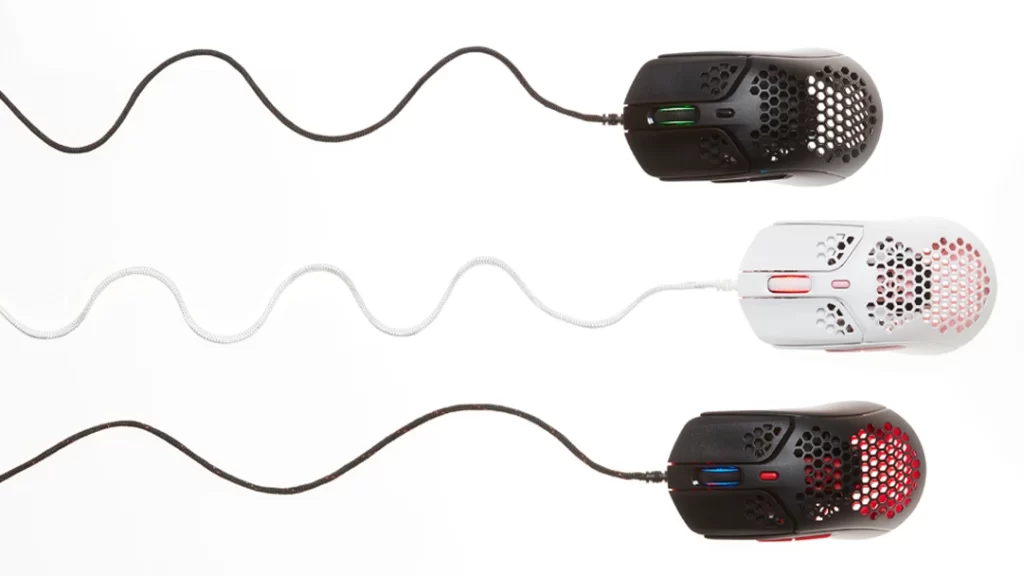 The mouse also has a 6 feet long HyperFlex USB Cable. It is based on paracord technology instead of the usual braided cable. So, it makes the whole unit even lighter than any other mouse. Including the weight of the cable, Haste weighs only 80g.
It feels like operating a wireless mouse due to paracord, as it is more flexible and doesn't give any resistance while moving it. Moreover, you get a strength of nylon that is resistant to vigorous usage.
What I Like
Apart from these features, HyperX Pulsefire Haste has many other benefits that I like the most. It gives a great competition to many other expensive gaming mice. Here's how it is an amazing mouse at a low price:
Fast Gaming
Pulsefire Haste provides an excellent gaming experience. The PAW-3335 has super precision in tracking the mouse's whereabouts and movements, giving me a perfect kill (excluding my mistakes while aiming).
You get a maximum polling rate of 1,000 Hz like any other mouse. But it has a speed of 450 IPS, which is too fast for cursor movements. The 40G acceleration combined with 16,000 max DPI is decent enough to operate swiftly.
Smooth Experience
The lightweight paracord cable serves a lot in flawless movements, and it is also highly durable to withstand damage for a long time. But what makes the experience smoother are the virgin grade PTFE feet. These top quality feet make every slide frictionless.
Although they last for months, everything goes through wear and tear after continuous usage. So, to refresh the smooth gliding experience, you get an additional set of these PTFE feet in the box. The four oval white pieces in the box ensure consistent long-term use.
Also, the satisfying clicks of every button are relaxing. The scroll wheel moves without any friction, which makes the weapons switching even easier. Likewise, you can scroll a page conveniently while reading.
Grip Tapes
Remember, I discussed the open honeycomb structure of the mouse. Although it provides a stylish look and restrains sweat from obstructing your victorious experience, some people don't like it. Initially, I didn't either. So, for us, the mouse comes with special grip tapes.
These grip tapes cover the holes and don't feel uncomfortable. They increase any grip you prefer— fingertip, claw, or palm. Moreover, you get protection against the collecting dust inside the mouse.
So, the interior can function properly in a clean condition. However, it doesn't matter much due to dustproof click switches.
What I Don't Like
HyperX Pulsefire Haste may have amazing features, and I may like many of its specs, but there are some aspects that I don't like too. They are mostly lower in providing certain things as compared to other competitors. So, they can get better, or probably some people like it that way they are. But I don't like them. Here's they are:
1 Onboard Profile
First of all, you get only one onboard profile on the mouse memory. Although you can save different profiles on the NGENUITY, the mouse can hold only one. So, you need to download the software on that remote PC. It may be sufficient for many players who don't change the setting for different games. But usually, it is insufficient.
Insufficient RGB
What are the aesthetics of gaming devices? RGB! But Pulsefire Haste is low on this department. It has only one RGB zone that lies under the scroll wheel. So, it glows just in a ring and usually does almost nothing in giving the gamer's feel. Rest is an empty and plain honeycomb structure.
I'm not criticizing the structure as it makes the mouse super lightweight and gives an amazing look to it. But it would be more welcomed if they put an RGB under the structure that glows from inside the holes. Otherwise, I don't have any complaints regarding the performance as it is up to the mark.
Similar Products
Although you will find the Pulsefire Haste pretty decent, I have listed a couple more for your convenience if you want to look for other options. They are great in performance. At the same time, they also provide competitive specs than other gaming mice. Below are both of them: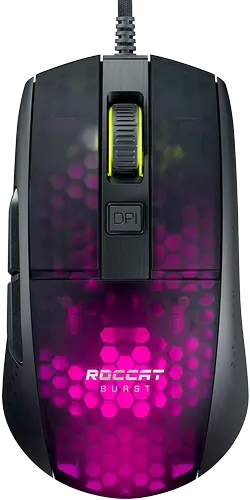 Roccat Burst Pro
Rating: 9.0 (Amazing)

The Roccat Burst Pro is another brilliant option for pure aesthetics. It also has honeycomb holes, but a thin plastic layer covers them. So, it looks normal in plain sight but becomes vibrant when the RGB glows from the surface.

Looking For Roccat Burst Pro Review?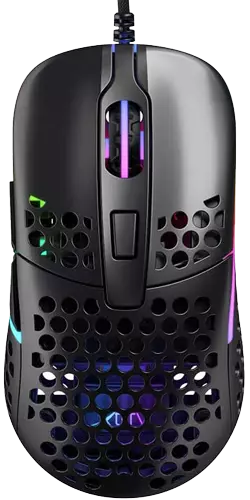 Xtrfy M42
Rating: 8.8 (Great)

If you want the same honeycomb lightweight structure with more RGB, then Xtrfy M42 is an excellent option. It resembles Haste in many aspects, but it has a more powerful sensor, PMW-3389. So, you will experience fast lighting gaming.

Looking For Xtrfy M42 Review?
| Product Name | HyperX Pulsefire Haste | Roccat Burst Pro | Xtrfy M42 |
| --- | --- | --- | --- |
| Type | Wired | Wired | Wired |
| Sensor | Optical | Optical | Optical |
| Sensor Type | Pixart PAW-3335 | Roccat Owl-Eye 16K | PixArt PMW-3389 |
| Dimension (in.) | L:4.89W:2.62H:1.5 | L:4.72W:2.28H:1.52 | L:4.57W:2.45H:1.49 |
| Weight (g) | 59 | 68 | 60 |
| Buttons | 6 | 6 | 6 |
| DPI (max) | 16,000 | 16,000 | 16,000 |
| IPS | 450 | 400 | 400 |
| Maximum Acceleration | 40G | 50G | 50G |
| Polling Rate (Hz) | 1,000 | 1,000 | 1,000 |
| RGB | Yes (1 zone) | Yes (2 zones) | Yes (1 zone) |
| Cable (ft.) | 6 | 5.91 | 5.91 |
| Durability | 60 Million Clicks | 100 Million Clicks | 20 Million Clicks |
Summing it all up, HyperX Pulsefire Haste is a great mouse and truly among the lightweight category champions. You will find it fast, durable, and easy to use. However, you will need to compromise on the RGB. If it doesn't bother you, then everything's great.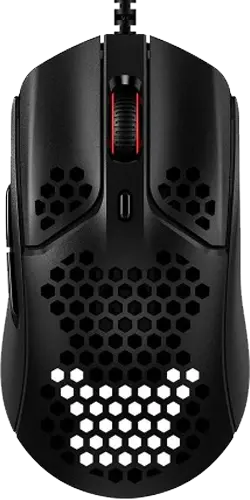 HyperX Pulsefire Haste
HyperX Pulsefire Haste is the best esports mouse at 30$. So grab it now from below's link!
HyperX Pulsefire Haste
So, after the HyperX Pulsefire Haste review, should you buy it? I think yes. Apart from the less RGB, everything is quite decent in the mouse. You will have an excellent experience and may even recommend it to your friends as well.
User Ratings (

3

Votes)