Roccat is famous for its gaming accessories, as they have launched many amazing gadgets for gamers. If you are looking for their gaming mice, the Roccat Burst Pro is a great option.
Here, I've got a detailed Roccat Burst Pro review. I've been using it for over weeks and find it pretty helpful. Below, I'll tell you some of its highlighting feathers, benefits, and drawbacks. Also, I've listed some other similar mice that provide a good value. So, let's begin our review: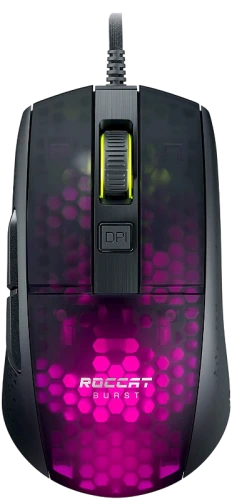 Roccat Burst Pro
One of the fastest mice for gaming! Get it now to remain at the top of your battles.
---
---
Specifications
| | |
| --- | --- |
| Sensor | Optical |
| Style | Right-Handed |
| Dimension (in.) | L: 4.72 W: 2.28 H: 1.52 |
| Weight (g) | 68 |
| Connectivity | USB (Wired) |
| Wire Length (ft.) | 5.91 |
| Buttons | 6 |
| Dots Per Inch | 16,000 |
| Polling Rate | 1,000 Hz |
| Hardware Acceleration | No |
Features
Elegant Design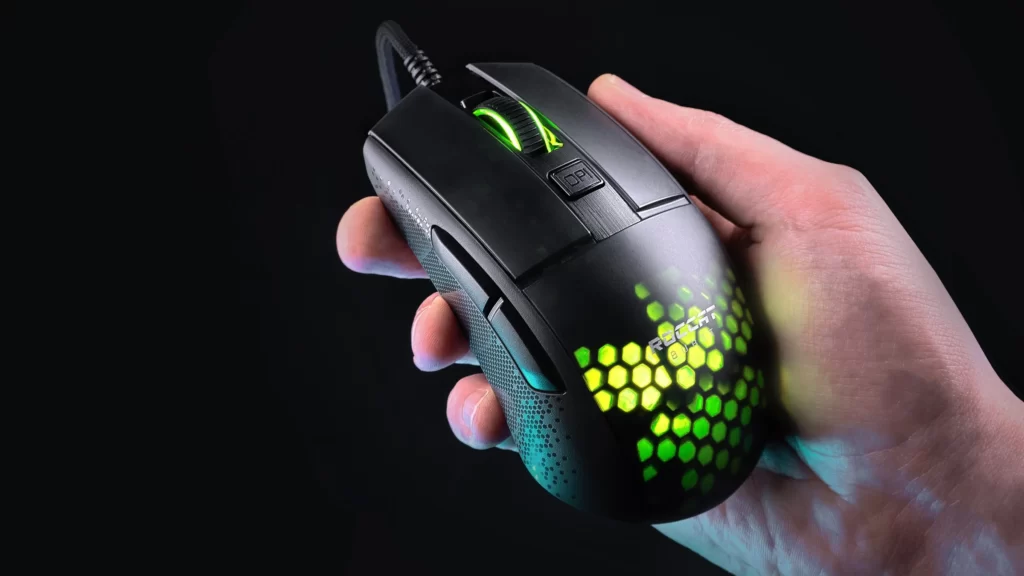 Roccat Burst Pro has a sleek and elegant design that is minimal in looks. The two side buttons are easily accessible and give a satisfactory click. Both right and left buttons are separate, and the middle strip contains the DPI button below the scroll wheel.
Overall the mouse has a smooth plastic finish, but it has honeycomb holes below the buttons on the palm rest. The translucent plastic layer covers them for a uniform texture. The RGB glows through them (I'll come to that later).
The Burst Pro is ambidextrous for the comfort of both hands. Although it has extra buttons on the left side for the right hand, you can easily operate it with your left hand. However, the button's usage will be tricky from your pinky or adjacent finger.
Powerful Sensor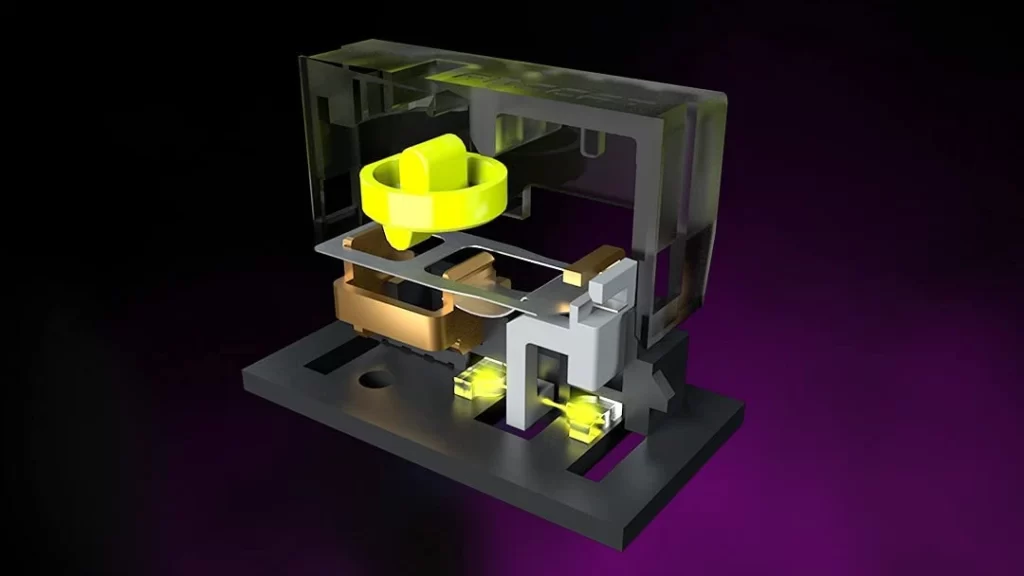 The optical sensor used in Burst Pro is Roccat's Owl-Eye. It is specially designed PixArt PMW-3381 for Roccat only. You can expect brilliant performance from this PixArt, as it is better optimized with the mouse. The reason is the manufacturers know the mouse capabilities and tune it accordingly.
It is capable of delivering 16,000 DPI with an acceleration of 50G. The sensor is fast, yet it is precise enough to land a clean headshot. Along with the speed of 400 inches per second, you won't feel any sluggishness while gaming.
The DPI can go as low as 50 dots per inch, which is the sensor selects in idle positions. Anyways, you can adjust the DPI to any of the 5 stops between 50 and 16,000.
Durable
The Burst Pro is made with a solid and thick plastic body to survive an accidental fall. At the same time, the company manages to make the mouse lightweight too.
According to Roccat, they have put buttons under rigorous tests. All of them survived up to 100 million clicks. The claim is bold as 100 million is a pretty prominent figure, but I will buy it.
Apart from the body itself, you will find a braided 5.91 feet long tail behind this mouse. The cable is super flexible to handle any twist, as well it won't run into wear and tear quickly.
Roccat Swarm
Like every other gaming mouse, Roccat also has dedicated software, Swarm, to customize its products. You can download the Roccat Swarm from their website. It provides a load of customization options.
You can assign side buttons to different tasks, even two functions at a time. The secondary one comes under the category of Roccat Easy-Shift [+]. Press shift and the targeted button to use its secondary function.
You can adjust the mouse pointer speed, double click speed, and scroll speed from the software. Also, you can set the DPI to any of the said 5 points.
As far as RGB settings are concerned, they are ordinary. You can adjust the brightness, color, frequency, and change speed. The Swarm gives you three modes rainbow, breathing, and solid unicolor.
RGB Aesthetics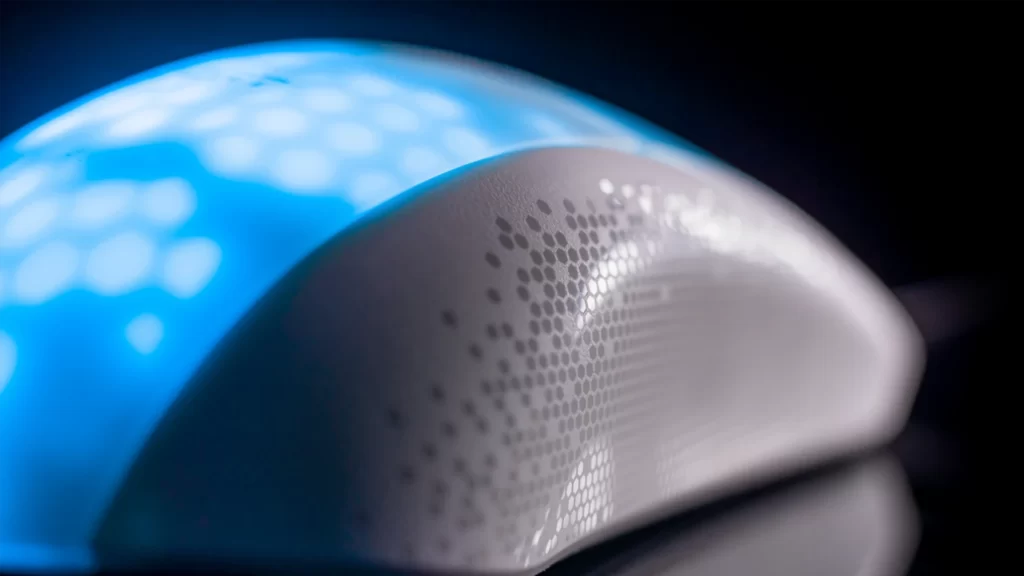 It appears that the mouse has two RGB zones, but there is only one. A single RGB source enlights both areas, under the scroll wheel and the palm rest. The palm rest section has honeycomb holes covered by a translucent plastic layer.
It gives cool aesthetics when the RGB glows through the material. Again, you can control this lighting through the Swarm software. So, customize it according to your preferences and enjoy a rich gaming experience.
What I Like
I used the mouse for several weeks while testing for this Roccat Burst Pro review. It was a great companion in the games, Fortnite particularly. But there are some aspects which I like most about it. Below are what I like:
Excellent Gaming
When playing on the highest setting, it provides superbly fast results. The 16,000 DPI is fabulous in aiming swiftly and turning the view to look behind. Combined with the 400 IPS, the cursor (or crosshair) flawlessly moves through the screen.
Another adjustable point is the polling rate. You can set the rate at 125, 250, 500, and 1000 Hz. Although 125 and 250 are somewhat useless, 1000 Hz is quite fast. The former two will only use less energy. Otherwise, I would advise keeping the polling rate to 500 or better at 1000 Hz for smooth movements.
Ease of Use
The ambidextrous designs and comfortable grip make the mouse easy to handle. I didn't feel any ache, pain, or cramp after hours of use. The braided cable also makes the movement super flexible.
But I feel more ease in sliding. The two feet pads are made from virgin grade PTFE materials. It felt like you are moving the mouse in the air. They provide less friction, so unrestricted and clean movement assists a lot in precise aiming.
Customization
I've told you about the Swarm software, but there were some things that I like a lot about the software and didn't discuss in the above section. First are the extreme levels and metrics of customization.
In contrast to the usual settings, you can even change the scroll wheel functions, reactive Aemo RGB, and macro manager. The macro manager allows you to save different mouse profiles for a specific game. It means your mouse behaves differently on various games as you set them.
The Aemo RGB is a randomizer that changes the lights according to your activity. Although I don't find any specific change, it felt incredible when the light gives different colors on every movement.
Lastly, you can store up to 5 profiles in the onboard memory. You can save the profiles in the mouse's memory and carry them to any other PC. Since the settings are on your mouse, you don't need to download the Swarm on that PC again.
What I Don't Like
However, there are some factors about the Burst Pro that I don't like. They are either frustrating or too obnoxious. I'm not implementing that makes the mouse bad; there can be improvements. Here's what they are:
No Rubberized Grips
Although the shape and design of the mouse are comfortable, and I never felt uneasy after hours of use, it got uneasy in another area. The mouse doesn't have any rubber grips on the sides. All it has a smooth plastic built.
So, my hands were mostly slipping when they were sweaty after some hour. Hence, I won't advise you to use it in a hot and humid environment. It will get too slippy.
It's Not for Mac
If you are a Mac user, you may not find the customization any useful. The Swarm is not compatible with Mac. So, you can't assign tasks to those side buttons. Otherwise, it works great with any Windows or Linux PC.
Similar Products
There are also some other mice similar to Burst Pro. If you want to look for something else, these would be better. However, Roccat is great too. Anyways, here are the others: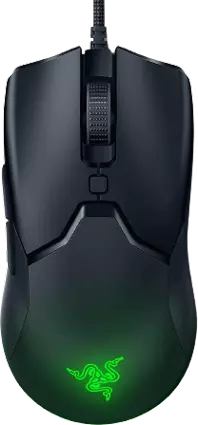 Razer Viper Mini
Rating: 8.9 (Great)

The Razer Viper Mini is a compact, cheaper, and smaller option. It is suitable for people with small hands. However, it gives a reasonable value to price ratio. You can get it for the brilliant Croma RGB, which is Razer's signature.

Looking For Razer Viper Mini Review?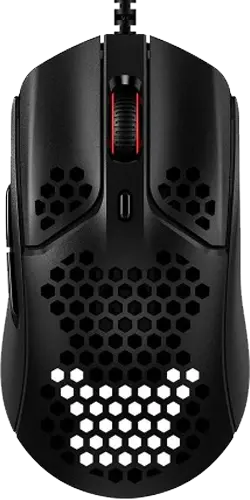 HyperX Pulsefire Haste
Rating: 8.8 (Great)

HyperX Pulsefire Haste is another great option for smooth gaming. The honeycomb holes on the body make it lightweight and stylish. It also has virgin grade PTFE feet that glides over the surface. But you need to compromise quality for too less RGB, which is just on the scroll wheel.

Looking For HyperX Pulsefire Haste Review?
Product Name
Roccat Burst Pro
Razer Viper Mini
HyperX Pulsefire Haste
Type
Wired
Wired
Wired
Sensor
Optical
Optical
Optical
Sensor Type
Roccat Owl-Eye 16K
PixArt PMW-3359
Pixart PAW-3335
Dimension (in.)
L:4.72
W:2.28
H:1.52
L: 4.66
W: 2.11
H: 1.51
L:4.89
W:2.62
H:1.5
Weight (g)
68
61
59
Buttons
6
6
6
DPI (max)
16,000
8500
16,000
IPS
400
300
450
Maximum Acceleration
50G
35G
40G
Polling Rate (Hz)
1,000
1,000
1,000
RGB
Yes (2 zones)
Yes (2 zones)
Yes (1 zones)
Cable (ft.)
5.91
6.5
6
Durability
100 Million Clicks
50 Million Clicks
60 Million Clicks
The Burst Pro is a brilliant gaming mouse. It is lightweight, fast, smooth, and comfortable. It has high DPI and IPS stats. Also, the Roccat Swarm gives a wide range of customization to the mouse.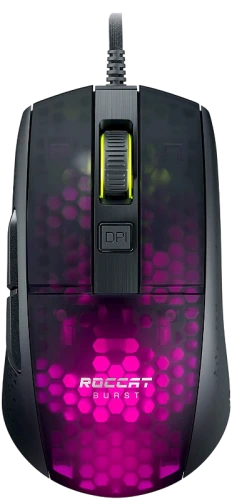 Roccat Burst Pro
One of the fastest mice for gaming! Get it now to remain at the top of your battles.
Roccat Burst Pro
So, after a detailed Roccat Burst Pro review, I can easily recommend it to you. It is excellent for you for any gaming. I only won't recommend it to Mac users. Otherwise, you'll be good with it.
User Ratings (

4

Votes)