When setting up your party, you usually have your typical setup: a DPS, a sub-dps or two, and a healer. However, if you want to avoid all the dodging when battling with enemies, you can consider bringing a shield character.
Certain characters can gain shields by using their skills, by activating their constellations, or through the Crystallize elemental reaction. The duration of these shields can be based on their maximum HP or defense, so it's important that you read the skill descriptions first before building your shield characters.
Beidou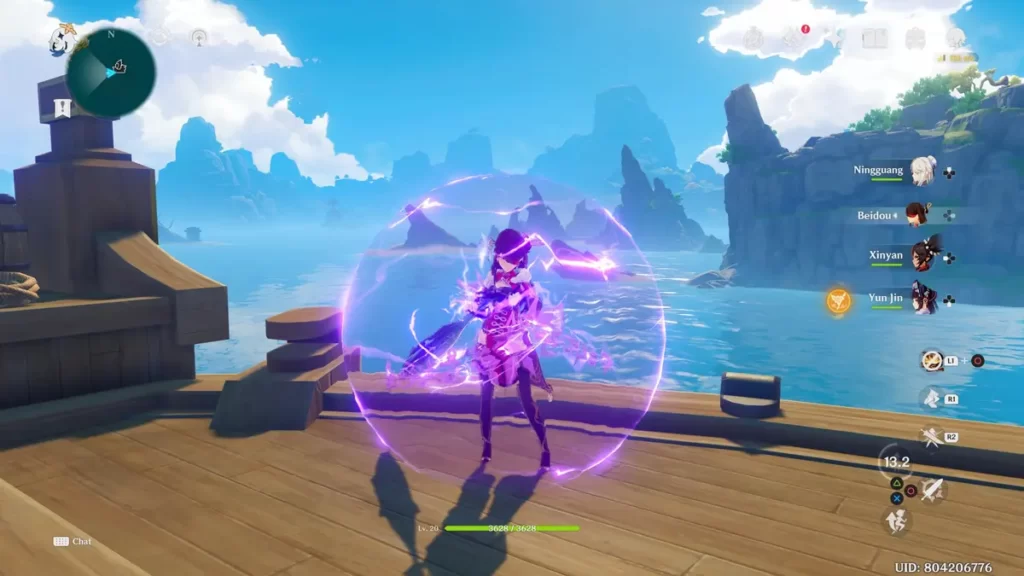 Aside from being one of the best DPS due to her powerful counters, Beidou is also the only Electro character so far that can provide a shield, but only when you're holding her elemental skill Tidecaller while she's on the field. The shield has 250% Electro DMG absorption efficiency, and its maximum DMG scales off her max HP. However, if you have her at C1, you can have her create a shield that lasts even off field. When her burst, Stormbreaker, is used, a shield is created that absorbs up to 16% of Beidou's max HP for 15 seconds.
Thoma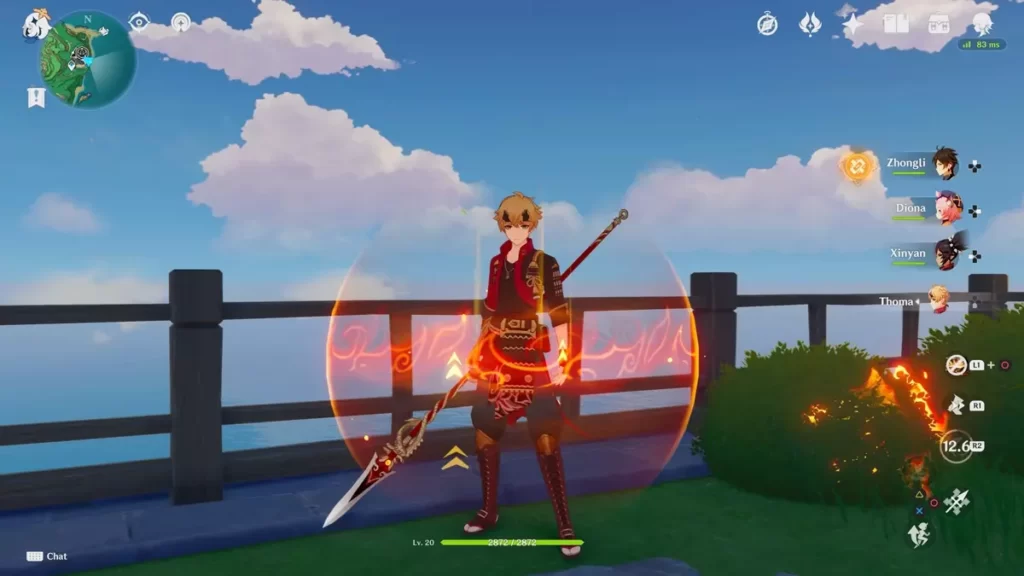 One of the first Inazuma characters released was Thoma, hyped for his tall masculine figure (which we need more). While delivering a flying kick in his skill, Blazing Blessing, Thoma summons a defensive Blazing Barrier shield. This shield scales off his max HP and absorbs Pyro DMG 250% more effectively. Whenever a new shield is obtained, the remaining DMG absorption of the previous shield will stack and the duration will refresh. The Blazing Barrier shield can also be created with the same traits when using his burst, Crimson Ooyoroi.
You don't have to worry much about increasing shield strength if you ascend Thoma. At Ascension 1, when a character obtains a shield, shield strength will be increased by 5% for 6 seconds. This is triggered every 0.3 seconds and stacks for 5 times.
Constellations also upgrade his shield abilities. At C1, when any shielded character except Thoma is attacked, both his skill and burst cooldown is decreased by 3 seconds. At C6, when Blazing Barrier is obtained, all party members' Normal, Charged and Plunging attacks are buffed by 15% for 6 seconds.
Xinyan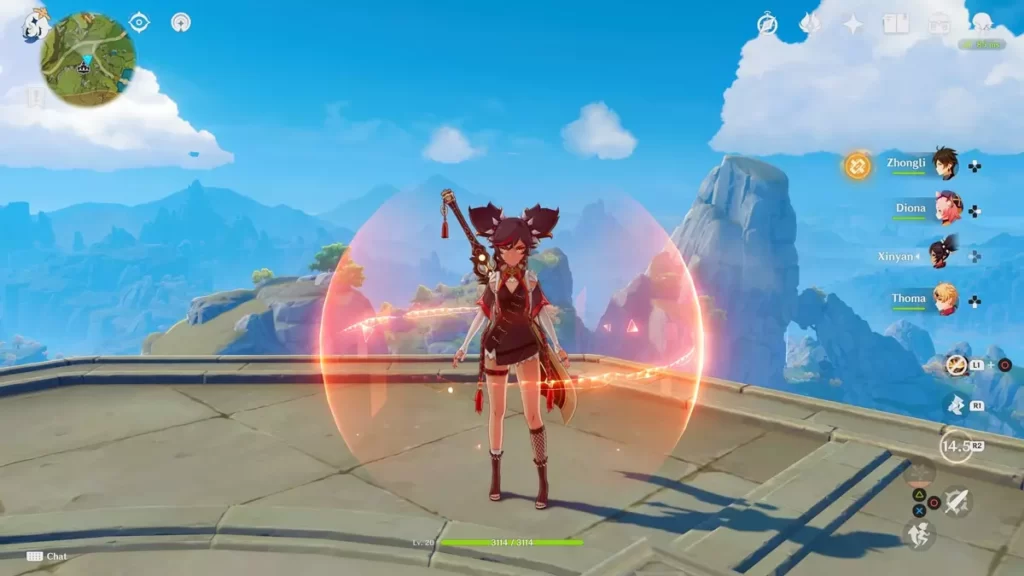 Xinyan is underrated in terms of shield characters. This claymore user deals Pyro DMG by unleashing a shield whenever you use her skill, Sweeping Fervor. The shield's DMG absorption scales based on her DEF, plus the number of opponents hit. As the number of opponents hit increases, so does the shield level. Against Pyro DMG, it has a 250% DMG absorption effectiveness.
Xinyan's passives and constellations are great for characters with physical build. At Ascension 1, the number of opponents needing to be hit is decreased by 1. This makes it easier to aim for a higher shield level. At Ascension 4, characters shielded by her skill have their Physical DMG increased by 15%.
Xinyan can be much more viable support for physical characters if you unlock her constellations, specifically C2, wherein her burst, Riff Revolution, also provides a shield at its highest level when cast. The crit rate of the skill's Physical DMG is also increased by 100%!
Diona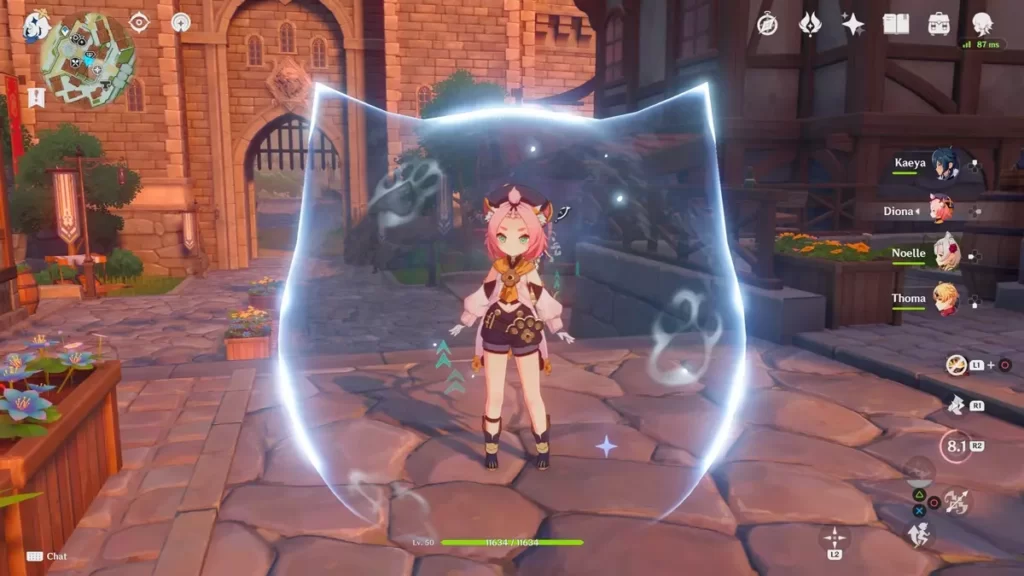 It's not only Geo characters that can provide a shield. Diona is a Cryo bow user that can act simultaneously as shield and healer. When holding her elemental skill, Icy Paws, a cat-like shield is created. This has a 75% DMG absorption bonus, plus 250% Cryo DMG absorption bonus, causing your active character to be affected by Cryo. The base shield DMG absorption scales based on her max HP.
Also Read: Best Settings For Genshin Impact: Get The Highest Performance And Graphics.
Diona's passive provides faster attacks for your party. At Ascension 1, characters shielded by Icy Paws have their movement speed increased by 10% and their stamina consumption decreased by 10%.
Diona has been given away as a free character for a limited time during the Energy Amplifier event. If you've been a player during that time, then this is your sign to collect her constellations. At C2, Icy Paws' damage and its shield's DMG absorption is increased by 15%. Additionally, when the paws hit a target, a shield is also created for nearby party members, with 50% DMG absorption. If you want to increase Icy Paws' level by 3, you may aim for C5.
Noelle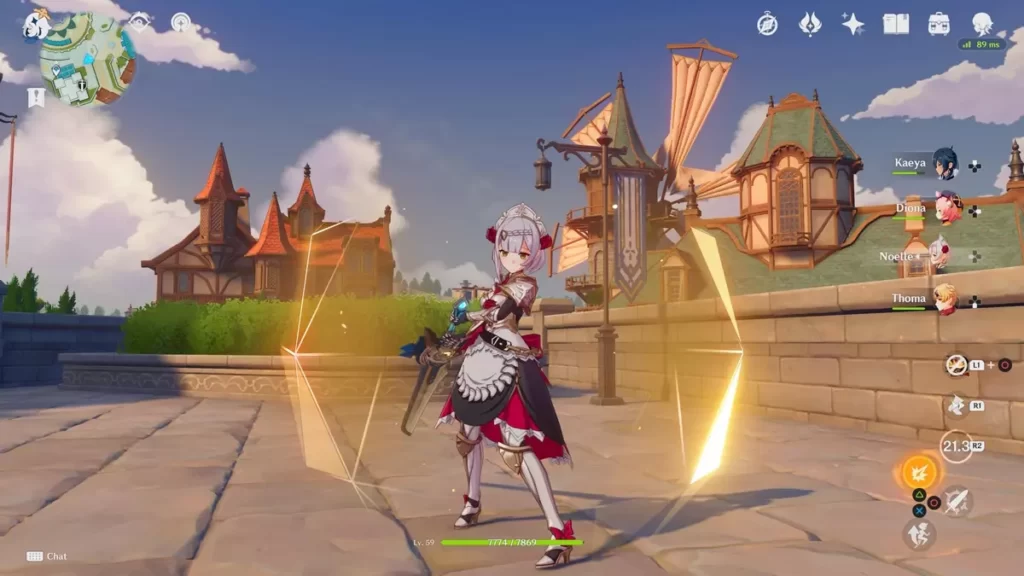 Noelle is a free character that can be obtained on the 8th wish from Beginner's Wish, an exclusive banner for all new players. But do not underestimate her. By using her elemental skill, Breastplate, a Geo shield is summoned, which possesses 250% DMG absorption efficiency against both Elemental and Physical DMG. Her Normal and Charged attacks also have a certain chance of healing all party members once a target is hit. If you have some spare DEF artifacts in your inventory, don't waste it as enhancement material for your other artifacts. Noelle's shield's DMG absorption AND the amount of HP healed when a regeneration is triggered scales based on her DEF.
As long as she is in the party, Noelle can heal even when not on the field. At Ascension 1, when your active character's HP falls below 30%, a shield is created for them, which lasts for 20 seconds and absorbs damage equal to 400% of Noelle's DEF.
Activating Noelle's constellations unlocks her true potential. Noelle has appeared on character event banners several times already, so you may already have some of her constellations. At C1, when Breastplate and Sweeping Time (Noelle's burst) are both in effect, Breastplate has a 100% chance of activating its healing effects. C3 increases Breastplate's level by 3, while at C4, Breastplate deals 400% of Noelle's ATK as Geo DMG to opponents when the skill expires or is destroyed by DMG.
Zhongli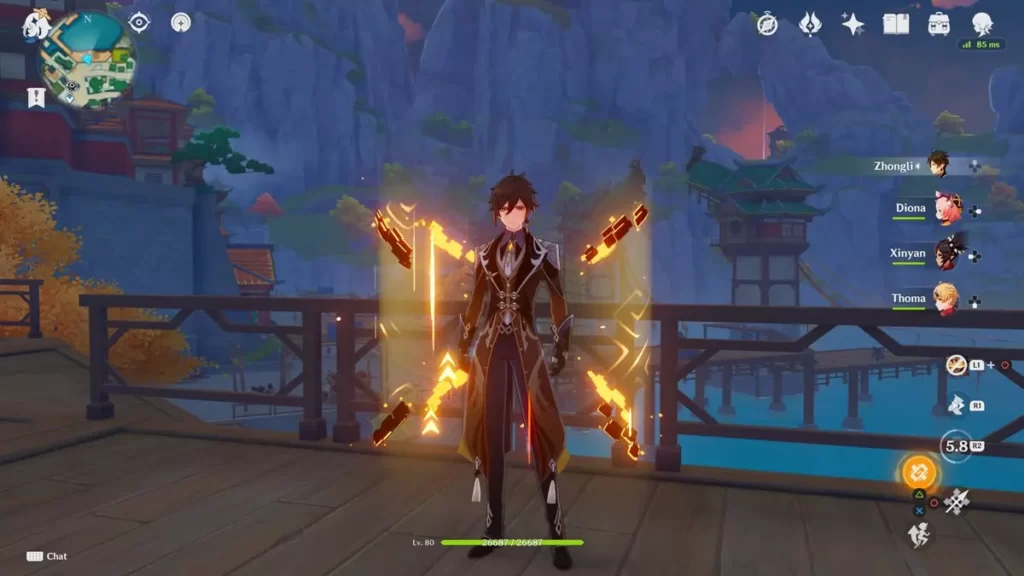 Zhongli may be a rare character that can only be obtained in event wish banners, but he is surely worth spending primogems on. As of writing, Zhongli is the only 5-star character that can provide a Geo shield for your characters, even after switching out his character. By holding his elemental skill, Dominus Lapidis, a shield of jade is created. Characters protected by this Jade Shield will decrease the Elemental and Physical RES of opponents in a small Aoe by 20%. The skill also deals Aoe Geo DMG as a Stone Seele is created. The shield's DMG absorption scales based on his max HP.
Also Read: How to Obtain Snezhnaya Does Not Believe in Tears.
Zhongli's passives upgrade this Jade shield as well. At Ascension 1, when the shield takes damage, fortified characters have their shield strength increased by 5%. At Ascension 4, Dominus Lapidis' hold DMG is increased by 1.9% of his max HP.
If you want to maximize his shield damage, unlocking his constellations is the way to go. At C2, Planet Befall (Zhongli's burst) grants nearby characters on the field a Jade shield when it descends. This is beneficial for co-op players, as it gives all members in the party a Jade Shield. At C3, the level of Dominus Lapidis is increased by 3. C6 grants Zhongli another role: healer. When the Jade Shield takes damage, 40% of that damage is converted to HP for the shielded character.
Honorable Mentions: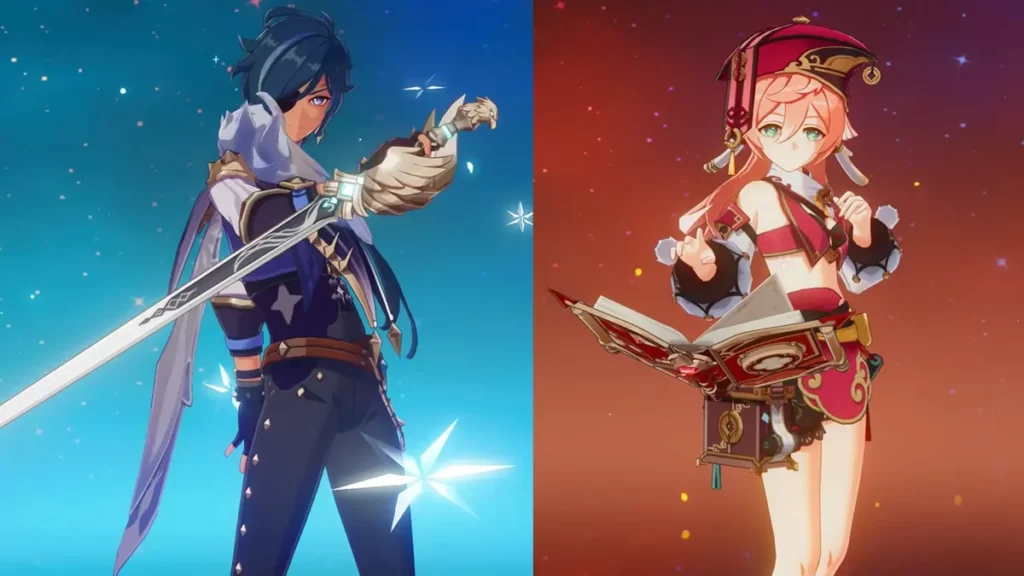 Some characters provide a shield only when you've already unlocked a certain constellation of theirs. Additionally, these characters' shields aren't really long-lasting, as they are more like a temporary perk only.
Kaeya – At C4, If Kaeya's HP falls below 20%, a shield is automatically created, which can take damage equal to 30% of his max HP. This shield lasts for 20 seconds and can be only applied to Kaeya.
Yanfei – Also at C4, Yanfei creates a shield when her burst Done Deal is used. The shield absorbs up to 45% of Yanfei's max HP for 15 seconds. Unlike Kaeya's, this shield can be used even after switching to another character. This constellation is good for players who use Yanfei whether on or off the field. Chinese players usually build Yanfei as a shield support and pair her along with Hu Tao for a Pyro team comp.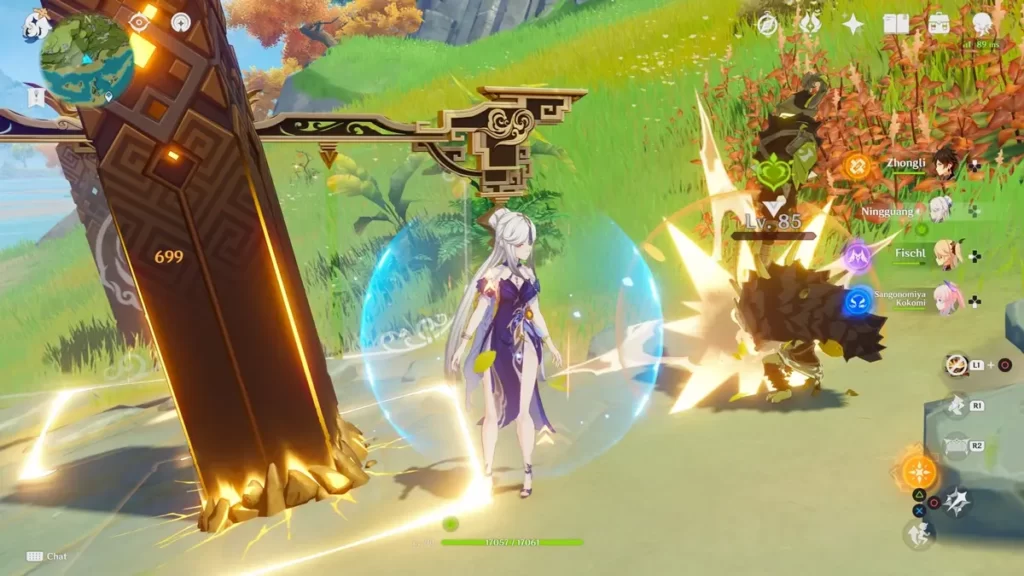 All Geo characters can provide a shield for all party members via the Crystallize reaction, wherein touching an elemental shard gives the active character an Elemental Shield. This type of shield absorbs both elemental and physical damage, and has better absorption for the element that formed it.
It's up to you how you want to build your characters, what artifacts and weapons you want them to equip and what role you want them to have. If you're having fun, you're doing it right. Happy building!