Genshin Impact contains a plethora of weapons. Those weapons fall between the 1-star to 5-star rarity. Currently, weapons can only be obtained through the shop, events, or gacha pulls, with five-star weapons being only limited to gacha. While almost all weapons are obtainable by playing for free, there are few limited weapons to the battle pass. Moreover, five-stars are very rare in that they require a huge investment and saving for months to guarantee.
Gacha weapons come from standard wishes, character wishes, or weapon wishes. Four-star weapons and below can come from any of the three. Meanwhile, five-star weapons are either limited or non-limited, where limited weapons are only available in the weapon wishes, while non-limited can be pulled from the standard banner. Unfortunately, limited weapons could be very costly to pull, thus, they will not be listed.
Thus, there are three categories when it comes to free weapons: Four-star and below weapons, event and farmable weapons, and non-limited weapons. This guide will discuss the best weapons for each category individually.
Four-Stars And Below Weapons:
Four-stars and below weapons have the advantage that they can be pulled randomly at any banner. Their higher chance in any banner along with the guarantee at each multi can make owning multiple copies of each weapon fairly simple. Generally speaking, higher rarity weapons outperform the lower rarity ones. However, there are exceptions where the passive can make a huge difference.
Rust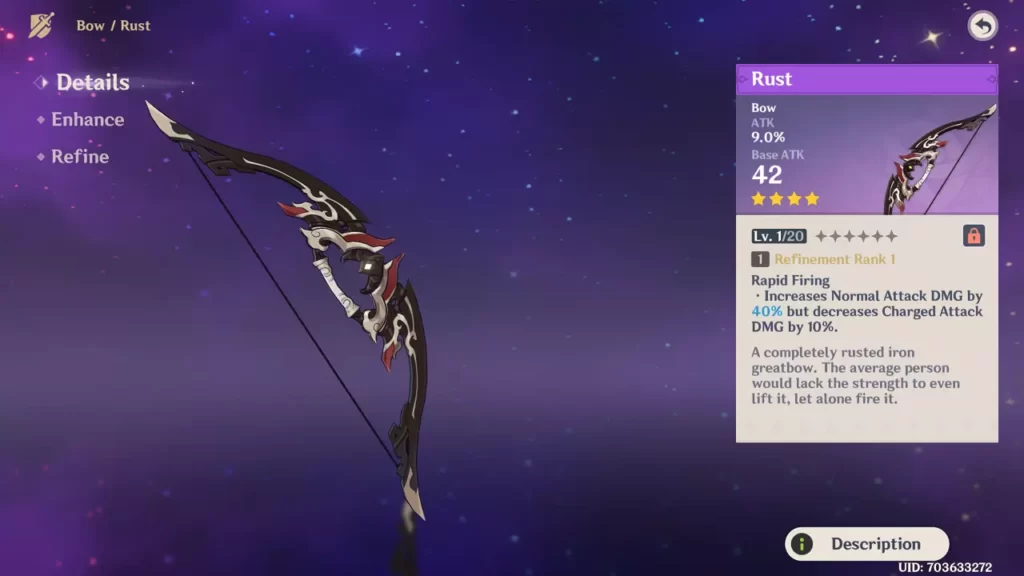 For Bow users that depend on normal attacks, such as Childe, Fischl, and Yoimiya, Rust is a wonderful weapon that can elevate their damage to the next level. Its secondary stat, which grants up to 41.3% attack, combines with its passive that grants 40-80% extra damage to normal attacks. However, this weapon does not work for other Bow users such as Ganyu.
Thrilling Tales of Dragon Slayers
Also Read: Best Settings For Genshin Impact: Get The Highest Performance And Graphics.
Thrilling Tales of Dragon Slayers is one of the best friends for even veteran players. The 48% attack buff is massive, especially for a 3-star weapon. Especially with the fact that most catalysts are support or sub-DPS, most of them will enter, use their skills and tag out. This makes this weapon a great one to use with the majority of catalysts.
Widsith
For catalyst DPS or sub-DPS, Widsith is one of the best catalysts weapons since it is easy to pull while having high enough damage to compare with most five-star weapons. Especially at refinement 5, Widsith can be a great addition to any account due to its damage boost.
However, this weapon has a great drawback as a cost for its high damage. Other than the 30-second cooldown for its 10 seconds buff, the buff granted can be either attack increase, elemental damage bonus, or elemental mastery. While the attack increase and elemental bonus damage deal relatively similar damage, elemental mastery falls short in comparison and makes the overall damage inconsistent. However, that does not mean the average damage is low at all.
Sacrificial Weapons
Sacrificial weapons series is without a doubt one of the best weapons in the series. At the fifth refinement, they have an 80% chance to reset the cooldown of the Elemental Skill if they damage an opponent. With the Exception of Sacrificial Fragments, all of them have energy recharge as a secondary stat, which is a universally good stat, especially for characters with high cost for their Elemental Burst.
For its users, the Sacrificial series works only with characters whose Elemental Skills cause damage. It can work with high efficiency on any damage dealer who depends on their Elemental Skill, such as Chongyun. Another option which is the majority of the case is for support characters, such as Kazuha and Xingqui.
The reason why they work so well is the fact that resets practically mean double the damage and elemental particles. So far, no weapon in the game grants a 100% damage bonus or more, making its resets extremely strong. Moreover, particle generation along with the energy recharge can make Elemental Bursts a lot easier to spam.
Event and Farmable Weapons:
During some events, Genshin Impact rewards 4-star weapons to players who completed the event. One great aspect about that other than the weapon is free is that those weapons come in refinement 5. Obtaining a weapon in its full potential can be great especially if its passive is very useful. Unfortunately, after the events pass, there is currently no way to obtain those weapons. However, there were events reruns, so the hope for future reruns can make the weapon obtainable again exists.
On the other hand, there are other four-star weapons that can be obtained outside gacha through crafting. Blueprints can be obtained through story mode and other quests, where a weapon can be crafted by the blacksmith along with the proper materials. A small exception to that is "The Catch" since it can be obtained by buying it with fish from the association.
The Catch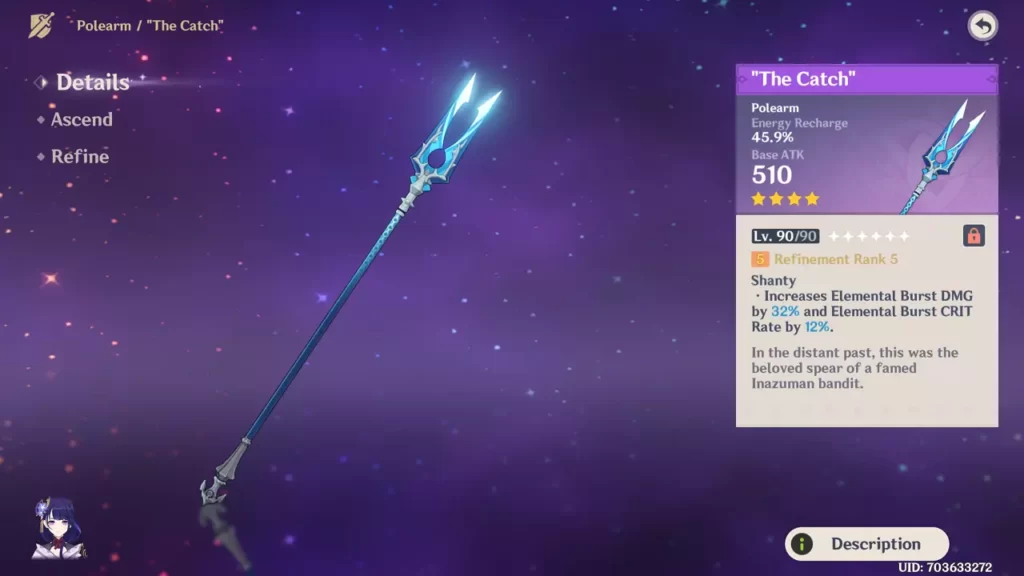 The Catch is well-known throughout the community as either fun or annoying weapon to obtain. This is because it is locked behind fishing, which some find enjoyable while others do not enjoy. By trading the appropriate fish, The Catch and its refinement material can be obtained through the association seller.
Its secondary stat grants 45.9% energy recharge, which makes it a great weapon for characters who depend on their Elemental Bursts. Not only that, its passive buffs the Burst's crit rate and damage. The Catch can work on DPSs or sub-DPSs such as Raiden Shogun, Xiangling, and Shenhe.
Luxurious Sea-Lord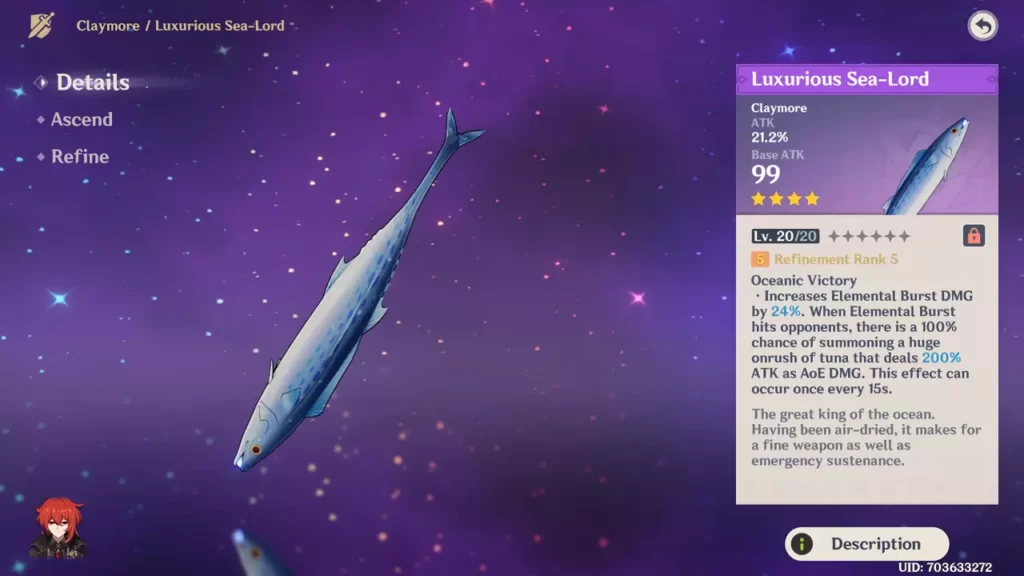 Luxurious Sea-Lord was obtainable through the Moonlight Merriment event. This weapon is designed to turn characters who burst enemies through their Elemental Bursts into nukes. With a 55.1% attack buff from its secondary stat and 24% Elemental Burst damage, enemies can be deleted from the massive damage that this weapon offers. If not, any surviving enemies will face an AOE that scales with 20% of the user's attack.
Windblume Ode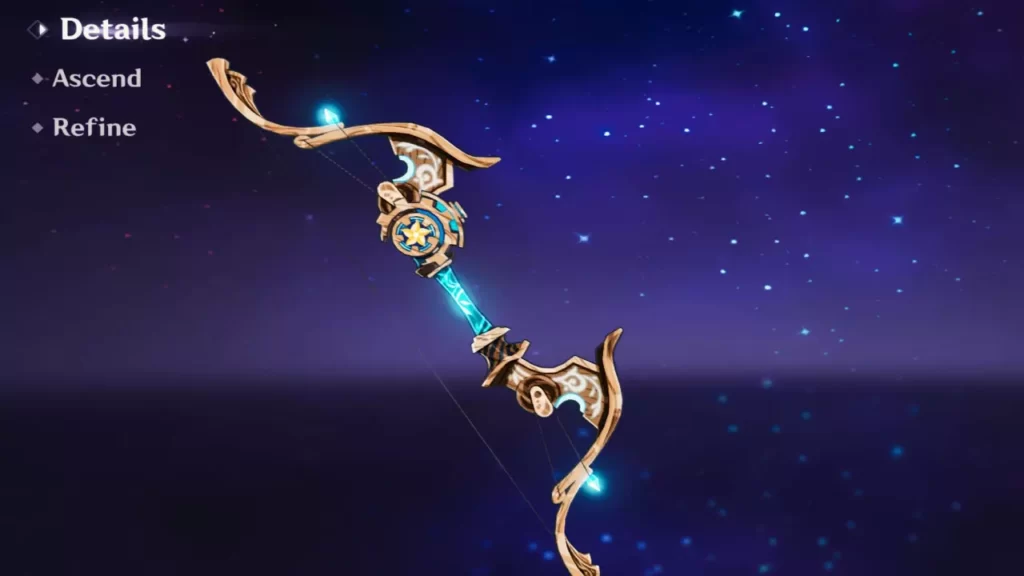 Windblume Ode is the first event weapon that was released in version 1.4. By using the Elemental Skill, it grants its user a 32% attack for 6 seconds. However, its secondary stat, which is elemental mastery, limits its uses overall. However, it is still wonderful to use for characters such as Venti and Fischl.
Oathsworn Eye
Oathsworn Eye is designed to help its user deal more damage and use more Bursts. With 48% energy recharge, using Elemental Burst will be a lot easier and more effective due to the 27.6% attack buff. Oathsworn Eye is very generic in its stats, making it more global towards catalyst users. An example of its users is Yae Miko and Kokomi.
Non-Limited Five-Star Weapons
While five-stars weapons are very rare in Genshin, non-limited weapons are a bit more common in comparison to the limited ones. This is due to the fact that they can show up in the standard banner. Standard tickets are more common since they come from ascending characters, sakura favor, and many other options. Thus, it is possible to obtain them without spending primogems.
Primordial Jade Winged-Spear
Primordial Jade Winged-Spear is wonderful for any DPS or sub-DPS due to both its secondary stat and its passive. Having a crit rate is very beneficial in making the damage more consistent with crits. Moreover, its passive can grant 22.4% attack and deal 12% extra damage to enemies. The overall offensive capabilities make it a wonderful weapon for characters such as Xiao and Shenhe.
Skyward Weapons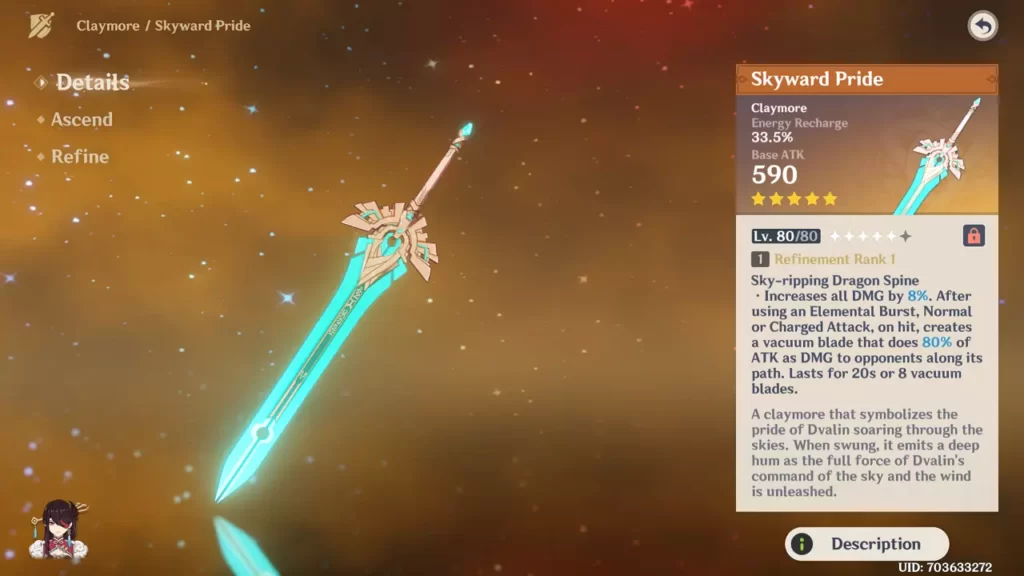 When it comes to their secondary stats, Skyward weapons synergize so well with their users in general. Skyward Harp grants crit rate, which is very essential for DPSs. Meanwhile, most of the current bow users are used as DPSs or sub-DPSs.
Also Read: Best Genshin Impact 5 Star Characters
Meanwhile, Skyward Blade and Pride both provide energy recharge, making them great weapons for support. Their passives grant another offensive buff, such as crit rate for Skyward Blade. However, it is not on the same scale as other weapons.
Wolf's Gravestone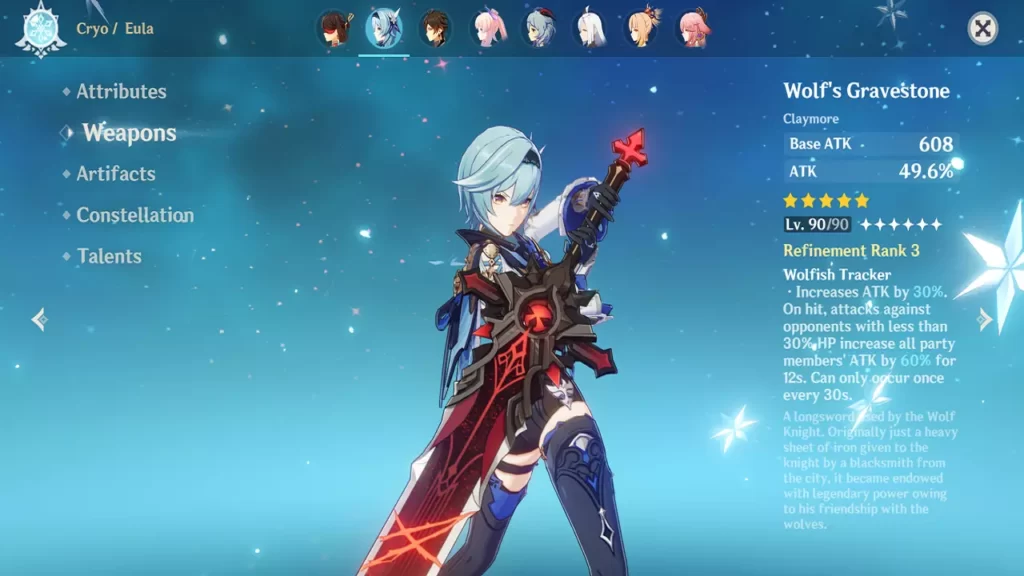 Wolf's Gravestone has one focus and one focus only. To boost your character's attack as much as possible. Adding a 49.6% attack from its secondary stat along with 20-40% attack from its passive can be a massive damage boost. Not only that, attacking enemies with HP lower than 30% increases party's attack by 40-80%.
This means that it can be used either to boost its user's attack or allies' attack. Its versatility along with its high damage boost makes it an amazing weapon to have. It can be equipped on characters such as Eula and Diluc for damage dealing, or Claymore support such as Beidou or Chongyun for support.
Overall, Genshin Impact has a great collection of weapons that can be used for a variety of reasons depending on your team comp. Meanwhile, some weapons are easier to get in comparison to other ones. In this guide, we demonstrated which weapons fall into the "easy to get" category and the ones that outperform their peers in terms of global use and the strength of their stats.