You really wanna check How Many Hours You've Played Valorant? Sadly, Riot Games does not give you an indication of how many hours you've played Valorant. But but but.. there are some tools/trackers that show you how many hours you've spent playing Valorant.
The demand for an achievement tracking site for friends has been high for some time now. There has been discussion on the game's subreddit forums since the game's closed beta ended back in April, so there is possibility that Riot Games might add it in the future.
As there's no official way to track the achievements of playing with friends and view the number of hours spent on Valorant. There are some trackers which will come in handy now.
Riot devs recently expressed interest in adding the total amount of time played and an achievement tracker to Ask Valorant-Nov. 19.
The question asked to Miles Metzger was: "How many hours did my friends, and I spent playing this game? "Is it possible to integrate this feature"?
The response to the question was: "Valorant wants players to be able to showcase how much they have invested in their account whether they are climbing the ladder or how many hours you've played Valorant. We are planning to add it real soon and still finding the best way to do this."
Tools That Help You to Check Valorant Played Hours
To check how many hours you've played Valorant, I found five tools that work most efficiently, but one of them comes in handy if you are just want to view how many hours you've played. And the rest of them work differently.
So here are five tools that will help you to find how many hours you've played Valorant:
Tool That Exact Match What You Are Looking For
As part of the tool, all Riot game stats are displayed, So you can track how the game is performing and how much you have played.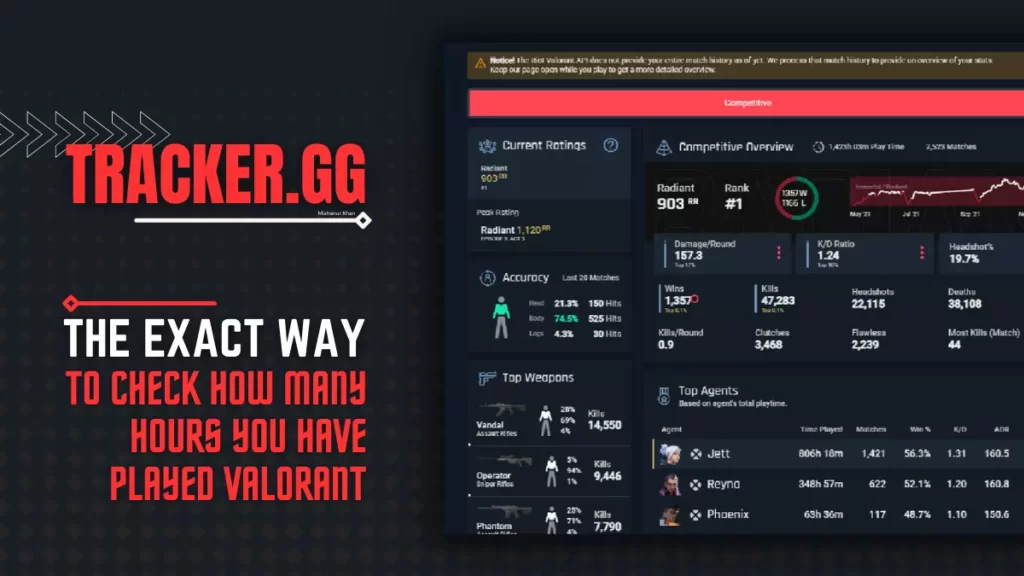 To check how many hours you have played, simply follow these steps:
Tools That Most Likely Match What You Are Looking For
In addition to Porofessor, the Blitz app offers much more than just scouting: builds/runs, counters, champion guides, post-game analysis, etc. The reason we have to download it, is so we could automate it through computer vision.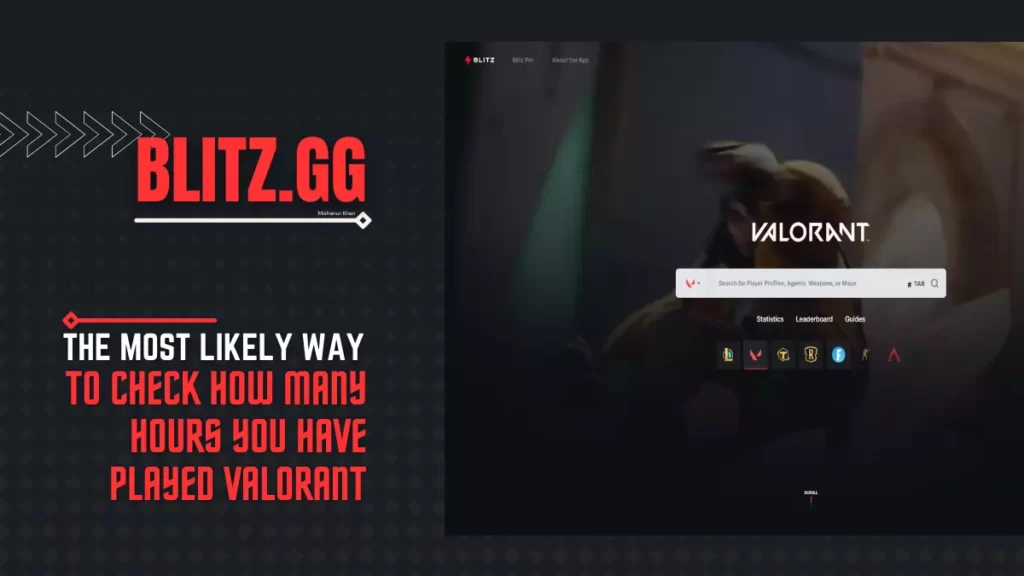 It's not the exact tracker you are looking but after installing and syncing with it, you will able to see your lifetime matches, agent picks, how much time it takes you to finish a single match, etc.
You can greatly improve your game performance by using Razer Cortex. It's especially useful if you are running titles that consume a lot of RAM, and it tells you the amount of time you played. As many as 2 GB of memory can be recovered by Rader Cortex from background processes, which is usually sufficient to fix frame drops caused by disk reads.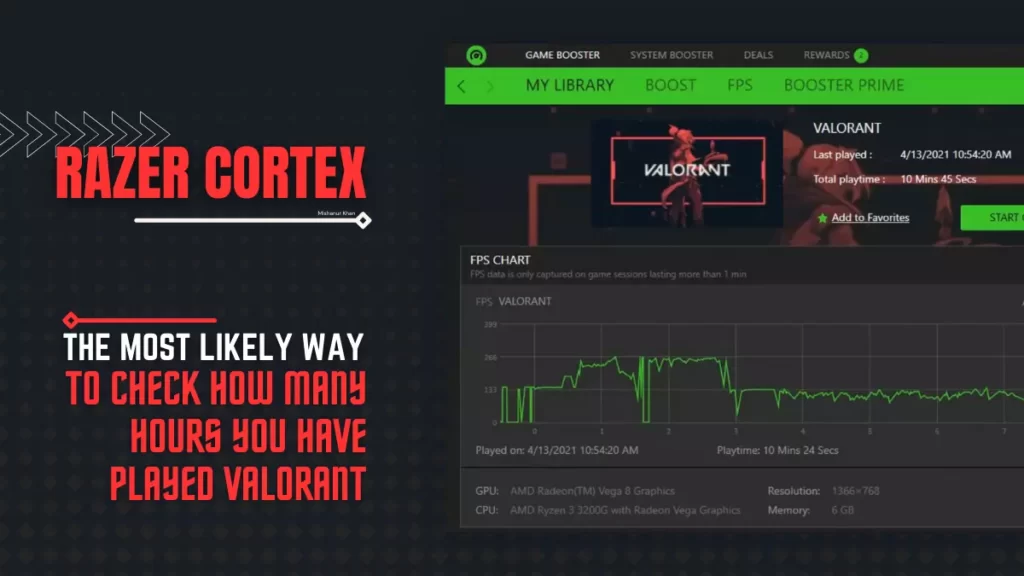 Also, Razer Cortex shows you how many hours you play specific games. So when you installed it, it will show you the Valorant playtime 0 but as you continue playing, it will start counting from there.
So I recommend it to newcomers to download it. It solves 2 problems at the same time, You will able to increase your fps in Valorant as well as you will able to see how many hours you've played.
Tools That Are Relevant What You Are Looking For?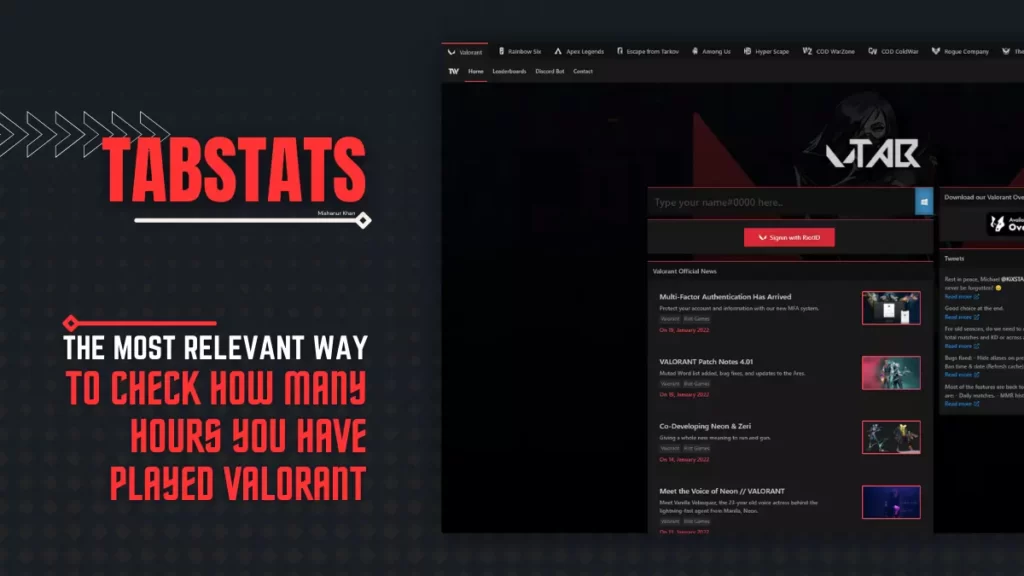 Using TabStats, you can keep track of your Valorant stats and leaderboards. In Valorant, the history of all the games you've played is not accurate enough, and it is difficult to keep track of your stats. It will be helpful if you utilize the right stat tracker to keep track of your performance in the game.
Also Read: Valorant Crosshair: The Best Valorant Crosshair.
But sadly the playtime feature is still not there, we are hoping it will be available there real soon.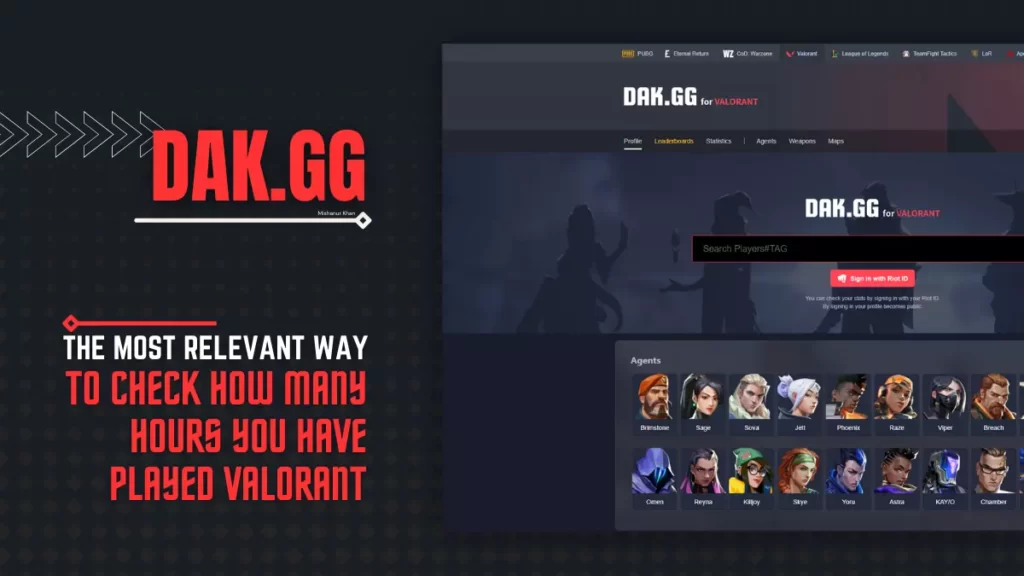 Gaming platform DAK.GG offers a variety of services for gamers, including battleground data statistics and esports. It's really helpful for Valorant too.
And just like Tabstats, there's no way to check Valorant played hours but hopefully, they will add it soon.
Check Your 2021 Valorant Stats
If you don't use Gmail that much then you most probably don't know but Riot Games already sent you the full stats of 2021. And if you don't wanna use these trackers and wanna check it in an official way, follow these steps:
Also Read: 10 Agents That Are The Easiest To Play In Valorant.
When playing Valorant, a player wants to know how many hours they have played. Here are some tools or apps through which you can track your game and improve your performance. It will make your games more enjoyable.