The Glorious Model O Minus is designed for a particular type of game, one that prefers a no-fuss and all-thrills gaming mice with a lightweight build and crazy performance.
Coming in at just 58 grams, the Glorious Model O Minus is built to last for the long game. If you couple this mouse with a PTFE, which is a fluoropolymer of synthetic nature built to increase the stature and grip of the mouse, this mouse becomes an unbeatable gaming machine.
I have tested this mouse extensively and my short one-sentence verdict for the Glorious Model O Minus Review is this: It is a high-performing gaming mouse that is specifically built for the hardcore gamer.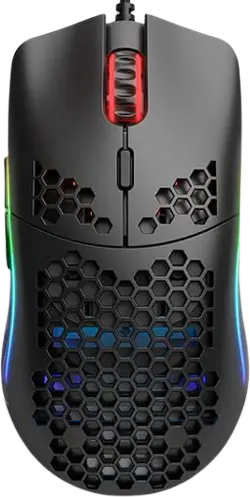 Glorious Model O Minus
One of the best smallest & super ultralight mice. So grab it now from below's link!
---
---
Specifications
Sensor
Optical
Style
Ambidextrous
Dimension (mm)
L: 120
W: 58
H: 36
Weight (g)
58
Connectivity
USB (Wired)
Wire Length (m)
2
Buttons
5
Counts Per Inch
12,000
Dots Per Inch
12,000
Polling Rate
1000 Hz
Hardware Acceleration
No
Warranty
2 years
Features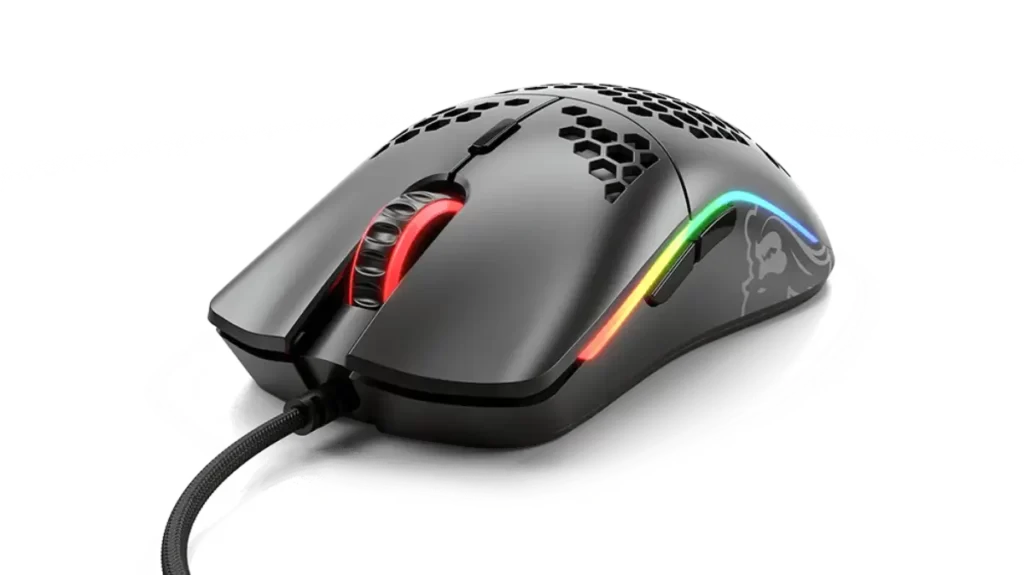 Designed with High Comfortability
The Model O Minus is designed for people with smaller hands. That doesn't mean that people with bigger hands can't play with this mouse, as the company ships large PTFE feet with the box. Just as the name suggests, the Model O Minus is slightly smaller than the Model O from Glorious, but these products carry the same price tag.
Although it may feel smaller, it is designed for both left-handed and right-handed people; the small stature of the mice compensating with its ambidextrous design. It doesn't sacrifice Comfortability either, and people who have large dinner plates for hands will feel this mouse be particularly smaller than the Model O but equally as comfortable to game on for large periods.
The honeycomb open design may also put off some people with all those little gaps and ridges. At face value, you might even think it is uncomfortable to hold, but once you start gaming with this device, you will be utterly surprised at the build quality of the Model O Minus.
It doesn't show any fingerprints or greasiness even after gaming for significant periods, but the one caveat of this design is that both the right and left buttons on this mouse will flex under a slight load. But, even with my extensive testing to write about the Glorious Model O Minus review, I hardly felt any accidental presses or performance lag for that matter, which tells me that this slight flex is not going to be a huge issue for this mouse.
Super Smooth Gaming Performance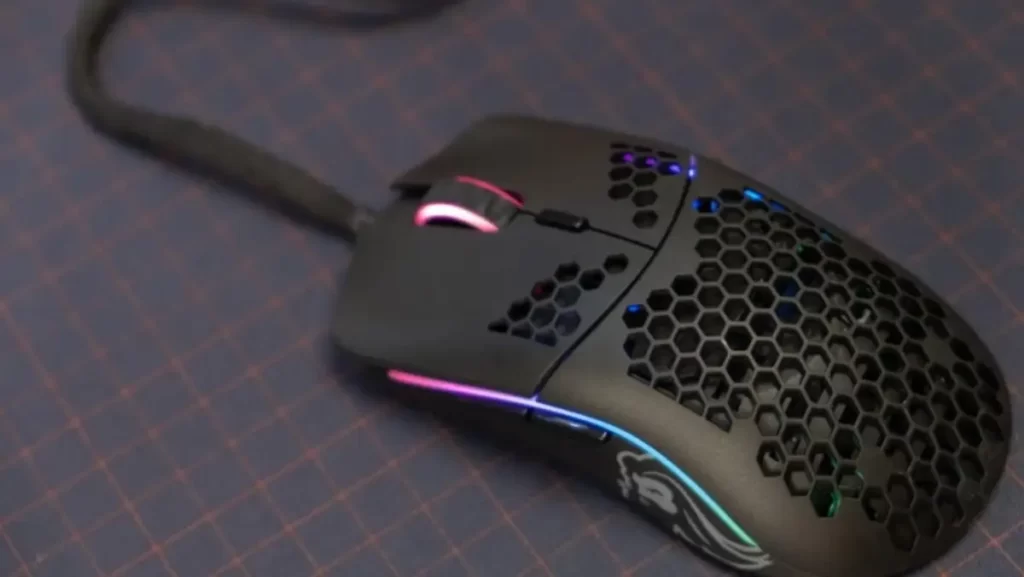 To test this gaming mouse, I played quite a few rounds of CS: GO and PUBG. I also played the multiplayer version of Battlefield 2042 and Call Of Duty Black Ops 3 with this beast of a gaming mouse.
Even though this mouse has a ridiculously high DPI of 12,000, I opted for a low DPI setting to see its quality. To my surprise, this mouse performed well above my expectations. I played all my games on a 144 Hz gaming monitor, and all the movements in-game were so smooth that I am compelled to call this mouse an e-Sports grade device.
With all the DPI settings tested, the mouse gave a buttery smooth performance, and FPS games ran like a breeze with this device. The Pixart PMW-3360 sensor was performing smoothly even with the highest DPI setting of 12,000 which tells me that even the hardcore gamers will appreciate the gaming performance of the Glorious Model O Minus.
My only qualms with the Glorious Model O Minus is that it does not ship with a sniper button, which is essential for most gamers who want to switch DPI at the tap of a button. The DPI switcher is an almost essential piece of hardware for all gaming mice on the market, but for some strange reason, Glorious opted to omit this feature from this mouse.
RGB Goodness
The RGB lighting is always appreciated by an avid gamer, and even for regular users, it doesn't hurt if the mouse comes with an in-built RGB function. But the RGB implementation on the Glorious Model O Minus will leave even the skeptics wanting to witness this awesomeness because of how well it blends with the overall design of this mouse.
This device comes with three lighting zones, and even though many people have gone way past the RGB hype train a couple of years back, the Model O Minus's RGB adds to the overall aesthetic appeal of this device. By use of the software that comes with this mouse, you can calibrate the RGB lights to full blast, and the default option has the mouse's 3 zones only partially lit with RGB lights. The storage space occupied by this goodness is only 5 megabytes, and the software gives you scope to experiment with the lights and customize them to your liking.
Software of the Model O Minus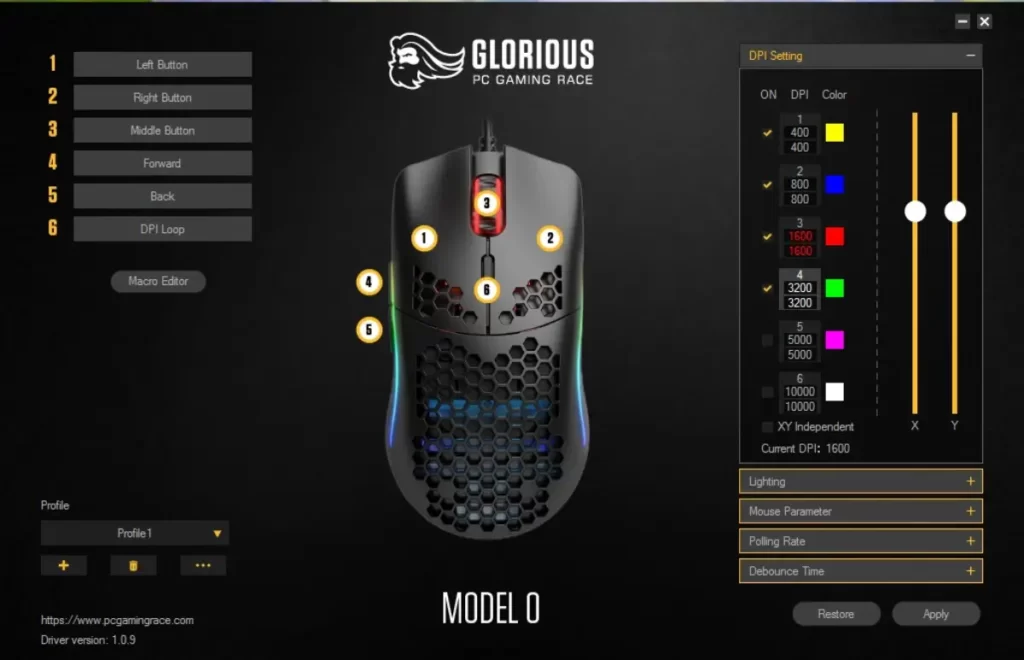 The software that's shipped with the Model O Minus is very easy-to-use and comes with intuitive functions that help you adjust the RGB lights and DPI settings among others. It doesn't have any unnecessary functions or bloated features that may put you off from using the software.
For the gamers who prefer a no-frills kind of software experience that lets them cut to the chase and only offers the functions that add to the overall gaming experience, the Glorious Model O Minus has got you covered on that front.
What I Like
To write my in-depth Glorious Model O Minus review, I have come across a few features of this device that deserves a special mention due to their awesomeness.
Lightweight Build Quality
The 58-gram net weight of this gaming mouse is astonishing when you consider what this beast is capable of. Even though it features lightweight construction, it doesn't sacrifice the durability of the product. Even though I discovered some slight flexing of the LMB and RMB buttons, there were no miss-clicks or accidental presses even under heavy load.
The 2 years of product warranty also adds to the appeal of the Model O Minus. Even though it may feel a bit smaller on the hands, thanks to the lightweight build, it is very comfortable to hold and performs admirably even under heavy load.
High Performing Mouse Sensor
The Pixart PMW-3360 is an industry-leading mouse sensor, and the Glorious Model O Minus does not disappoint on that front. This high-performing sensor is implemented superbly on this device.
Such so that even under heavy gaming sessions, you won't find a single thing to complain about the Model O Minus. The maximum acceleration of 50G is super-fast for this category of mouse and the polling rate of 1000 Hz is plentiful for an average gamer, let alone the hardcore ones.
RGB Awesomeness
Even though it has been mentioned above, I have to talk about the RGB implementation of the Model O Minus because of how good a job Glorious has done to blend this feature into this device.
The software also helps you to experiment with a range of colors, and the 3 zones of lighting will help you to build a very cool gaming rig with this device at its center.
What I Don't Like
Even though in my Glorious Model O Minus review, I have talked mostly about the good sides of this product, I have to mention that no product is perfect. So, the Model O Minus comes with some shortcomings which I will address below.
Honeycomb Design
The honeycomb design of the Model O Minus will surely put off some people from buying this awesome product. Glorious, in its mission to design a unique and cool-looking mouse, has built a device that is very polarizing to the average buyer.
Some people may love the unique look of this mouse, while others will be ticked off as this mouse doesn't conform to the usual design of a gaming mouse.
Lack of a DPI Switcher
It is perplexing why Glorious decided to omit the DPI switcher or the sniper button from the Model O Minus. Considered as a staple for gaming mice on the market, its omission will sway away some hardcore gamers from this product.
It's not like they were shying away from offering a high DPI, as the 12,000 max DPI setting for this mouse will suggest. This decision is very hard to understand from Glorious' point of view.
Some Similar Products
Here, I have tried to talk about some other gaming mice which are similar to the Glorious Model O Minus. Although the Model O Minus has everything an avid gamer might want from their mouse, its shortcomings will force some users to look for its alternatives.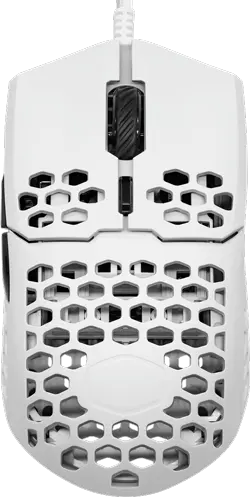 Cooler Master MM710
Rating: 8.8 (Great)

This is a somewhat cheaper alternative to the Model O Minus. It doesn't sacrifice on the performance front, and the design of this device is a lot more palatable for the average user.
Finalmouse Ultralight 2
Rating: 9.1 (Amazing)

The Finalmouse Ultralight 2 is a worthy competitor to the Glorious Model O Minus. It is 10 grams lighter and performs just as well, if not better than the Model O Minus. If you are not worrying about the budget and can afford to splurge on a premium mouse, Ultralight 2 should be at the top of your radar.

Looking For Finalmouse Ultralight 2 Review?
Product Name
Glorious Model O Minus
Cooler Master MM710
Finalmouse Ultralight 2
Type
Wired
Wired
Wired
Sensor
Optical
Optical
Optical
Sensor Type
Pixart PMW-3360
Pixart PMW-3389
Pixart PMW3360
Dimension (mm)
L: 120
W: 58
H: 36
L: 116.6
W: 62.6
H: 38.3
L: 116
W: 53
H: 35.7
Weight (g)
58
50
48
Buttons
5
6
5
DPI (max)
12,000
16,000
3200
IPS
250
340
250
Maximum Acceleration
50G
50G
50G
Polling Rate (Hz)
1,000
1,000
500
RGB
Yes (3 zones)
None
None
Cable (m)
2
1.8
2
Durability
20 million Clicks
20 million Clicks
20 million Clicks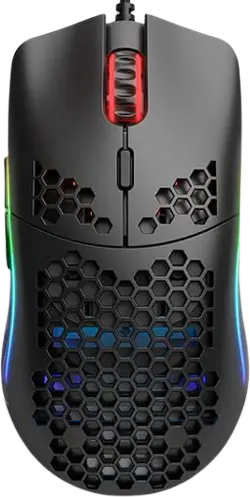 Glorious Model O Minus
One of the best smallest & super ultralight mice. So grab it now from below's link!
Glorious Model O Minus
In my Glorious Model O Minus review, I have highlighted mostly the good sides of this product. This is not because I have any bias towards the Model O Minus, but it is due to its sheer brilliance. Minus the lack of a DPI switcher, there is hardly anything wrong with this product.
If the design puts you off, you should focus on the gaming performance and budget-friendly price tag to reel you towards making a positive buying decision.
User Ratings (

5

Votes)