Alongside Cryo, the element Pyro has the most characters in the game so far. And that's valid because Pyro is such a good damage dealer. Its elemental resonance is also used by a lot of players, as having two Pyro characters in the party increases ATK by 25%.
Pyro can cause Overload, Vaporize, Melt and Burning. The best Pyro characters can deal lots of damage and elemental reactions as well as shield your characters. Most of them are DPS-worthy, while others can be built as support.
Xinyan
I rarely see Xinyan players in the game, and that's because a lot of people aren't really in favor of her kit. She may not be one of the best Pyro characters, but she can still be a viable shield or support, especially for physical characters. Xinyan's elemental skill Sweeping Fervor deals Pyro DMG on opponents and brandishes a shield. This shield's strength scales off her DEF and number of opponents hit. Hitting 0 or 1 opponents grants shield level 1, hitting 2 grants level 2, and hitting 3 or more grants the maximum level 3. Her burst Riff Revolution launches nearby enemies and deals both Pyro and Physical DMG.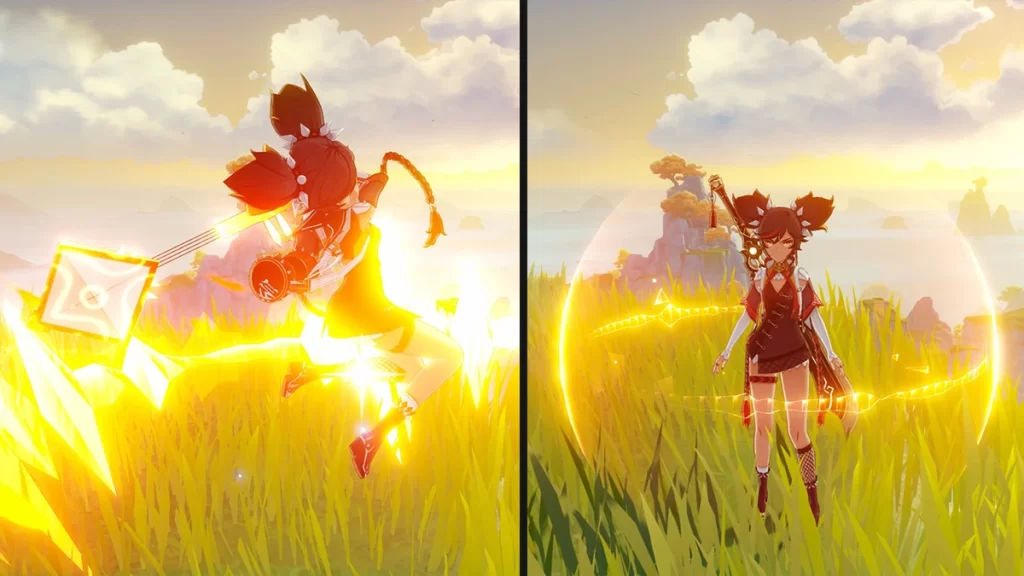 Passives
Xinyan's A1 (Ascension 1) passive decreases the number of opponents need to be hit in order to achieve a certain level. This means that hitting 1 opponent will now grant shield level 2, and so on. Her A4 passive gives a 15% increase in Physical DMG for characters shielded by her elemental skill.
Constellations
Xinyan attacks faster through her C1. When she scores a CRIT hit, the attack speed of Xinyan's Normal and Charged Attacks are increased by 12% for 5 seconds. This can occur every 5 seconds as well. C2 makes Xinyan an even better physical support. The Physical DMG dealt by her burst has its CRIT rate increased by 100%. When cast, she also gains a level 3 shield.
Amber
Another Pyro character I barely see in co-op is Amber. Now I know she's a starter character, and her damage may not be that outstanding, but personally I enjoy her gameplay. I really like her skill Explosive Puppet, where Amber throws Baron Bunny to taunt enemies. Unlike Gouba though, Baron Bunny only deals AoE Pyro DMG when it gets damaged or explodes. Nevertheless, Baron Bunny is a great distraction for big enemies like Ruin Guards and Mitachurls. You can now focus more on dealing damage instead of dodging and having your skill interrupted. Baron Bunny's HP scales with Amber's HP. Her burst Fiery Rain fires off a shower of arrows that deal continuous AoE Pyro DMG. You have to be careful when using this burst because it only rains arrows on a certain direction. So if you're facing the other way for example, that might be a waste of Energy.
Passives
Thankfully, Amber's burst gets a buff at A1. The passive increases its CRIT rate by 10% and widens its AoE by 30%. If you want to use her Charged Attacks, A4 increases your ATK by 15% for 10 seconds IF you hit a weak spot.
Constellations
I've seen some players dealing very big damage with Amber on C2. When Amber hits Baron Bunny's foot with a full Charged Attack, Baron Bunny automatically explodes and deals 200% additional DMG. Baron Bunny gets yet another buff at C4, where Amber's elemental skill cooldown is decreased by 20%. This constellation also adds an additional charge.
Thoma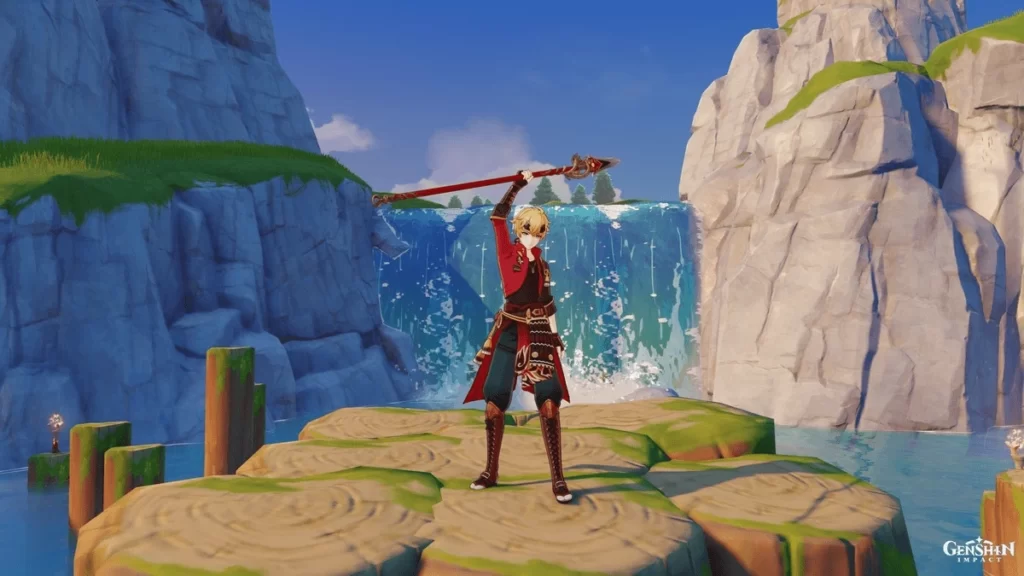 Thoma is an Inazuman polearm user. He is best known for his Blazing Barrier shield that scales off his HP. This can be triggered through his skill Blazing Blessing, which deals AoE Pyro DMG. His burst Crimson Ooyoroi deals AoE Pyro DMG as well, and your active characters' Normal Attacks will trigger a Fiery Collapse that brings forth AoE Pyro DMG and summons a Blazing Barrier shield. This can be triggered every 1 second.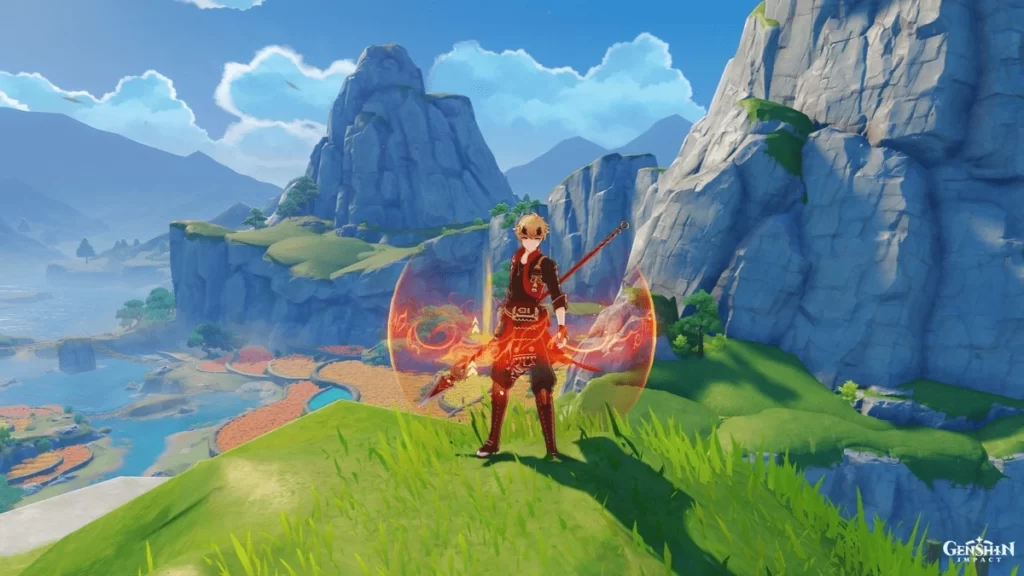 Passives
Thoma's A1 passive increases your character's shield strength by 5% for 6 seconds every time they obtain a Blazing Barrier shield. This can stack 5 times and can be triggered every 0.3 seconds. For his unique utility passive, Thoma grants a 20% chance of scoring a double catch every time you fish in Inazuma. Don't forget to add him to your party then every time you farm for The Catch.
Constellations
It is easier to fill up Thoma's burst through C4. After using his burst, C4 Thoma restores 15 Energy for himself. Meanwhile C6 makes him an even better support. C6 increases your characters' Normal, Charged, and Plunging Attacks by 15% for 6 seconds whenever they obtain a Blazing Barrier shield.
Yanfei
Yanfei is a catalyst user from Liyue. She is a half-adeptus and a legal adviser too. Aside from dealing Pyro DMG in her Normal Attacks, Yanfei obtains a Scarlet Seal every time they hit an enemy. This seal increases her Charged Attacks' AoE and DMG based on the number of Scarlet Seals she has. She can possess a maximum of 3 Scarlet Seals. These seals will disappear once she leaves the field. When she uses her skill Signed Edict, enemies will be dealt AoE Pyro DMG. She will also obtain the maximum number of seals when her skill hits. She can also obtain the maximum number when she uses her burst Done Deal. This deals AoE Pyro DMG and increases the DMG of her Charged Attacks. At fixed intervals, Yanfei also obtains a Scarlet Seal.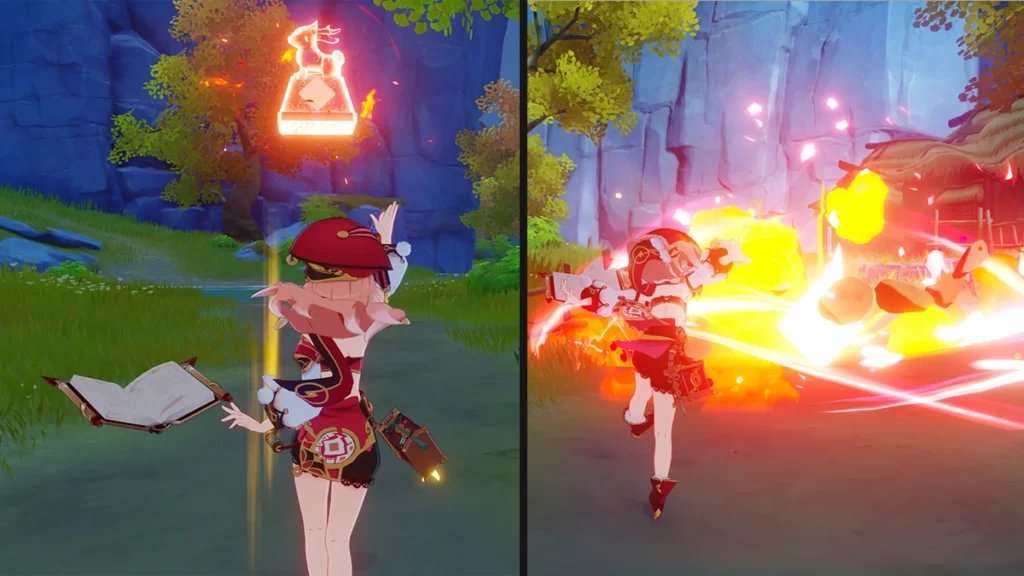 Passives
Yanfei's damage can truly be seen through her Charged Attacks based on her passives. For A1, when Yanfei consumes a Scarlet Seal, each of the seals will increase her Pyro DMG Bonus by 5% for 6 seconds. For her utility passive, Yanfei displays resources unique to Liyue on the mini-map.
Constellations
When C1 Yanfei uses a Charged Attack, each Scarlet Seal she possesses will reduce the stamina cost of the Charged Attack by 10%. Resistance against interruption is also increased. She can obtain a shield at C4 through her burst. This shield absorbs up to 45% of her max HP for 15 seconds.
Bennett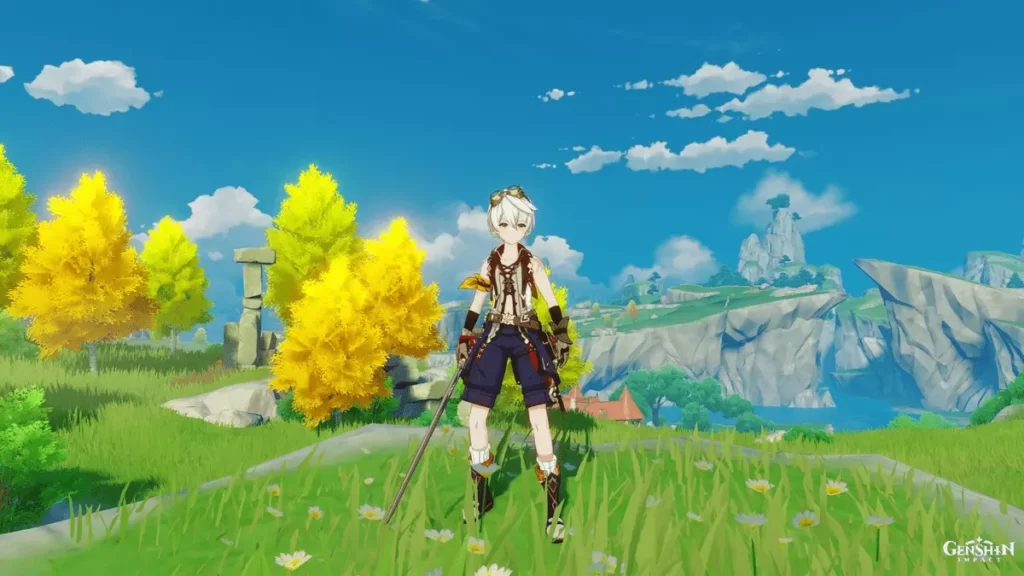 Bennett is arguably one of the best supports so far in the game. He works well with any element and no character can replace his skills. This is because aside from dealing Pyro DMG, his burst Fantastic Voyage heals and buffs your characters at the same time. If characters within the Inspiration Field have 70% HP or below, they will heal. Healing scales off Bennett's HP. If they have more than 70% HP, they will gain an ATK bonus based on Bennett's base ATK. Take note that base ATK can only be increased by leveling him up and his weapon. The ATK bonus from his artifacts will not be counted. His skill Passion Overload allows Bennett to slash with Pyro DMG. Holding the skill can make Bennett strike either two or three times, also dealing Pyro DMG.
Passives
Bennett's A1 passive decreases the cooldown of his burst by 20%. At A4, when Bennett uses his skill within the Inspiration Field, its cooldown will be reduced by 50%.
Constellations
C1 alone already makes Benny an S-tier support. His burst will now give an ATK bonus for all characters no matter what their HP is. The burst also gains an additional 20% of his base ATK. If you want to go further, you can also aim for C2. This increases his ER (Energy Recharge) by 30% whenever his HP falls below 70%. This is a good additional then since you can heal Bennett faster.
Xiangling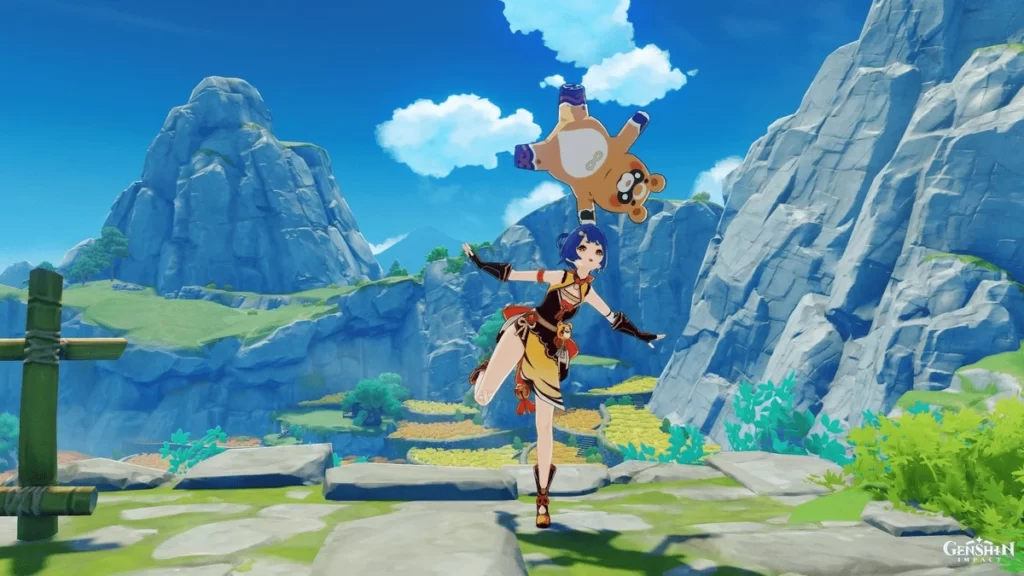 Part of the national team, Xiangling is the Pyro applicator that deals a lot of damage. You can get her for free when you get through the Floor 3 Chamber 3 of Spiral Abyss. Her skill Guoba Attack allows her to summon the panda Guoba, who breathes fire and deals AoE Pyro DMG. But Xiangling shines more in her burst Pyronado. This Pyronado moves with your character, dealing Pyro DMG to enemies in your path.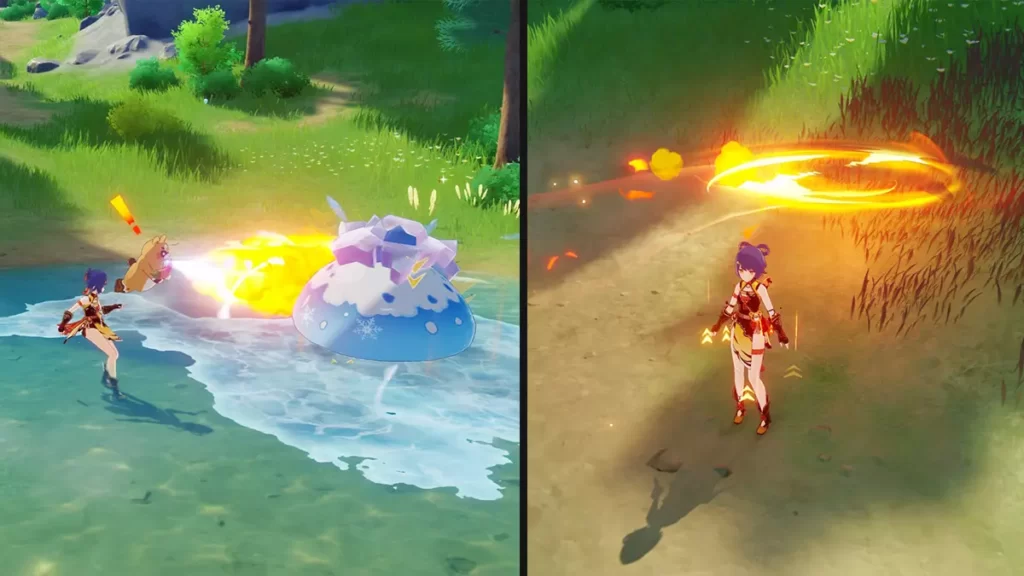 Passives
Xiangling's A1 passive increases the flame range of Guoba by 20%. Her A4 allows Guoba to leave a chili pepper when her skill ends. Any character who picks up this pepper will have their ATK increased by 10% for 10 seconds.
Constellations
The true power of Pyro is unleashed through Xiangling's constellations, specifically C4 and C6. C4 increases the duration of her Pyronado burst by 40%, while C6 grants characters a 15% Pyro DMG Bonus for the duration of her burst.
Klee
The adorable Klee is a five-star catalyst user from Mondstadt. Because she is known for being an often-destructive little girl, you can guarantee that she will also bring big damage to your team's opponents. She deals AoE Pyro DMG whenever she uses her skill Jumpy Dumpty. This Jumpy Dumpty bomb bounces thrice, dealing damage per bounce. The bomb will be split into mines on the 3rd bounce, which will explode upon contact, dealing more AoE Pyro DMG. This skill has 2 charges. As for her burst Sparks 'n' Splash, Klee summons an even bigger bomb to attack nearby opponents. Again, this deals AoE Pyro DMG.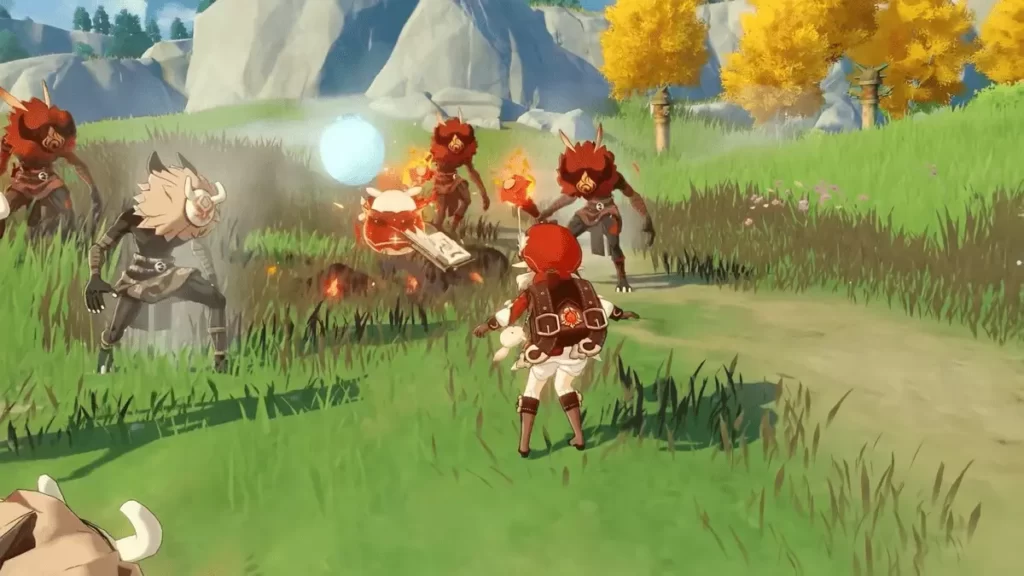 Passives
Klee deals additional damage through her A1 passive. When Klee's skill or Normal Attacks deal DMG, she has a 50% chance to obtain an Explosive Spark. This spark will be consumed when Klee does a Charged Attack, dealing 50% increased damage without stamina cost. And at A4, when Klee scores a CRIT hit in her Charged Attack, all characters in the team gains 2 Elemental Energy.
Constellations
Klee's remarkable constellations would have to be C4 and C6. When C4 Klee leaves the field during the duration of her burst, there will be an explosion that deals 555% of her ATK as AoE Pyro DMG. And when you have C6 Klee during the duration of her burst, all team members except Klee will regenerate 3 Energy every 3 seconds. All party members will also gain a 10% Pyro DMG Bonus for 25 seconds when Klee uses her burst.
Diluc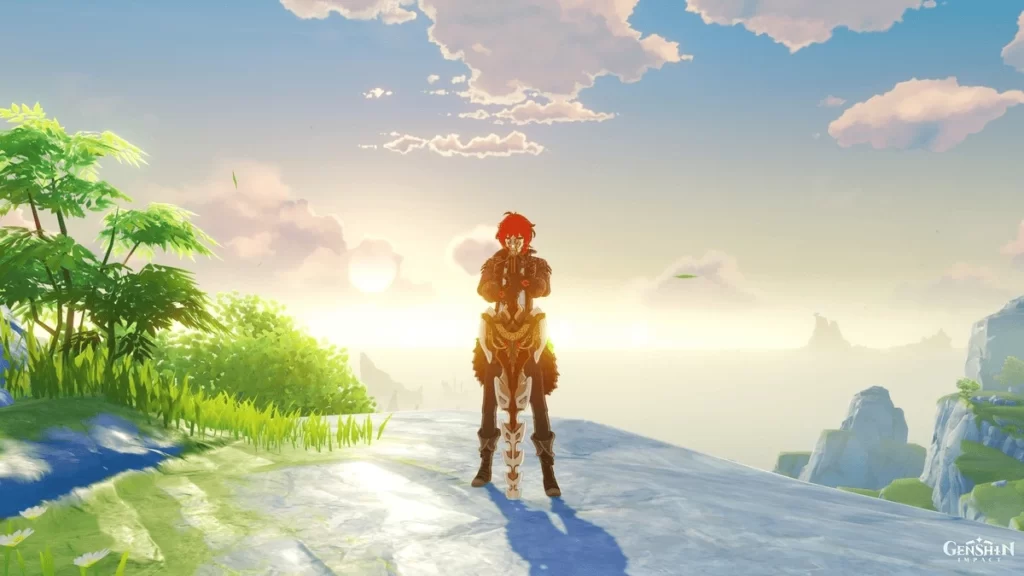 Diluc of Mondstadt is a 5-star claymore character that can only be obtained through the standard banner. This fine gentleman is a bar owner by day and a Darknight Hero by night. Diluc's kit is fairly easy to play and understand. He performs a slash that deals Pyro DMG in his skill Searing Onslaught. This skill can be used consecutively 3 times and will enter cooldown if it is not cast again immediately. His burst Dawn releases a large flame phoenix that deals Pyro DMG to opponents in its path. The phoenix deals AoE Pyro DMG when it reaches its destination. Like Amber, be careful when casting this burst because it is possible to misdirect the phoenix, which can be a waste of Energy. Aside from sending away a phoenix, Diluc's weapon becomes infused with Pyro for a few seconds.
Passives
Though players barely use Charged Attacks on claymore users, Diluc's A1 passive decreases the stamina cost of his Charged Attacks by 50%. The duration of these attacks is also increased by 3 seconds. At A4, Diluc's Pyro infusion in his burst will now last for 4 more seconds. He also gains a 20% Pyro DMG Bonus during this effect.
Constellations
If you lose the 50/50 all the time, then it is possible for you to obtain Diluc's constellations. His C2 and C4 is something to look out for. When C2 Diluc takes damage, his ATK increases by 10% while his ATK speed increases by 5%. This effect can stack up to 3 times, lasts 10 seconds, and can occur every 1.5 seconds. This is probably the only instance you'll be more than happy to take damage. As for C4, when you cast Diluc's skill, the next cast will deal 40% more damage. This effect lasts for 2 seconds.
Yoimiya
The newest 5-star Pyro character is Yoimiya, lover of fireworks, hailing all the way from Inazuma. Her kit specializes in inflicting Normal Attacks. The attacks' DMG is increased and converted to Pyro DMG in her skill Niwabi Fire-Dance. You cannot inflict Kindling Arrows in this state.
Her Charged Attacks have 2 levels: the 1st level fires off an arrow that deals Pyro DMG, while the 2nd level generates up to 3 Kindling Arrows that will aim itself on nearby opponents, dealing Pyro DMG as well. The longer the charge, the greater the Kindling Arrows.
In her burst Ryuukin Saxifrage, Yoimiya leaps into the air and fires rockets that deal AoE Pyro DMG. She also marks opponents with Aurous Blaze. Any character except Yoimiya that attacks an opponent marked with Aurous Blaze will trigger an explosion that deals AoE Pyro DMG. When an opponent dies before the duration of Aurous Blaze ends, the effect will pass onto another nearby opponent, inheriting its remaining duration.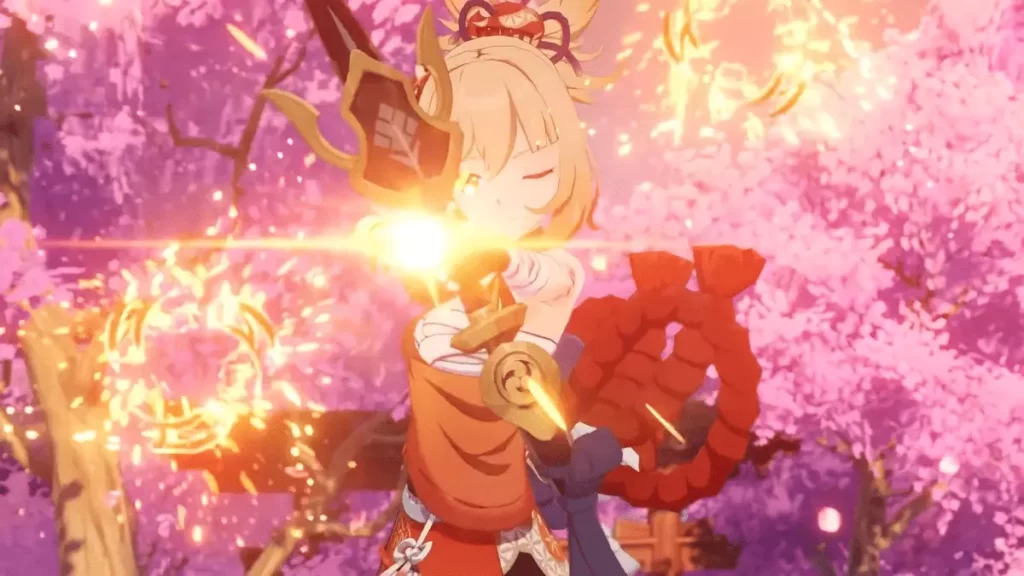 Passives
Yoimiya's utility passive is very beneficial for fans of the Serenitea pot. When she crafts any furnishing, there is a 100% sure chance of refunding a portion of materials used. Her A1 passive increases the Pyro DMG of her Normal Attacks by 2% on hit during her elemental skill. This stacks up to 10 times and lasts for 3 seconds.
Constellations
Yoimiya's C1 and C2 makes her an even more powerful DPS. At C1, the Aurous Blaze now lasts for 4 more seconds. Additionally, when a marked opponent is defeated, Yoimiya's ATK increases by 20% for 20 seconds. At C2, when Yoimiya scores a Pyro DMG CRIT hit, she gains a 25% Pyro DMG Bonus for 6 seconds. This can be triggered even when she isn't the active character.
Hu Tao
The best Pyro character title would have to go to Hu Tao. Hu Tao has been awaited by so many players even before her release. She carries the title of the 77th Director of Wangsheng Funeral Parlor. Thus, she carries around a friend ghost during her sales talks. Hu Tao's kit is interesting and fun to play with, as you have to focus on draining her HP without dying. She loses a portion of her HP when she uses her skill Guide to Afterlife. Based on her max HP, she gets an ATK increase and has her attack DMG converted to Pyro DMG. When she uses a Charged Attack, enemies take Pyro DMG every 4 seconds. This DMG is considered elemental skill DMG.
Now a lot of Hu Tao mains usually drain their HP before using her burst Spirit Soother. This is because the burst DMG and healing is increased when her HP is or below 50%. Hu Tao regenerates a percentage of her HP upon striking the enemy. This can be triggered up to 5 times, depending on the number of enemies hit.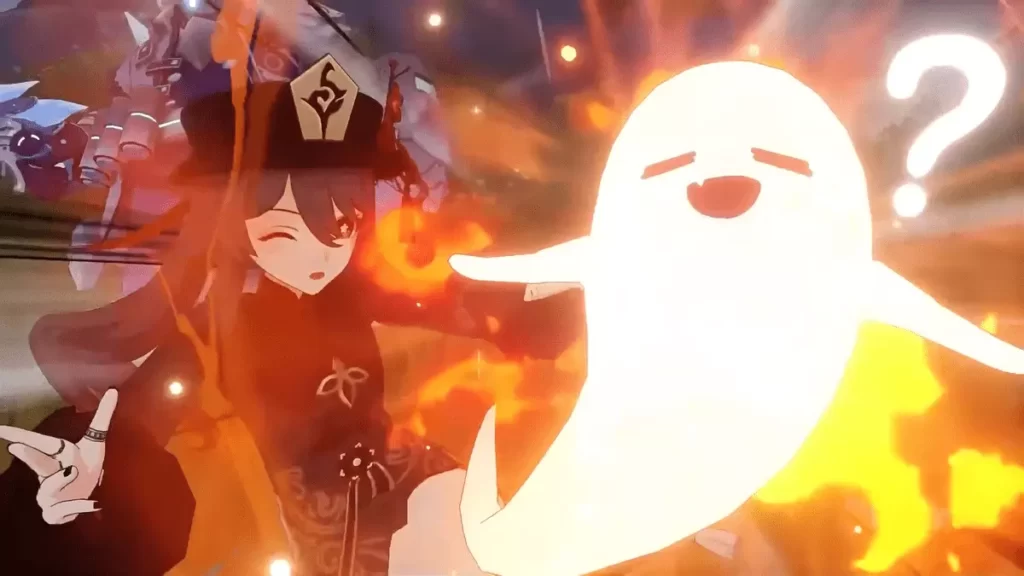 Passives
Hu Tao's A1 passive is a blessing as it increases the CRIT rate of all characters except Hu Tao by 12% for 8 seconds. This can be triggered when the duration of her skill ends. Another reason to drain HP is her A4 passive, which increases her Pyro DMG Bonus by 33% when she has 50% or less HP.
Constellations
Hu Tao's C1 is worth pulling for. We all know Charged Attacks deal much more damage than Normal ones. When Hu Tao's skill is active, her Charged Attacks will not consume Stamina. Her C6 is noteworthy, as she will not die when she takes lethal damage. Instead, her damage resistance is increased by 200% and her CRIT rate is increased by 100% for 10 seconds. This can occur every 1 minute. Having HP below 25% also triggers this constellation.
---
That's it for all the best Pyro characters! It looks like Mihoyo favors Pyro as an element, as there are a whopping 10 Pyro characters in the game. I am personally excited to see Teyvat's Pyro region, Natlan, and their archon. Will she be a DPS too like most Pyro characters?