Crosshair is the most important feature for games like Valorant. Crosshair helps for better aiming and to get connect better headshots. Also, you should use small types of crosshair in games such as Valorant.
After Valorant patch 3.03, Customizing crosshairs are a lot easier, like you can customize crosshairs for ADS crosshairs, sniper crosshairs. Also, you can create up to 10 crosshair profiles.
If you play unrated matches much or want to shock your spectated teammates then I think this smiley face crosshair is best for you. But most people use this crosshair to troll teammates, So this crosshair isn't made for professionals play, but you can shock your spectator's teammates with this smiley face crosshair.
Smiley Face Crosshair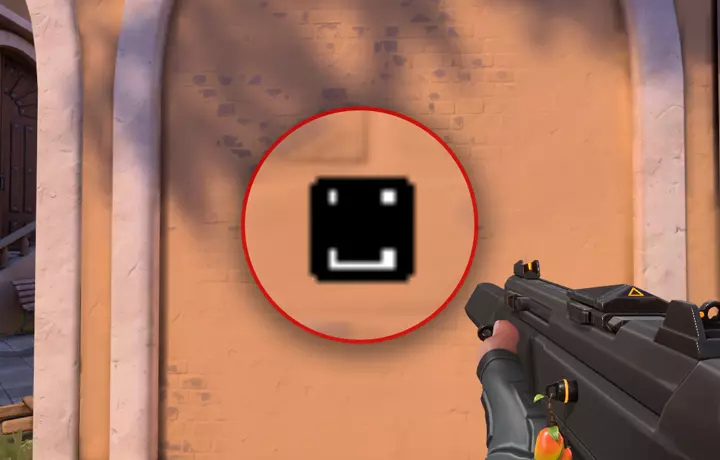 This crosshair is a bit bigger and filled with a happy face. So I don't think it's a good idea to use to connect better headshot but hope you already know what this crosshair is used for.
Crosshair General:
Color of Crosshair: White
Outlines: On
Outline Opacity: 1
Outline Thickness: 2
Center Dot: Off
Override Firing Offset With Crosshair Offset: Off
Override Primary Crosshairs With My Crosshair: Off
Inner Lines:
Show Inner Lines: On
Inner Line Opacity: 1
Inner Line Length: 6
Inner Line Thickness: 10
Inner Line Offset: 6
Movement Error: Off
Firing Error: Off
Outer Lines:
Show Outer Lines: On
Outer Line Opacity: 0
Outer Line Length: 3
Outer Line Thickness: 3
Outer Line Offset: 0
Movement Error: Off
Firing Error: Off
Hope you are able to use it happily and shock some of your random teammates and friends. Once again, this crosshair isn't for professionals play.
Also, If you are looking for some best & professionals crosshairs too, you may check our valorant crosshair article.